ALL fireworks, including sparklers and snakes, are illegal to sell, possess, or use in the city of Fort Collins.
Fort Collins City Council passed the ordinance with the health and safety of the community in mind. Fireworks cause injuries and fires, and each year, Poudre Fire Authority responds to multiple fires caused by fireworks. To read more about the safety concerns and regulations, you can visit fcgov.com/fireworks.
Join
in

the

Fun

on

July 4#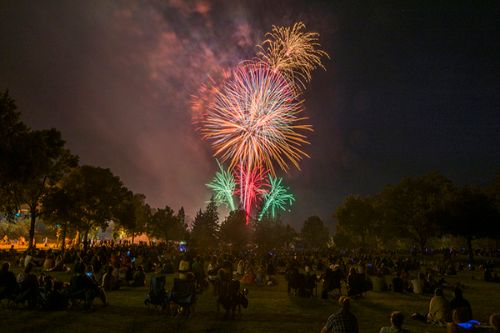 The City of Fort Collins, in partnership with Elevations Credit Union, is excited to host the 2023 Independence Day Community Celebration on Tuesday, July 4 with a full day of family-friendly events and activities.
Want to be in the 2023 Independence Day Parade?
2023 Independence Day parade applications are open and will be accepted until Friday, June 9 at 5 p.m.
Celebrate America's independence by creating an entry that captures the spirit of Independence Day. Your entry could be a winner of one of the following awards: Community Spirit, Patriotism, or Innovation. Total points will determine an Overall Winner, who will win the Grand Prize of a free City Park Pool rental for their organization.
Please note: The Independence Day Parade is an entertainment event, designed to appeal to families and to bring the community together. As a component of the parade, some of the parade units will honor the cultural and ethnic diversity of the community. As the parade producer, the City of Fort Collins will make decisions at its sole discretion as to the content, design, and participants selected to appear in the parade.
Stars & Stripes Golf Tournament

FireKracker 5k

Independence Day Parade

Fort Collins Baseball Games

City Park Pool Special Hours

Special Rate: $3 Admission

Trolley Rides

Rides are free for the day; sponsored by Elevations Credit Union

Family Fun Zone

Drop by the Elevations Credit Union Family Fun Zone for games, giveaways, and popsicles!

Live Music and Fun in the Park

Food Truck Rally

Fireworks Celebration
The City of Fort Collins Parks and Recreation Departments are committed to providing a safe and secure environment for parade guests and participants. Please review our safety and security information below prior to arriving at our events.

Unoccupied chairs are not allowed and will be removed from the parade route.
ALL fireworks are prohibited except as part of scheduled official events.
No items may be sold along the parade route without a City permit.
Pets are not recommended along the parade route; keep them safe at home!
Throwing any objects into the parade, or at passing vehicles or pedestrians is dangerous and prohibited.
No unauthorized parking. Vehicles blocking emergency travel lanes or parked in restricted areas will be towed at the owner's expense, no exceptions. Pay attention to where you park and double-check for temporary No Parking signs and other restrictions.
No open containers of alcohol are permitted in public areas.

"See Something, Say Something!"
Call 970-419-FCPD(3273) to report suspicious activities and packages; or contact emergency authorities along the parade route.

For life-threatening emergencies, call 9-1-1. Remain calm; listen to all questions asked; provide short answers and know the address or easily identified landmarks from where you are calling.
Fireworks Display Information#
Where are the fireworks?

The fireworks display on Tuesday, July 4 is a tradition of splendor and awe in Fort Collins. The display takes place over Sheldon Lake at City Park.

What time do the fireworks start?

The Fort Collins Symphony, led by Maestro Wes Kenney, will introduce the fireworks celebration beginning at 9:35 p.m., depending on wind and weather conditions.

Where can I park?

Parking is not permitted in City Park on July 4. Parking around City Park's perimeter will be limited. For more information about street closures in the area and alternative modes of transportation click here.

Because Colorado summers typically bring dry weather, heat, and wildfires, it is important to know and obey the fireworks laws in Fort Collins. Fireworks cause thousands of injuries every year, disrupt your neighbors, scare animals, and could cost you a large fine. For more information on fireworks and to report firework usage in your area, visit fcgov.com/fireworks.