4th
of

July Community Celebration
The City of Fort Collins and presenting sponsor Blue Ocean Foundation have announced the lineup of activities for the 2018 4th of July Community Celebration. Independence Day in Fort Collins will include a morning parade, evening musical performances at City Park, and the traditional fireworks display over Sheldon Lake at City Park.

4th of July Parade presented by Blue Ocean Foundation
The Fort Collins 2018 4th of July celebration begins with a traditional Independence Day parade at 10:00 a.m. The parade will travel west on Mountain Avenue, beginning at Meldrum Street and ending at Jackson Avenue. Please note that there will be street closures in the area of the parade and parking may be limited in some areas.

Live Music and Fireworks presented by Blue Ocean Foundation
In the evening, the celebration continues at City Park with live music and fireworks. Local bands will perform from 4:15 p.m. until 7 p.m. The Colorado Swing Band will perform from 4:15-5:15 p.m. followed by Guerrilla Fanfare Brass Band from 5:45-7 p.m. The Fort Collins Symphony, led by Maestro Wes Kenney, will play from 8:15 p.m. until the fireworks are scheduled to begin around 9:35 p.m. Independence Day concludes with the traditional fireworks display over Sheldon Lake in City Park. The fireworks display is scheduled to begin at 9:35 p.m., depending on wind and weather conditions.
---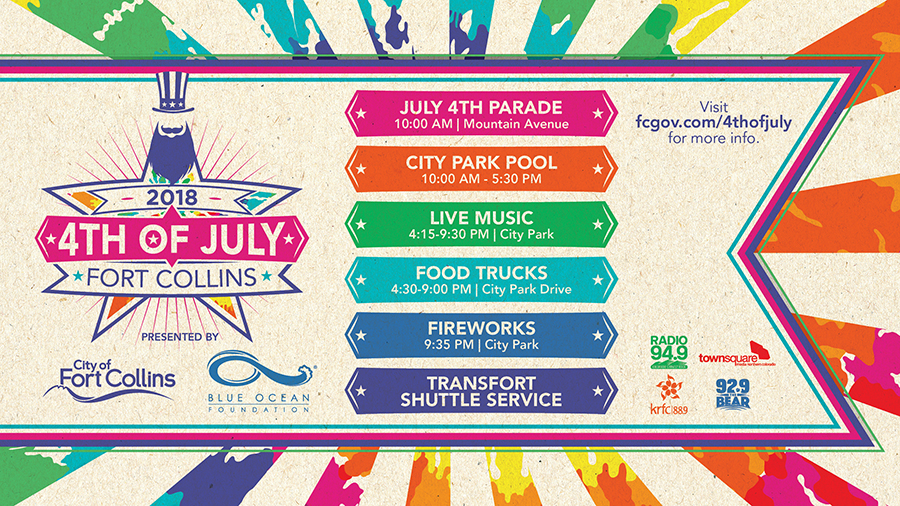 Entries for the 2018 4th of July Parade are no longer being accepted. Please check back on details for the 2019 parade.

Celebrate America's independence by creating an entry that captures the patriotism of the 4th of July. Your entry could be a winner of one of the following awards: Most Patriotic, Most Spirited, Most Creative, or Best Overall.
The Fourth of July Parade is an entertainment event, designed to appeal to families and to bring the community together. The parade will not be a forum for intolerance or political or social messages or statements. As a component of the parade, some of the parade units will honor the cultural and ethnic diversity of the community. As the parade producer, the City of Fort Collins will make decisions at its sole discretion as to the content, design, and participants selected to appear in the parade.
How to Apply
Submit your Parade Application online by Friday, June 29, 2018.
Non-refundable parade fees are due no later than Monday, July 2, 2018. Please wait to be contacted by City staff prior to submitting payment.
Non-Profit: $50 (must provide proof of non-profit status with payment)
Business Entries: $100
Marching Bands are welcome at no cost
For questions, contact Marc Rademacher at 970.221.6309 or bXJhZGVtYWNoZXJAZmNnb3YuY29t.
---
Parade Safety
The City of Fort Collins Parks and Recreation Departments are committed to providing a safe and secure environment for parade guests and participants. Please review our safety and security information below prior to arriving at our events.
Parade Route and Parking
The parade route will be westbound on Mountain Avenue from Howes St. to Jackson Ave. Guest may view the parade from available areas on Mountain Avenue. Westbound Mountain Avenue will be closed to traffic at 7 a.m. Parking can be found on surrounding streets, please do not block access to residences or alleyways. The parade will begin at 10 a.m.

What You Can Do:
A position on the curb or center medium may be maintained along the parade route beginning at 8:00 AM on July 4, 2018.
Small, professionally manufactured barbecues elevated at least 1 foot off the ground are allowed on the parade route as long as they are 25 feet from buildings and other combustibles. A fire extinguisher must be readily available at all times.
Dress for warmer weather. Drink healthy fluids to avoid dehydration. Use protective sunblock.
"See Something, Say Something!" Call 970-419-FCPD(3273) to report suspicious activities and packages; or contact emergency authorities along the parade route.
For life-threatening emergencies, call 9-1-1. Remain calm; listen to all questions asked; provide short answers and know the address or easily identified landmarks from where you are calling.
Use common sense; celebrate responsibly and always designate a driver!
What You Can't Do:
Unoccupied chairs are not allowed and will be removed from the parade route.
ALL Fireworks are prohibited except as part of scheduled official events.
No items may be sold along the parade route without a City permit.
Pets are not recommended along the parade route; keep them safe at home!
Throwing any objects into the parade, or at passing vehicles or pedestrians is dangerous and prohibited.
No unauthorized parking. Vehicles blocking emergency travel lanes or parked in restricted areas will be towed at the owner's expense, no exceptions. Pay attention to where you park and double-check for temporary No Parking signs and other restrictions.
No open containers of alcohol are permitted on public streets, sidewalks and all other public areas.
---
Fireworks Weather Delay
In the case of a weather event, the fireworks display may be delayed until 10:00 p.m. If the weather has not cleared by 10:00 p.m., the display will be postponed to July 5 at dusk. Weather that may delay the fireworks would include severe weather, moderate to heavy rain, and/or wind gusts of more than 8 mph. The decision to delay will ultimately be made by Poudre Fire Authority. Visit fcgov.com or follow the City of Fort Collins on Twitter or Facebook for updated information.
---
Fireworks Safety
Because Colorado summers typically bring dry weather, heat, and wildfires, it is important to know and obey the fireworks laws in Fort Collins on the Fourth of July and all season. Fireworks cause thousands on injuries every year, disrupt your neighbors, scare animals and could cost you a large fine. Finding a public display of fireworks to enjoy is always more safe and legal!
Each July Fourth, thousands of people, most often children and teens, are injured while using consumer fireworks. Despite the dangers of fireworks, few people understand the associated risks - devastating burns, other injuries, fires, and even death.

For more information on fireworks and to report firework usage in your area, visit https://www.fcgov.com/fireworks/.
---
Parking will not be permitted in City Park (City Park Pool or City Park Nine Golf Course). Parking around City Park's perimeter will be limited. Persons with disabled parking permits may park in designated parking areas on the south side of Sheldon Lake off Mulberry Street. Transfort will be providing free shuttle service on the 4th of July to City Park. Shuttles will be available to City Park from the Downtown Transit Center (DTC) and the CSU Towers parking lot.
Alcohol, fireworks, and pets are not permitted on the shuttles or in City Park. Call 970.221.6620 with Transfort shuttle questions.
---
All American BBQ
Celebrate America's independence with a downhome American feel. Homemade BBQ, Apple Pie Baking Contest, musical entertainment, and more on July 1. Visit fcgov.com/seniorcenter for more information.

38th Annual Old Timer's Game
Enjoy a blast from the past at the 38th Annual Old Timer's Game. Watch the players relive some of their greatest memories enjoying the game of baseball. Players take the field at 9:30 a.m. and the game will begin at 10 a.m.

FireKracker 5K
Start your Fourth of July festivities with the 19th annual FireKracker 5k at 7:30 a.m. in City Park. All ages and abilities are welcome; you can walk, jog, run or race. Just make sure to include a healthy start to your holiday celebration. Visit http://firekracker5k.com for more information.

Golf Tournament at City Park Nine Golf Course
You can tee off your Independence Day with a two-person, best ball golf tournament at historic City Park Nine Golf Course. The tournament will begin with a shotgun start at 8:00 a.m. Please call 970.221.6650 for details.

The Avery House
The Old-Fashioned Fourth of July at the Avery House runs 10:00-2:00 on the Avery House lawn. Admission and the activities are free. Please visit poudrelandmarks.org/old-fashioned-4th-of-july/ or call 970.221.6650 for details.

City Park Pool
City Park Pool, 1599 City Park Drive, will be open from 10:00 a.m. to 5:30 p.m.; admission is $3 for everyone on the 4th of July. Parking is limited on the 4th of July around City Park, please note street closures. Call 970.221.6655 for more information.
---