New! Software Application and Streamlined Markups
We are excited to announce the launch of our new software application for electronic Development Review!
As part of the changes, we are pleased to provide you with a single copy of each plan set or document that has mark-ups (redlines) from reviewing departments. You will no longer receive multiple redlines copies of your plans from individual City departments.
To ensure that the review process remains efficient and effective as we move to a cloud-based review system, projects submitted to the City of Fort Collins for review will be required to follow the Electronic Submittal Requirements and File Naming Standards, found below on this page.
We look forward to working with you as we offer continuous improvements and new ways to streamline our Development Review process. -Best Regards, Development Review Coordination
NEW! Need answers fast? Use our new form to request the customized planning and development information you need. Click below to get started.
Applications & Submittal Requirements#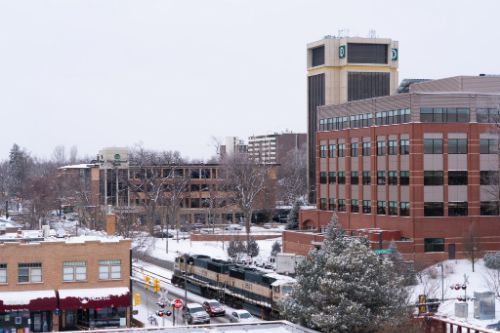 Before completing an application and checklist for your project, be sure to contact a Development Review Coordinator to help you to meet basic requirements for City staff to begin review of your project. In some instances City staff may request additional information or plan corrections during the development review process.
To learn more about the steps involved in the development review process, CLICK HERE. If you cannot find the topic you are looking for, please check out our RESOURCES page or contact a Development Review Coordinator at DRCoord@fcgov.com or 970.221.6689.
Pre-submittal Meeting Applications#
Conceptual Review#
WHO - Anyone with a land development idea can schedule a Conceptual Review meeting to get feedback on prospective development ideas.
WHEN - Generally, Conceptual Review works best after a brief conversation with a representative from the Zoning or Planning Department to first establish compliance with the permitted uses under the applicable zone district. To see whether the proposed use is allowed in the zone district please refer to the Zoning Matrix here.
WHAT - At this stage, the development idea does not need to be finalized or professionally presented. However, a sketch plan or site plan and this application must be submitted to City Staff prior to the Conceptual Review meeting. The more information you are able to provide, the better feedback you are likely to get from the meeting.
Preliminary Design Review#
Preliminary Design Review (PDR) Application
Preliminary Design Reviews offer an alternative process to the standard conceptual review for more complex or larger proposals requiring a greater level of collaboration and problem solving. A more detailed submittal package is required, including: preliminary civil plans, site plans, renderings, photos of existing conditions on the site, and detailed project ideas.
NOTE: Please be aware that any information submitted is considered a public record, and may be made available to anyone who requests it, including the media.
Development Applications & Requirements#
Credit Card Processing Fees
A convenience fee of 2% + $0.25 will be added to all credit card payments under $2,500. A convenience fee of 2.75% will be added to all credit card payments over $2,500.
We will still accept physical checks at no additional fee. You may drop checks in our drop box on the northwest side of the building. The blue drop box is checked throughout the day.
Department Specific Applications, Checklists
and

Guidelines#
Minor Amendment – Temporary Service Level Adjustment

Starting March 25, Minor Amendments will be routed on Thursday of each week:

The City of Fort Collins is committed to providing an excellent customer experience in the development review process.
Due to current staffing limitations and fluctuations in the number of project submittals in a week, there are concerns that the quality and timeliness of project reviews may suffer during weeks with a high volume of submittals in all our development review applications, which include Conceptual Design Review, Project Development Plan, Final Plan, and Minor Amendments.
In order to provide thorough, on-time reviews and ensure that every project gets the attention that it deserves, the City will route all Minor Amendments one day a week for review. The two-week review period will begin on the day it is routed.
The City understands the need for predictable project schedules, and the Development Review Coordinators will work closely with applicant teams to provide clear and transparent communication.
Starting March 25, Minor Amendments will be routed on Thursday of each week:

Minor amendment materials must be received by 4pm on Wednesday afternoon.
Each Thursday's routing will include Minor Amendment submittals received during the 7-day period beginning with the previous Thursday through Wednesday (the day before the weekly routing)
Staff Comment Letters will be sent out after the two week round of review.

We welcome your feedback as we implement these temporary changes and appreciate any suggestions for improving communication, transparency, or the overall customer experience.