Doing Business
in

Fort Collins#
The Fort Collins Economic Health Office is here to help you navigate through all local resources that are available to your business.
Starting
a

business

in

Fort Collins?#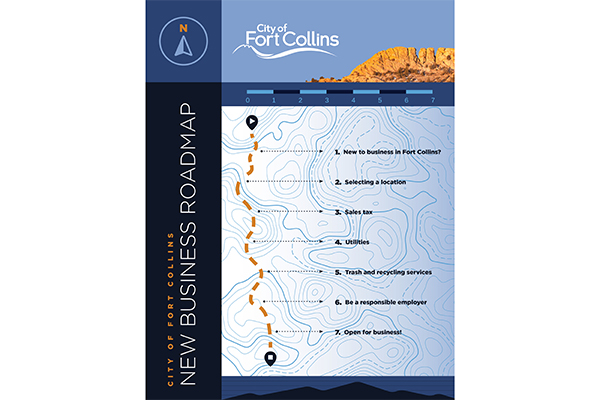 New Business Roadmap
This roadmap will walk you through everything you need to know about starting a business in Fort Collins from selecting a location to sales tax, utilities and more.
Guía Para Nuevos Negocios
Este documento le guiará a través de todo lo que necesita saber acerca de iniciar un negocio en Fort Collins, desde la selección de una ubicación hasta impuestos sobre las ventas, servicios y más.
Local Partners
Local Business Associations
NoCo Latino Chamber of Commerce (info coming soon)
Home-based Business Forms#
The City of Fort Collins encourages home-based businesses through a straightforward and easy-to-use permitting process.
Home Occupations#
Any portion of a residential property, including a home phone, computer, mailing address, etc., used in deriving income or sales, will require the resident to obtain a Home Occupation license. Visit the Building department for more information.
Child care and other day care providers are exempt from home occupation licensing and requirements except for signage restrictions.
Home occupations include (but are not limited to) the following:
Art/craft making
Seamstress services
Professional offices (real estate/insurance/medical)
Multi-level marketing
Vending services
Service businesses (contracting/janitorial)
Instruction (music)
Consulting
Wholesale/catalogue sales
Personal service (beauty/barber) shops
The renting of rooms for residential purposes
Not included under Home Occupation License#
The following cannot be considered home occupation businesses.
Group homes
Health care facilities (Nursing homes)
Restaurants
Tourist homes (Bed and Breakfast facilities)
Animal hospitals
These uses are restricted to particular zoning districts.
Application Forms#
Home Occupation License Applications can be downloaded, obtained at the Building Inspections/Zoning office at 281 North College Avenue or at the Sales Tax office at 215 North Mason, Fort Collins, CO. Or contact them at (970) 221-6760. The license fee is $25 and is renewable every two years. Code requirements regulating home occupation businesses are located in Article 3, Section 3.8.3 of the Land Use Code of Fort Collins.
Sales and use tax license application
Note:
In addition to Zoning requirements, prohibition of or limitations to home occupation businesses may be regulated by subdivision, condominium, or similar covenants. Please check what COVENANTS might exist in your neighborhood by contacting your homeowner's association or the Larimer County Clerk and Recording office at (970) 498-7860.
Questions about which licenses/permits you need to operate?#
Our Business Licenses & Permits FAQs will help guide you through required licenses and permits to operate your business based on industry type.