Becoming
an

Outdoor Vendor#
OUTDOOR VENDOR UPDATES & ANNOUNCEMENTS
Happy Fall Everyone!
I hope you all had a great summer filled with a good mix of booming business and time off for fun. Great news! I have decided to host a Winter Outdoor Vending 101 Class for anyone who needs a refresher or those thinking about going after their mobile vending dreams next summer.
Class sign up information is below but please feel free to reach out to set up a meeting to go over questions you may have in person or via Zoom/Microsoft Teams before the class. I am happy to connect with you!
Registration for Winter Outdoor Vendor 101 Class is LIVE
We had such a great turnout to our Spring classes that I thought a Winter class would be a good refresher for existing vendors or a good prep class for up and coming vendors. I would also love to see attendees from our local breweries so feel free to spread the word!
I hope to have some of our partners from the Health Department in attendance for this class as well and will update this when I get that information.
We will cover everything from outdoor vendor code to sales tax collection as well as vending location details and the actual application process.
We will have plenty of time for questions at the end but please keep in mind that we can always discuss your specific situation or questions 1x1 at any time. Class details below!
When: Tuesday, December 5, 2023
Time: 10am - 11:15am
Where: 222 Laporte Ave, Fort Collins, CO 80521 - Colorado Room
Can't wait to see you!
Know Before You Go!#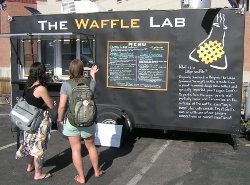 What exactly is an Outdoor Vendor?
An outdoor vendor shall mean any person, whether as owner, agent, or consignee or employee, who sells or attempts to sell, or offers to the public, any services, goods, wares or merchandise including, but not limited to food or beverage, from any outdoor location.
Where you wish to vend is an important piece to becoming an outdoor vendor. You MUST be preapproved to vend anywhere in Fort Collins and you must submit that information with your application.
Current List of Stationary Vending Approved Locations
These locations have been approved by our Zoning Department to be stationary vending sites. This information is to determine which form to fill out - this DOES NOT allow you to show up any time you want at this location. You must still ask for permission and you must still get approved.
How
To

Apply#

Please remember that you must have a valid sales tax license before taking the next outdoor vendor step. To apply for that please click HERE.

If you have your sales tax license and are ready to apply for your outdoor vendor license you can print the Outdoor Vendor Checklist and Application below and either email it directly to me Trelene Keegan at: tkeegan@fcgov.com OR you can click HERE to submit everything in the online portal.

Please pay close attention the the information on the first page checklist - incomplete packets cannot be processed and it will delay your approval.
Frequently Asked Questions#
$60.00 for six months and $120.00 for twelve months.

You do not! You simply need to work with the event organizer to participate. When you see a farmer's market or a large outdoor event the event organizer has typically pulled a permit that covers everyone involved.

You DO NEED a valid sales tax license because that serves as your business license and you can apply here.

I am always happy to speak to you, though, if you need to clarify and can be reached at (970) 221-6527.

Yes! Food trucks are the most common outdoor vendor in Fort Collins but keep in mind that the need for an outdoor vendor license is not limited to food and beverage. Anyone selling anything from an outdoor location is likely to need an outdoor vendor license and encouraged to contact our office to go over details.

No. There are very specific areas that outdoor vendors can be and there are a number of items you need to turn in with your application before you can get going. The section of the municipal code that governs Outdoor Vendor licensing can be found in Chapter 15, Article XIV.

The basics are this:

Mobile food truck vendors can only vend in non-neighborhood zone districts (private property) or streets in non-neighborhood zone districts where parallel parking is allowed.
Pushcart vendors can only vend in non-neighborhood zone districts (private property) or streets in non-neighborhood zone districts where parallel parking is allowed.
Neighborhood mobile food vendors are things like ice cream trucks and popsicle carts and we recommend calling in to go over details.
Outdoor vendors of miscellaneous goods and services can operate only in non-residential zone districts (private property).
Outdoor vendors of transportation services are encouraged to call the office to go over your ideas and we can iron out the details.

All vendors are prohibited from vending within 200ft of a K-12th grade school property line.

Review the Outdoor Vendor Licensing Areas to see if the location you want is in a non-neighborhood zone!

Please note the following restrictions:

Vendors may not operate between the ours of 3:00 a.m. to 7:00 a.m.
Vendors may not operate from any (1) location for more than (3) total days within a calendar week
Vendors may only operate more than (3) days/week at a specific location with minor amendment approval for stationary vending

Minor amendments are applied for and approved by the Zoning Department

Poudre School District
Colorado State University property
Downtown Zone District

Each of the above have their own governing bodies and we suggest reaching out to them directly if you're interested in vending in their areas.

Easy! If you currently have an active outdoor vendor license but wish to add another location please fill out the outdoor vendor modification form. You may need one or both of the forms mentioned below as well.

Additions to your existing outdoor vendor license is free but it will not extend beyond the original expiration date on your license.

Stationary vending approved sites have gone through the minor amendment process through our Zoning department to allow for vendors on site up to 7 days per week.

Without this minor amendment to the property a site can only have vendors on their property up to 3 days per week.

A list of approved stationary vending locations can be found here.

You must still get permission from the owner and complete a Vendor's Affidavit for Business Use of a Stationary Vending Site form when completing your application.
We have tried to capture your initial questions here but every vendor seems to present something new!
If you still have questions or would like to go over your specific set up, feel free to call Trelene Keegan at 970-221-6527 or send an email to tkeegan@fcgov.com
We also appreciate any website feedback to make your vending experience just a little bit better.
Happy vending!