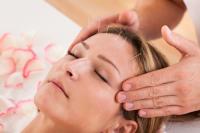 Acupuncture is a form of alternative medicine that involves inserting thin needles into the outer surface of the body. Acupuncture has been known to alleviate stress, hot flashes, pain, ailments and much more.
We offer acupuncture services on Wednesdays from 9 a.m. - 4 p.m. The cost for a 45-minute appointment is $35. Services are provided by Love Co. Acupuncture.
For more information and to schedule an appointment, call 970.221.6644.