City Park Pool#
City Park Pool is located in City Park. Enjoy the park surroundings and Sheldon Lake for fishing and an outdoor pool. City Park Pool is the best place to be during those hot summer days in Fort Collins. City Park Pool provides you with a water park experience right in your own backyard. Admission is charged for everyone entering City Park Pool.
Outdoor pool
30-foot drop slide
Open curly slide
Lazy river, shallow water, geysers
Large play structure
Picnic area
Located next to Sheldon Lake

Daily Drop-in Rates

| | Youth (2-17 years) | Adult (18-59 years) | Senior (60 years and up) |
| --- | --- | --- | --- |
| Daily Drop-in Rates | $7 | $8 | $7 |
| Twilight Drop-in Rates (every day from 4:30 p.m. to close) | $5 | $5 | $5 |

Passes#

City Park Pool Family Pass
Note: limited number available for sale
City Park Pool Family passes cover entry for one family per pass. A family consists of adults and their dependent children who are listed on their Recreation account. All listed adults and dependent children must be living at the same residence.

Passes may be purchased for $495 at EPIC, Foothills Activity Center, Fort Collins Senior Center, Mulberry Pool, and Northside Aztlan Community Center. Reduced Fee Program participants may purchase a City Park Pool Family Pass for $150.

Cash and card are accepted. Checks are not accepted.

10-Admission Punch Pass
Punch pass holders will gain 10 entries to the pool each season. Youth & Senior Punch Passes are $56 and Adult Punch Passes are $64.

Pass Rules & Regulations#

Passes must be purchased in advance at another recreation facility and may not be purchased at City Park Pool.
Any remaining visits on these passes after the last day of the season may be used at EPIC & Mulberry Pool through 12/31.
Visits do NOT carry over to the following year.
Recreation multi-facility passes are not valid at City Park Pool.
Silver Sneakers, OnePass, and Renew Active Passes are not accepted.

Reduced facility admission is available for groups at Edora Pool Ice Center, Mulberry Pool, and City Park Pool. To learn more about these rates and submit an inquiry about a rental please select the button below.

Pool Rules#

All guests must shower before entering the pool
An adult or guardian at least 15 years of age must be within one arm's reach of children under the age of 8
Food and drink within 5 feet of the pool area are prohibited
Glass containers are prohibited
Smoking and vaping are prohibited
For your safety, running and horseplay are prohibited
Flips, jumping backward, twisting, or diving from the poolside is prohibited
The island is off-limits for guests
There may be a designated "adult swim" every hour. All guests 17 years and under must exit the pool. Swim tests will be given during this time.
Flotation devices must be Coast Guard approved and are allowed in the shallow area north of the rope only
Children in flotation devices must be within arm's reach of an adult at all times
Pool toys, including balls, must be kept in the shallow area north of the rope only
Swim or rubber diapers are required for children who are not toilet trained
A swimsuit or proper swim attire must be worn at all times
Persons under the influence of, or in possession of drugs or alcohol will be asked to leave the premises
Chairs are for pool guests only and are available on a first-come, first-served basis
Guests must be able to swim and be at least 48" tall to ride the water slides
Any behavior determined to be unsafe by staff is prohibited

Play Feature Rules#

Hanging, swinging, and climbing on ropes is prohibited
Hanging on any exterior parts, pipes, or handrails of the play feature is prohibited
Any behavior determined to be unsafe by staff is prohibited
Play Feature Slide-Specific Rules

must be ridden feet first, facing forward
the splash-down area must be exited immediately
climbing up the slide is prohibited
one person on the slide at a time

Water Slide Rules#

Guests must be able to swim and be at least 48" tall to ride water slides
Guest must lie down with arms and legs crossed during the entire ride
Spitting or throwing items off the slide tower will result in ejection from the slide area
Skipping the line is prohibited
Guests must stay behind the red line until it is their turn to ride the slide
One rider at a time on the slide
Clothing with rivets, belts or denim shorts are prohibited on either slide
Guests must exit the slide area immediately
Parents may not wait at the bottom of the slide or in the drop area for children
It is recommended that guests with a history of back problems check with their physician before riding the slides

In the event that a swim lesson or aqua fitness class is canceled, participants will be notified by email at approximately 8 a.m. If possible, participants will also be called.

City Park Pool will not open for Open Swim if the temperature is not forecasted to reach 65° by opening. We will re-evaluate the forecast later to determine if a late opening is possible. Open Swim closures will also be posted on the City Park Pool home page.

Any time lightning is visible, thunder is heard, or a storm warning has been issued for the City Park area, the pool area will be cleared and closed for a minimum of 30 minutes.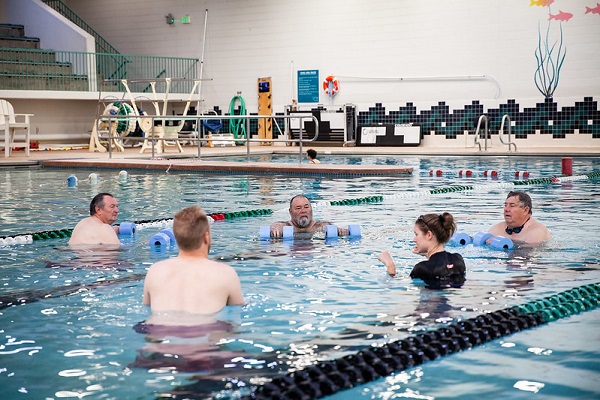 Aqua Fitness
Aqua Fitness Programs are excellent for those looking to be active with minimal impact.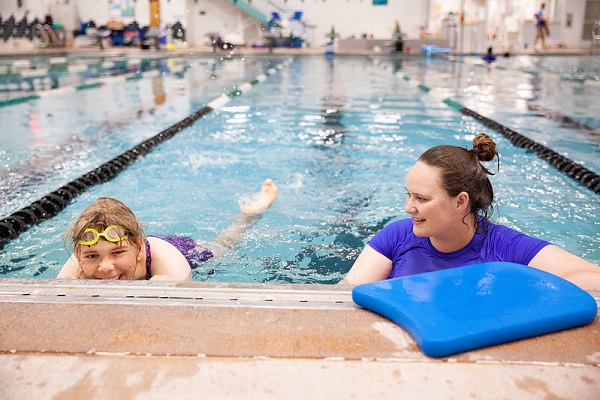 Aquatics Programs
Aquatics Programs range from group learn to swim classes, for all levels, as well as, programs to get you ready for your next adventure snorkeling or kayaking!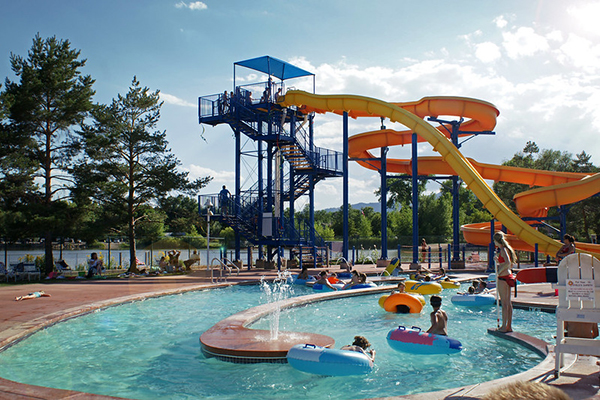 Rental/Birthday Party Inquiry
Interested in renting space for a birthday party or the whole pool? You're now able to reserve yourself on WebTrac!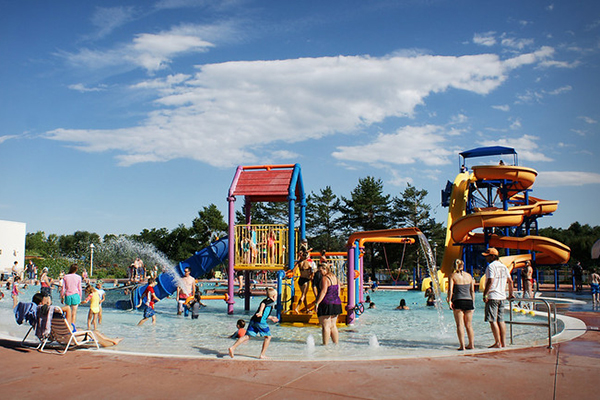 Photos
View photos of the facility.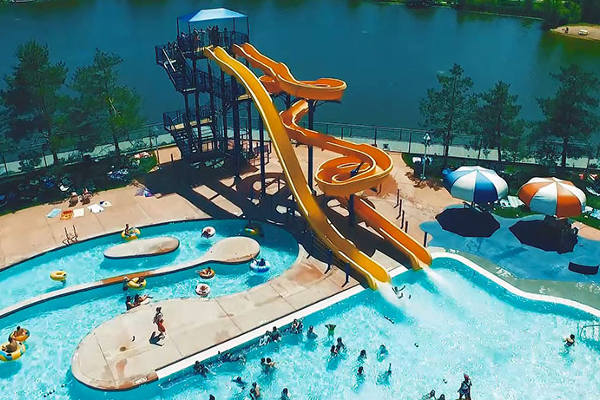 Virtual Tour
See a 360-degree tour of the facility.