Edora Pool Ice Center (EPIC)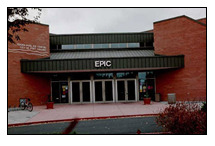 Edora Pool Ice Center, also known as EPIC, is the regions premier ice and aquatics facility. EPIC serves the entire community with a variety of ice skating and aquatics programs, classes, events and activities. EPIC experiences over one million visits per year. EPIC is home to the CSU Hockey and Water Polo Teams as well as the Fort Collins Area Swim Team (FAST) and Fort Collins Figure Skating Club.
Hours:
Monday-Friday :

5:30 a.m.-8 p.m.

Saturday :

8 a.m.-6 p.m.

Sunday :

noon-5:30 p.m.
Features:
Indoor 50-meter x 25-yard pool
Two 3-meter and two 1-meter diving boards
Separate warm water therapy and instructional pools
Two indoor 200' x 85' ice surfaces
Spectator seating
Cardio/weight room
Concessions
Multi-purpose room and skate service room
Lap Lane Schedule
News/Events
Special Hours and Closures
Women's Locker Room Closure, starting 2/19
The women's locker rooms will be closed Monday, 2/19-Monday, 2/26 for renovations. The family changing rooms will be available for use during this time. However, it is encouraged to shower at home if possible.

Special Hours:
Easter Eve - Facilities close at 5 p.m.
Thanksgiving Eve - Facilities close at 5 p.m.
Christmas Eve - Facilities close at 5 p.m.
New Years Eve - Facilities close at 5 p.m.
Facility Closures:
| | | | |
| --- | --- | --- | --- |
| New Years Day | 4th of July | | |
| Easter Day | Thanksgiving | | |
| Memorial Day | Christmas | | |
Drop-In Hours for Ice Sports
View drop-in schedules for Speed Skating, Stick & Puck, Hockey, Power Skating, Fitness Skating, Public Skate, and Senior Coffee Club here.
Silver Sneakers Accepted at EPIC
EPIC is now a participating location for Silver Sneakers members. The Healthways SilverSneakers Fitness Program allows qualified patrons free use of weight/cardio room and unlimited SilverSneaker fitness classes and a 70% discount of desginated fitness classes! See the front desk at EPIC for more information.