WEATHER CANCELLATIONS BY TEAMS/COACHES
If game/practice is canceled as a game/practice time decision by coach, due to weather related concerns, the cancellation must be submitted to parkshop@fcgov.com or call to 970-221-6660 by the next business day to keep from being charged for the field.
Examples of when fields should be CANCELED:
Standing water on the field(s)
Fields are slippery or unsafe
Turf tears underfoot / use of infield would cause ruts
WEATHER CANCELLATIONS BY CITY
If City makes the decision to cancel fields due to weather, the contact on the reservation will be emailed alerting them of the cancellation, and the field will be canceled by staff. City will provide information by Noon - day of - if field(s) conditions warrant; after Noon becomes a team/coach decision.
It will be the responsibility of the organization/contact on the reservation to then inform participants, parents, coaches and their staff of the field cancellations made by the City.
Available Rental Facilities & Spaces#
Are you looking for a place to hold your next event? The City of Fort Collins Parks Department offers great spaces available to rent for events, meetings, parties and much more! Parks only reserves spaces for events in the year the event is happening.
User Fee Increases for 2023
The City of Fort Collins Parks has not raised user fees since 2019 to help community members with outdoor alternatives for their events during and through Covid.
However, the time has come to increase user fees in 2023. These user fee increases will help to more align with neighboring communities and to help cover Parks' direct costs associated with reserving a site for exclusive use.
As of 2022, Parks placed a 10% amenity fee charge on all reservations. This fee helps to reinvest in the numerous amenities in the park system assisting with infrastructure replacement and/or enhancements to meet current park standards (not assessed on the security deposit).
Fees subject to change.
Turf & Ballfield Reservations#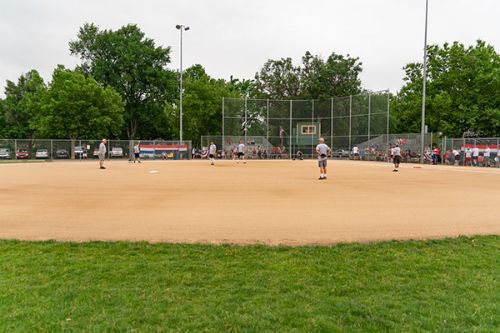 Fields must be reserved/scheduled for games and practices. Review the Field & Facilities Guidelines for information on reserving fields.
Scheduled practice times are 1.5 hours from 4-5:30 p.m., 5:30-7 p.m., or 7-8:30 p.m.

Fields do not have to be reserved for practice; drop-ins are welcome if the fields are open for use. Please note, if a ball field has been prepped, this would indicate a game is scheduled to occur; do not use a prepped field for practice. Additionally, if a team shows confirmation of field reservation drop-in users must leave the field.

If fields are closed for any reason notices will be posted at the park. Adhere to all closure notices so that fields may be reopened and ready for play.

The Parks Department relies on coaches to make practice/game-time decisions. Some of the following are reasons to cancel:
Standing Water on the Field(s)
Fields are Slippery or Unsafe
Turf Tears Underfoot
Drought Related Conditions
SCHEDULING PRACTICES#

Fees have increased this year.

The fee is $25.50 for the 1.5 hours reserved for practices plus a 10% amenity fee = $28.05

IMPORTANT: Please Read the Rules & Procedures for Reserving Sports Fields-Practices document.

INITIAL (Spring/Summer) practice field requests MUST be made via email to parkshop@fcgov.com on the designated date at no earlier than 8:00am.

DIAMOND SPORTS (baseball/softball): Tuesday, March 7 – 8:00am
TURF SPORTS (soccer/football/lacrosse): Thursday, March 9 – 8:00am
A Practice Field Request Form MUST be attached to the email.

Practice Times Monday-Friday are: 4:00pm-5:30pm OR 5:30pm-7:00pm OR 7pm-8:30pm

Practice Times Saturday/Sunday are: Open starting 9:00am hours not limited.

SPECIAL NOTE FOR DIAMOND SPORTS ONLY:

Parks will only be able to schedule 1 (one) practice per team/per week due to the limited number of ball fields available March-May.
Although we will take emails in order based on how they come into the parkshop email; we will make an exception for older teams (12yr and older) to have first option for Stew Case and Warren ball fields as they are the only 2 large fields available Mon-Fri. If there are dates/times available on these fields after the older teams have been scheduled, Parks will schedule other teams on these fields based on order of email and availability.
A chart of available ball fields March 18-June 2 is available on-line. It is a static chart, but will be updated if any changes occur; so please refer back to it prior to submitting your field request.
If the field is marked in red – it is not available to be reserved; please do NOT select these fields.
Saturday/Sunday are split into morning/afternoon so there is potential to reserve the field if only half the date is marked out.

Lights are NOT provided for practices.

2023 Sports Fields Procedures & Policies for Practices PLEASE READ

2023 Diamond Sports Practice Field Request Form

Please Note: Turf and Ballfield lists are subject to change and may be updated throughout the season for various reasons.

If fields are closed for any reason a "closed" sign will be posted and/or bollards will be in place. Please respect the "closed" sign/bollards and refrain from play on that field so that it can be reopened and ready for play in a timely manner.

Ball Fields and Turf Fields are NOT prepped for practices or scrimmages.

Turf fields are prepped for the type of event prior to the first scheduled game played on that field.
Goals for various turf sports are placed on fields (by Club and/or Organization reserving the field for games) prior to their first game on that field.
Goals for various turf sports are not the property of the Parks Department.
Teams can set up portable goals (not staked) during practice and then removed - goals may not be left on site.

Ball Fields are prepped on the morning of the scheduled game. Once prepped, drop in use of the field should be in the outfield only.
Bases are provided for games only at Community Park ball fields. (Rolland Moore Park, Edora Park, Fossil Creek Park, Lee Martinez Park, Spring Canyon Park, Twin Silo & City Park).
Ball teams must provide their own bases for games at Neighborhood Park ball fields.
Ball teams must provide their own bases for practices at ALL ball fields.
Bases must be compatible with the deadmen; if they are not fitting, do not force.
Shelter Requests#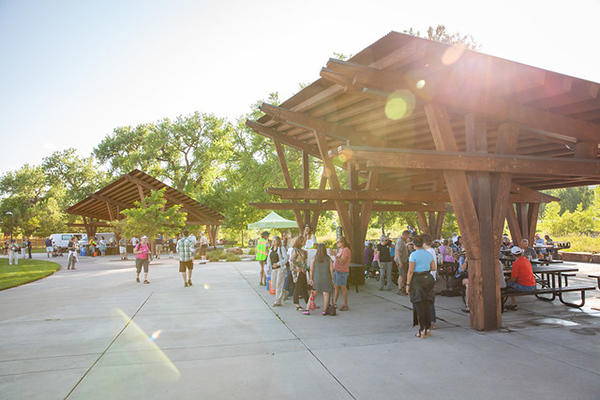 Click on the Reservable Shelter Link to see a picture and description of the shelters that parks reserves.
Shelters are available for reservation mid-March through the end of October. Reservations are only taken in the same year as the event ~ requests can begin in January.
***All other shelters in parks (example the shelter by the playground at Spring Canyon park) are ALL drop-in only shelters. Drop in must be with 50 or fewer people and No bounce house or food trucks allowed with drop-in use.***
There is one shelter in each of the following community parks that can be reserved with the Maximum capacity of 150 people.
Edora Park - (just west of the ballfields)
City Park - (south of the ballfields/west of the ditch)
Rolland Moore Park - (furthest shelter west in the park)
Fossil Creek Park - (lake pavilion, northwest in the park)
Maximum capacity of 250 people.
Spring Canyon Community Park (double shelter northwest in the park)
There is one shelter in each of the following parks that can be reserved with the Maximum capacity 50 people.
Fossil Creek Park - (oval pavilion, south of tennis courts)
Greenbriar Park - (next to play ground to the east)
Overland Park - (close to the playground to the west)
Lee Martinez Park - (close to the playground to the south)
Twin Silo Park - (close to the community garden to the west)
Spring Park - (next to play ground to the west)
For shelter availability and reservations, call the Parks Department at 970.221.6660. Payment is due at time of reservation via credit card (MasterCard, Visa or Discover). Tentative holds will not be accepted.
If a check/cash needs to be used, the reservation must be made in person by coming to the Parks Office at 413 S. Bryan Avenue.
Parks only reserves the shelter for one group per day.
Shelter Guidelines & Parks Rules & Regulations / Spanish(pdf)
Park Event Application#
The City of Fort Collins requires event permits for events planned at a City park or trail. Events that require permits include (but are not limited to):
Events with 250-2,500 attendees
Commercial use of the park with 15+ attendees and/or use of the park more than once per week/month.
Any event planning to have a bounce house, food truck, or other apparatus.
A walk/run/race on a City trail or within a City park.
An event using a skate park, BMX track, disc golf course, archery range, or horseshoe pits.
*Park Permits must be obtained at least ten days prior to the event date.
Depending on the size/scope of your event a Special Events Application/Permit may be required.
Event Cancellation Policy
If the event is canceled, notification of the cancellation must be received by Parks Front Office at least 2 business days (during office hours 8am-4pm) prior to the event in order to receive a refund. If the cancellation is weather related, notification of the cancellation must be received no later than one business day (during office hours 8am-4pm) after the event in order to receive a refund. Refunds for the Park fee will not be granted outside of these parameters. Security Deposits will be refunded.
Mobile Stage Rental#
The Mobile Stage can be reserved for events throughout the City of Fort Collins. Reservation for the Mobile Stage must be made no later than two weeks prior to the event date.
Interested in reserving tennis or pickleball courts for your next event? Contact Lewis Tennis School at 970.493.7000.

*Tennis and pickleball courts are available for drop-in use.

Vending in the Parks is not allowed.

A vendor may be invited by an event organizer to be a part of their sanctioned (permitted) event taking place at the park. The permit needed to include a vendor is the Park Event Application.

Vendor must have a Sales Tax License. The Sales Tax License must be visibly displayed. All other vending rules and requirements must be adhered to including, but not limited to, health codes, insurance requirements, and safety.