Herbicide Application Updates#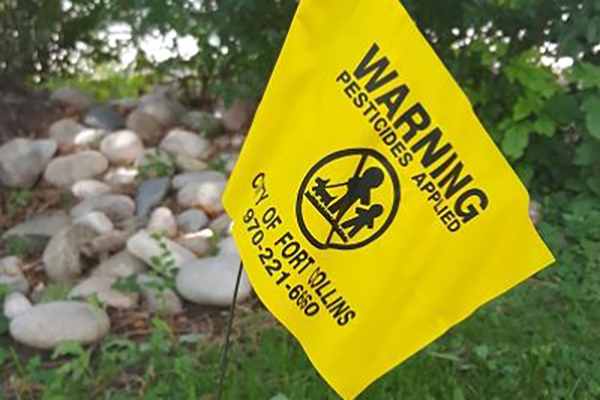 This website is updated on a weekly basis during the growing season. Always look for the herbicide application flags which are placed out before application and left up for 24 hours after application.
Questions? Contact the Park Shop at parkshop@fcgov.com or 970.221.6660.
Please note, all herbicide application schedules are subject to change due to weather and programmed activities.
SPRAYING - September 25-29#
Site(s) Sprayed: Eastside Park
Trade/Common Name of Herbicide: Ranger Pro
Active Ingredients in Herbicide: Glyphosate
To Control: Weeds and Unwanted Grasses


SPRAYING - September 25-Oct 1#
Site(s) Sprayed: FCCP Miramont Landings Troutman Ridgeview Watersway Registry Homestead Power trail Stanton creek Longview trail
Trade/Common Name of Herbicide: Roundup, Vista,Cornbelt , Tenacity
Active Ingredients in Herbicide: glyphosate , 2-4D ,Mesotrione,fluroxypyr 1-methylheptyl ester: ((4-amino-3,5- dichloro-6-fluoro-2-pyridinyl)oxy)acetic acid, 1-methylheptyl este
To Control: Weeds and Unwanted Grasses


CONTRACTOR SPRAYING - September 1 - October 1#
Site(s) Sprayed: Streetscapes and Parkways across the City; Native areas across City streetscapes
Trade/Common Name of Herbicide: Makaze; Amine 4; Vista XRT; Snapshot 2.5TG; Momentum Q; Prosecutor; Barricade; Game On
Active Ingredients in Herbicide: glyphosate; 2,4-D; fluroxypyr; trifluralin isoxaben; 2,4-D, quinclorac, dicamba; glyphosate; prodiamine; Arylex active, 2,4-D, fluroxypyr
To Control: Weeds and Unwanted Grasses
Contractor: CoCal Landscape



SPRAYING - Sept 1 - Nov 30#
Site(s) Sprayed: City Park
Trade/Common Name of Herbicide: Makaze; Cornbelt Amine
Active Ingredients in Herbicide: Glyphosate; 2-4-D
To Control: Weeds and Unwanted Grasses


Spraying - May 17-October 31#
Start Date of Spraying: 05/17/2023
End Date of Spraying: 10/31/2023

Site(s) Sprayed: Spring Canyon Community Park
Trade/Common Name of Herbicide: Ranger Pro
Active Ingredients in Herbicide: Glyphosate
To Control: Weeds and Unwanted Grasses
Spraying - May 25 - October 6#
Start Date of Spraying: 05/25/2023
End Date of Spraying: 10/06/2023

Site(s) Sprayed: Roland Moore / Senior Center
Trade/Common Name of Herbicide: Ranger Pro
Active Ingredients in Herbicide: Glyphosate
To Control: Weeds and Unwanted Grasses
Spraying Throughout
the

Year - Contractor#

Start Date of Spraying: 03/31/2023
End Date of Spraying: 09/30/2023

Site(s) Sprayed: Streetscapes and Parkways across the City
Trade/Common Name of Herbicide: Momentum Q; Prosecutor
Active Ingredients in Herbicide: 2,4-D, quinclorac, dicamba; glyphosate
To Control: Weeds and Unwanted Grasses

Contractor: CoCal Landscape


Spraying Throughout
the

Year#

Start Date of Spraying: 03/31/2023
End Date of Spraying: 09/30/2023

Site(s) Sprayed: Native areas adjacent to enhanced medians
Trade/Common Name of Herbicide: Vista XRT
Active Ingredients in Herbicide: fluroxypr 1-methylheptyl ester
To Control: Weeds Only


Spraying Throughout
the

Year#

Start Date of Spraying: 03/31/2023
End Date of Spraying: 09/30/2023

Site(s) Sprayed: Streetscapes and Parkways across the City
Trade/Common Name of Herbicide: Ranger Pro, Makaze & Amine 4 & Snapshot 2.5TG
Active Ingredients in Herbicide: glyphosate & 2,4-D 4lb amine & trifluralin isoxaben
To Control: Weeds and Unwanted Grasses