Poudre River Whitewater Park#
Located just north of Old Town, kayakers, tubers and kids of all ages can enjoy the Poudre River and all it has to offer. This park brought the river back to a more natural state, helps connect the river to downtown, provides safe access to the river, and improved the river floodplain.
Water Depth and Streamflow
Click here to learn about the current depth and flow at the Poudre River Whitewater Park.
*The actual water depth and streamflow may vary from what's reported here and may suddenly change. While the river is never completely safe, there are resources, practices, and information to help. Click here to learn more about river safety, view maps of the Poudre River, and prepare for your upcoming visit.
Frequently Asked Questions#
The park is located at 201 East Vine Drive, just north of Old Town off College and East Vine.

Poudre River Whitewater Park is a river park, designed for kayakers and tubers to enjoy the river and test their whitewater skills. The whitewater park has two whitewater drop structures.
The park was designed to bring the river back to a more natural state and improve the river floodplain.
There is also accessible riverbank access, an overlook plaza, and a pedestrian bridge that connects to the Poudre Trail.
There are no flush toilets, but a changing room and port o let is available at the parking lot.

The Poudre River Whitewater Park opened in 2019. Please follow local public health regulations when using the park.

The park is public and there is no admission fee to use the park.

There are no rentals available at the park but there are several local shops that rent all types of boating and safety gear.

A wave is formed at 200 CFS (cubic feet per second) and above. Cubic feet per second refers to the volume and speed of waterflow, the higher the number the higher the water level and faster the waterflow.

While the whitewater park contains some manmade structures, the water level is dependent on natural flows which are dependent on precipitation levels and vary by season.

If you have an issue with the park, please call: 970-221-6660.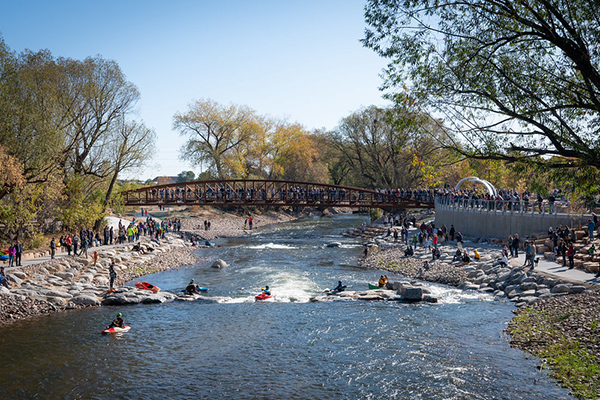 Project Archive
Learn more about the initial planning, design, and construction of the first phase of Poudre River Whitewater Park completed in October 2019.