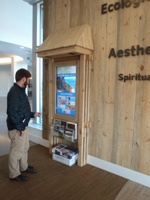 Natural Areas Exhibit at Fort Collins Museum of Discovery
The Natural Areas Department partnered with the Fort Collins Museum of Discovery and the US Fish and Wildlife Service to create a mini Natural Areas Visitor Center or information zone in the lobby of the museum.
There is no admission fee for the Natural Areas exhibit, so check out the shortgrass prairie diorama (with live endangered black-footed ferrets), an interactive map, and video stories from local citizens about why they love natural areas. You can play with the ripple tank (it shows how small actions can have large effects), pick up a map, get a brochure or just enjoy the comfortable couch with an outdoor view. Then explore the rest of the exhibits at the museum that seamlessly blend science and culture- it is so fun you won't realize how much you are learning!
Fort Collins Museum of Discovery is open Tuesday-Sunday, 10 a.m. to 5 p.m.
Learn More