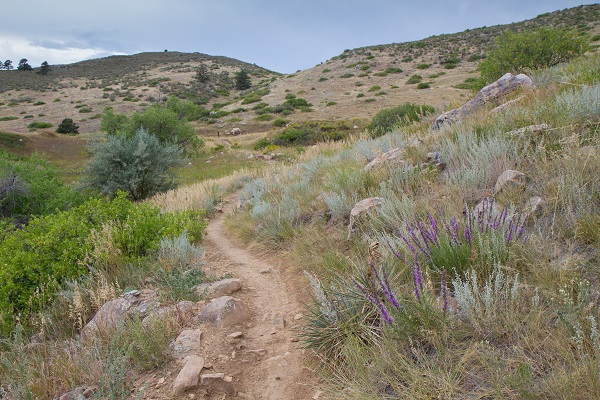 The Foothills Natural Areas Management Plan Update
The management plan that applies to Coyote Ridge, Pineridge, Maxwell and Reservoir Ridge natural areas and the Foothills Trail is due for an update in 2019.
Work on the plan includes setting goals and strategies for promoting ecological integrity, protecting natural and cultural resources, and connecting people to nature. The process for developing the Foothills Plan also includes analyzing the existing management plan, evaluating visitor amenities (including trails) and facilitating a public engagement process.
The final Management Plan product is planned to be released in early fall 2019. To achieve the outcomes described in the plan, a handful of specific projects will be outlined to be accomplished in the next 1-3 years.
---
The Foothills Plan Public Engagement Process
The Natural Areas Department is facilitating a comprehensive public engagement process that includes on-site surveys, feedback from non-visitors, stakeholder events, a hike with a planner activity, and due to expected high attendance, two open houses.
Ways to Get Involved
Next Steps
After May 5, all public feedback received will be recorded and analyzed to inform the management plan and the Impact and Decision Framework.
The Foothills Natural Areas Management Plan Update will be available online in early fall of 2019. Three key decisions will be made using the Impact and Decision Framework (how best to manage the Maxwell trail; the possible construction of a short loop trail; and, sledding at Pineridge Natural Area).
Future Management Decisions
In the future, residents will provide feedback on additional visitor-use decisions. Public engagement opportunities will occur more often, with input being sought on specific visitor use opportunities on a more frequent interval than every ten years. For example, once plans for the landfill, mental health facility, and Trilby/Overland Tr. Road are settled, the proposed trail connecting Coyote Ridge Natural Area and Cathy Fromme Prairie Natural Area can be explored, and there will be public engagement opportunities related to this specific management decision.
The four visitor use proposals below will be assessed in the future. Feedback opportunities will be scheduled once the opportunity is feasible (e.g., land agreements are in place, ecological impacts are assessed).
Maxwell to Reservoir Ridge
Pineridge to Centennial Drive
Cathy Fromme Prairie to Coyote Ridge
Reservoir Ridge to Poudre River
Learn more
---
Foothills Plan Timeline
Fall 2018- Staff team formed
Winter 2019- Discovery phase (site visits, information gathering, goals and objectives)
Spring 2019- Public Engagement
Early Fall 2019- Administrative adoption of plan
---
Site management plans are adopted administratively by the Natural Areas Department. Plans are developed with a variety of inputs including ecological data and public feedback. Decisions for new visitor use opportunities will be informed by the Impact and Decision Framework.

---

The final plan will be available online and will include goals to promote ecological integrity, provide responsible public access, and connect people to nature. Descriptions of why these goals are important and some of the actions that will make these goals a reality will be provided in an online format. Decisions will be provided for three visitor use amenities: how best to manage the Maxwell trail; the possible construction of a short loop trail; and, sledding at Pineridge Natural Area. Potential additional trail connections will not be decided upon immediately and will include an additional public feedback opportunity in the future. An action plan that includes specific objectives for Natural Areas Staff will be included as an appendix.

---

The Natural Areas Department management plan process is changing in order to produce a more dynamic "livable" document for the public. Formerly, management plans were written on a 10-year cycle and contained numerous management actions and decisions for the defined time period. Moving forward, management plans will still detail overarching goals and objectives and public engagement pertaining primarily to new visitor use (including recreation) opportunities will made on a more frequent interval than the ten-year management plan process.

---

Visitor use refers to a human connection and experience of natural spaces for social, cultural, and physical activities.

---

All recreation types impact the ecology of a site, and any new recreation opportunities require careful analysis to minimize negative impacts to wildlife and plants. Therefore, Natural Areas has developed a new tool, the Impact and Decision Framework (IDF), to guide its decision-making process for new visitor use (this includes recreation) opportunities. The IDF poses a series of considerations divided into four categories; Ecological Impacts; Cultural impacts; Visitor, Stakeholder, and Community Considerations; and Natural Areas Considerations. Public comment is important, and is considered within the Visitor, Stakeholder and Community category. When a decision has been made, results of the IDF process will be released to the public along with supporting facts and rationale regarding the decision.

---

The Natural Areas Department mission is to conserve and enhance lands with natural resource, agricultural and scenic values, while providing meaningful education and appropriate recreation opportunities. While conservation is the top priority, appropriate recreation and meaningful education are important too.

---

City

of

Fort Collins Natural Areas Trail System

| | Total Miles of Trail | Multi-use | Hiking/Horse Only | Hiking Only | Hike/Bike Only |
| --- | --- | --- | --- | --- | --- |
| Total by use | | 78.2 | 3.2 | 9.5 | 18 |
| Total | 108.9 | | | | |
| City of Fort Collins Foothills Natural Areas | 19 | 19 | | | |
| | | | | | |

County-wide All Agency Trail Mileage

| Type | Miles |
| --- | --- |
| Multi-use | 280.3 |
| Hiking only | 75.2 |
| Hiking/Horse | 468.1 |
| Hiking/Bike | 21.8 |
| Bike/Trail Run/Horse | 2.8 |
| Motorized | 14.5 |
| Paved Recreational Trail | 75.8 |
| | |
| Total Miles of Trail | 938.5 |
| | |

The Natural Areas Department has an active land conservation program. Priorities include properties with existing or potential habitat values, wildlife corridors, trails, and trail connectivity potential. The City of Fort Collins Natural Areas Department does not work in isolation and will continue to collaborate with the City's Parks Planning Department, Larimer County and other public land agencies to conserve land and create trail opportunities.

However, as the community continues to experience significant population growth, natural areas inevitably will attract more visitors. In fact, regional public land managers are reporting greatly increased visitor use. This is great news in that the community is getting out to experience public lands. At the same time, the Natural Areas Department recognizes recreation pressure and population growth as key challenges.

In sum, the Department will continue to emphasize its conservation mission, while simultaneously exploring recreation options associated with newly conserved and existing land. In addition, parking lot and crowding management strategies may need to be considered.

---

The City of Fort Collins is actively partnering with other regional land conservation and recreation provider agencies. Recent projects include:

Long View Trail- This 4.4-mile paved trail through four natural areas and open spaces connects Fort Collins and Loveland and their trail systems. It opened in August, 2018.
Fossil Creek Trail Connection- This 1.2 mile segment of paved trail through Redtail Grove Natural Area connects the east side of Fort Collins to the west side. It connects visitors to four natural areas, the Mason Street Trail, the Powerline Trail and the Front Range Trail.
Prairie Ridge Natural Area- this City of Loveland site located just south of Coyote Ridge Natural Area will provide about 3 miles of additional trail in the foothills and connect to the Coyote Ridge trail system. Prairie Ridge is scheduled to open in late 2019.
On the Rocks Trail at Bobcat Ridge Natural Area- this scenic and unique trail was proposed by the mountain biking community and is being constructed in partnership with many community volunteers to provide an advanced technical mountain bike route and scenic hiking trail.
Maxwell Natural Area Expansion- Just over 53 acres of grasslands and shrublands adjacent to the Foothills Trail and Maxwell Natural Area were acquired by City of Fort Collins Natural Areas from the State Board of Agriculture in late 2018. A variety of wildlife frequents the newly conserved land including mule deer and mountain lions. About a half mile of additional trail are now part of Maxwell Natural Area.

---

Natural Areas conserves land in two ways: fee purchases and the purchase of conservation easements. Fee purchases allow the City to own, manage and allow public access such as trails. Conservation easement purchases allow the City to conserve the land, but the land remains in private ownership and typically does not allow for public access.

Between 2015 and 2018 a total of 3,990 acres were conserved (with an additional 27 acres in 2008): 2,712 acres were purchased in fee; and 1,305 acres of land/wildlife habitat was conserved with conservation easements. Of the purchased acres, 1,272 lie northwest of Lory State Park; this property will have a separate public engagement process once public access becomes possible. The remaining fee purchases were: 557 acres added to Horsetooth Mountain Park and 320 acres added to Rimrock, both are managed by Larimer County; 481 acres added to Coyote Ridge; 27 acres added to Reservoir Ridge; and, 54 acres added to Maxwell (with an additional 0.5 miles of trail). While 1.6 miles of trail was added between 2008 and 2018; the purchase of 2,712 fee acres has the potential to add more trails.

---

Trail maintenance includes efforts to preserve the integrity of the trail, so that it remains as close to its originally constructed state as possible. Amongst other practices, this means repairing erosion and pruning vegetation along the trail to provide an adequate and safe travel corridor.

Trails are dynamic. They constantly change either from the forces of nature, the work of trail crews, or the impact of visitation. When a trail becomes eroded it traps and channels precipitation which further damages the trail. A common maintenance technique to prevent increased erosion is to replace the lost soil to restore the trail's ability to shed water. Trail maintenance activities are carefully considered for both sustainability and the preservation of the intended visitor experience of an individual trail.

Currently, 93% of Natural Areas managed trails are rated in "good" condition. Additionally, in a recently performed statistically valid study nearly 100% of respondents rated their natural area's experience as "excellent" (Vaske 2018.) These figures are a testament to the thousands of hours of trail maintenance performed each year by staff, volunteers, and contractors.

---

No. City of Fort Collins Natural Areas has never considered or advertised this as an option.

---

The Visitor Intercept Surveys in 2017 and 2018 showed that the demographics of visitors to the Foothills Natural Areas didn't match that of the City, indicating underutilization by certain demographics. The Natural Areas Department reached out to community members in February 2019 to determine if there were actions that NAD could take to encourage underrepresented community members to connect with nature in the Foothills. A short trail loop was the most popular option according to the 149 respondents. This loop could accommodate families with small children and the elderly. Interpretive features could include plant identification and educational signs about the ecology of the area. This opportunity will be assessed through Impact and Decision Framework process.

---

Plant communities can be altered near trails and other disturbed sites where invasive plants can be introduced. This can have a particularly detrimental effect if a trail goes through or near certain rare plant populations as well as areas with well-established native vegetation.

Recreation activities can cause wildlife to avoid habitat areas. Recreation can be stressful for wildlife which means they have less energy for reproduction or survival activities. When wildlife avoid high-use trails, it could mean they have limited access to high-quality habitat, food sources or denning sites.

A common theme in studies seeking to measure recreational impacts on wildlife is to determine the area in proximity to a recreational activity where wildlife is impacted, or the "area of influence." The area of influence is often different for different species or habitats and could include parameters such as distance from a trail that a large mammal is likely to flee or distance that nesting birds are impacted. For example, mule deer at Antelope Island State Park in Utah had a 70% flush rate within 100 meters from a recreationist on-trail (Taylor and Knight 2003). Nest survival of certain grassland and forest birds was shown to increase further from trails in a study in Boulder County (Miller et. al., 1998). The authors found that the "area of influence" for most species in this study was 75 meters. While trail activity is found to have impacts on wildlife it is also important to note that off-trail use has greater impacts than on-trail use (Taylor and Knight, 2003).

Miller, S. G., R. L. Knight, and C.K. Miller. 1998. Influence of recreational trails on breeding bird communities. Ecological Applications. 8(1):162-169.

Taylor, A. R., and R. L. Knight. 2003. Wildlife responses to recreation and associated visitor perceptions. Ecological Applications. 13(4): 951-963.

---

Visitors are encouraged to recreate outside of the busiest hours (which are 10 a.m. -3 p.m. on weekends). Parking lots are sized to regulate the number of visitors to the natural area to minimize impacts to wildlife, habitat, and to maintain visitor enjoyment. If parking lots are full, visitors must find an alternate natural area or come back another time.

---

2017/2018- Intercept surveys, also known as on-site statistically valid visitor surveys (n = 584) were conducted at the Foothills Natural Areas. The findings reported have a 95% confidence interval, +/- 4%. Read the report
February 2019- Foothills Non-visitor Outreach- Natural Areas staff sought input from community members at the King Soopers on Taft Hill Road, the Northside Aztlan Center, and the Fort Collins Boys & Girls Club. This effort to reach community members that don't often visit the Foothills Natural Areas is part of a larger effort by the Natural Areas Department to connect underrepresented community members to nature.
March 26- Stakeholder Meeting- Invited representatives from conservation and recreation groups to share and better understand the opportunities and challenges at the foothills natural areas; to share perspectives; to explore a diversity of opinions and build relationships. The focus was the Impact and Decision Framework and how it will be used to make decisions around new visitor use opportunities such as trails.
April 2- Hike with a Planner- This hike through Coyote Ridge Natural Area was a chance to hear from residents and share the goals of the plan, the Impact and Decision Framework, and information about wildlife management, resource protection, rare plants, invasive plant and fire management, and trail management.
April 10- Cycling Community Open House- CANCELED due to a forecast blizzard and rescheduled to April 30.
April 11- Virtual Open House opened online, available through May 5.
April 16- Open House, approximately 250 people attended at Northside Aztlan Center.
April 30- Rescheduled Cycling Community Open House- This open house featured the same information available as the 4/16 open house.

---

The City of Fort Collins conducted visitor surveys (n = 584) at the Foothills Natural Areas during 2017 and 2018. Foothills counter data has consistently yielded that 10 a.m. – 3 p.m. is the peak time for natural areas use. Respondents were randomly selected throughout the year on both weekdays and weekends. Interviews were conducted in four shifts (i.e., 8 am to 9:30 am, 10 am to 11:30 am, and 12 pm to 1:30 pm, 2:00 pm- 3:30 pm). Given the population of Fort Collins, the sample size, and the random selection procedures, the findings reported have a 95% confidence interval, +/- 4%.

---
---
Contact
Heidi Wagner
Senior Environmental Planner
City of Fort Collins Natural Areas
970-221-6310