Dept Director
8 a.m. to 5 p.m. (M-F, except for holidays)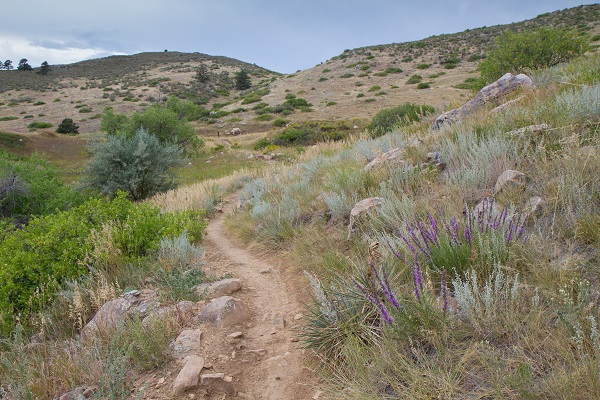 The Foothills Natural Areas Management Plan Update
The management plan that applies to Coyote Ridge, Pineridge, Maxwell and Reservoir Ridge natural areas and the Foothills Trail is due for an update in 2019.
Work on the plan includes setting goals and strategies for promoting ecological integrity, protecting natural and cultural resources, and connecting people to nature. The process for developing the Foothills Plan also includes analyzing the existing management plan, evaluating visitor amenities (including trails) and facilitating a public engagement process.
The Draft Management Plan was available for public feedback, August 16- September 2.
The final Management Plan will be released in the fall of 2019.
Draft Foothills Natural Areas Management Plan
Supporting Documents
Visitor Use Impact and Decision Framework Summaries
Public Engagement
The Natural Areas Department facilitated a comprehensive public engagement process that included on-site surveys, feedback from non-visitors, stakeholder events, a hike with a planner activity, two open houses, and feedback on the draft plan and decisions. The final plan will be released in the fall of 2019.
Future Management Decisions
In the future, residents will provide feedback on additional visitor-use decisions. Public engagement opportunities will occur more often, with input being sought on specific visitor use opportunities on a more frequent interval than every ten years. For example, once plans for the landfill, mental health facility, and Trilby/Overland Tr. Road are settled, the proposed trail connecting Coyote Ridge Natural Area and Cathy Fromme Prairie Natural Area can be explored, and there will be public engagement opportunities related to this specific management decision.
The three visitor use proposals below will be assessed in the future. Feedback opportunities will be scheduled once the opportunity is feasible (e.g., land agreements are in place, ecological impacts are assessed).
Maxwell to Reservoir Ridge
Cathy Fromme Prairie to Coyote Ridge
Reservoir Ridge to Poudre River
Learn more
Foothills Plan Timeline
Fall 2018- Staff team formed
Winter 2019- Discovery phase (site visits, information gathering, goals and objectives)
Spring 2019- Public Engagement
Summer 2019- Public feedback on draft plan
Fall 2019- Administrative adoption of plan
Frequently Asked Questions
The final plan will include goals to promote ecological integrity, provide public access, and connect people to nature. Some near-term visitor use decisions will be provided while other identified visitor use opportunities will hinge on future landowner agreements and further analysis.

The Natural Areas Department (Department) management plan process is changing in order to produce a more dynamic document for the public. Formerly, management plans were written on a 10-year cycle and contained numerous management actions and decisions for the defined time period. Moving forward, management plans will continue to detail overarching goals and objectives; however, public engagement opportunities will occur on a more frequent interval than the ten-year management plan process.

The Department developed a new tool, the Impact and Decision Framework (IDF), to guide its decision-making process for new visitor use opportunities. The IDF poses a series of considerations divided into four categories; ecological impacts, cultural resource impacts, social considerations, and administrative considerations. Public comment is important and is factored within the social-considerations category. When a decision has been made, the results of the IDF process will be released to the public along with supporting facts and rationale regarding the decision.

The Department will continue to emphasize its conservation mission, while simultaneously examining recreation options associated with newly conserved and existing land. The Department partners with various organizations to provide improved recreation opportunities. Recent projects include:

Long View Trail- This 4.4-mile paved trail through four natural areas and open spaces connects Fort Collins and Loveland and their trail systems. It opened in August 2018.
Fossil Creek Trail Connection- This 1.2-mile segment of paved trail through Redtail Grove Natural Area connects the east side of Fort Collins to the west side. It connects visitors to four natural areas, the Mason Street Trail, the Powerline Trail and the Front Range Trail.
Prairie Ridge Natural Area- this City of Loveland site located just south of Coyote Ridge Natural Area will provide about 3 miles of additional trail in the foothills and connect to the Coyote Ridge trail system. Prairie Ridge is scheduled to open in late 2019.
On the Rocks Trail at Bobcat Ridge Natural Area- this scenic and unique trail was proposed by the mountain biking community and was constructed in partnership with many community volunteers to provide an advanced technical mountain bike route and scenic hiking trail. It opened in July 2019.
Maxwell Natural Area Expansion- Just over 53 acres of grasslands and shrublands adjacent to the Foothills Trail and Maxwell Natural Area were acquired. About a half mile of additional trail are now part of Maxwell Natural Area.

Trail maintenance includes efforts to preserve the integrity of the trail so that it remains as close to its originally constructed state as possible. Trails are dynamic. They constantly change either from the forces of nature, the work of trail crews, or the impact of visitation. When a trail becomes eroded it traps and channels precipitation which further damages the trail. A common maintenance technique to prevent increased erosion is to replace lost soil to restore the trail's ability to shed water. Another common maintenance practice is to prune vegetation to provide an adequate and safe travel corridor. Trail maintenance activities are carefully considered for both sustainability and the preservation of the intended visitor experience of an individual trail.

No. City of Fort Collins Natural Areas has never considered or advertised this as an option.

The Visitor Intercept Surveys in 2017 and 2018 showed that Foothills natural areas are underutilized by certain demographics of the community. The Department interviewed community members and non-visitors and found that a short trail loop was the most popular option according to the 168 interviewees. This type of trail could accommodate families, small children, people with disabilities, and the elderly. Interpretive features could include plant identification and educational signs about the ecology of the area.

The City of Fort Collins conducted visitor surveys (n = 584) at the Foothills Natural Areas during 2017 and 2018. Foothills counter data has consistently yielded that 10 a.m. – 3 p.m. is the peak time for natural areas use. Respondents were randomly selected throughout the year on both weekdays and weekends. Interviews were conducted in four shifts (i.e., 8 am to 9:30 am, 10 am to 11:30 am, and 12 pm to 1:30 pm, 2:00 pm- 3:30 pm). Given the population of Fort Collins, the sample size, and the random selection procedures, the findings reported have a 95% confidence interval, +/- 4%.
Contact
Heidi Wagner
Senior Environmental Planner
City of Fort Collins Natural Areas
970-221-6310