Treatsylvania - SOLD OUT!
Tickets for Treatsylvania are no longer available for purchase. Thank you for your support of this beloved event - we look forward to seeing you at The Farm!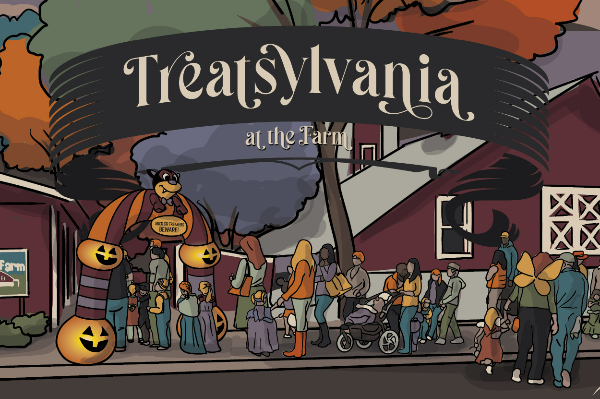 Dates:
Friday, October 28 from 5:30-7 p.m.
Saturday, October 29 from 5-7 p.m.
Sunday, October 30 from 1-3 p.m. & 5-7 p.m.
Ages: 10 years & under
Location: The Farm
Cost: $7
Children ages ten years and under receive treat bags filled with goodies - including, coupons, promotional materials, and of course, candy! Participants also enjoy a hayride, a walk through the not-so-spooky barn, and photo opportunities.
Upon arrival at the event, please share your receipt showing proof of purchase and/or provide the full name of the person who made the purchase. Please note, you will receive one receipt (PDF) per transaction rather than individual receipts per registration. The receipt indicates the number of admissions purchased.

No, all event reservations must be made in advance. Admission will not be granted to those without a reservation.

No, we do not offer refunds for Treatsylvania reservations.

You must have one reservation per child. Reservations are only needed for children ages 10 years and under.

Adults are free!

Tickets must be purchased for any child who you would like to have a treat bag and be allowed to trick or treat.

No, but we think it's more fun if you do!

The animals will be present; however, you will not be able to see most of them up close as you would with a normal visit to The Farm.

There will be no printed tickets this year. After purchasing your registrations for Treatsylvania, you will receive an email confirmation with a receipt of purchase. Upon arrival at The Farm for your designated entry time, you will show your receipt and we will check you in with a sign-up sheet.

If the weather is bad, The Farm will modify the event as needed. Any updates regarding the status of the event will be posted online at fcgov.com/treatsylvania.
Volunteers#
Calling all volunteers! We need you to assist in creating a not-so-spooky night for Fort Collins' trick-or-treaters. Pass out candy from storefronts in kid-friendly costumes and celebrate Halloween. To register as a volunteer contact Ashley Ruffer at aruffer@fcgov.com.