Contact Information
Area Manager
Supervisor
The Farm at Lee Martinez Park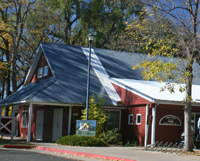 The Farm at Lee Martinez Park has provided hands-on family fun since 1985. The Farm serves as an educational and interactive experience for Fort Collins residents and visitors. Your visit to The Farm will be an adventure for all ages. You can learn more about the industry that shaped this region, have interactive, hands-on farm fun, and introduce your child to agriculture and farm life while visiting.
Hours:
Wednesday-Saturday :

10 a.m.-4 p.m.

Sunday :

noon-4 p.m.
Features:
Farm animals
Hands-on experiences
Interactive family fun
Birthday party rentals
Museum & The Farm Store
Hayrides (schedule in advance)
Pony rides
Special events
News/Events
To register for the programs below, visit our online database and search for the class to register. You can also call 970-221-6655 to register over the phone. Additional Farm programs can be found in the Recreator. Pick up a copy of the Recreator at any Recreation Facility or view the online version here.
Special Hours and Closures
Special Hours:
Easter Eve - Facilities close at 5 p.m.
Thanksgiving Eve - Facilities close at 5 p.m.

Facility Closures:
New Years Eve
New Years Day
Day after New Years
Martin Luther King Day
President's Day
Easter Day
Memorial Day
4th of July
Labor Day
Thanksgiving
Christmas Eve
Christmas
Cookies & Crafts
Date: Thursday, December 21 l 1-3 p.m.
Age: 4-6 years
Cost: $21

Spend the afternoon making cookies and crafts for family members this holiday season. Register here.
Play The Farm Game
Mooooove over Angry Birds. Explore The Farm at Lee Martinez Park and learn about the animals that call it home with this interactive game created by Lightsource Creative Communications. Test your "farm knowledge" and discover your inner-farmer. This game is great for kids ages 2-7 at home or in the classroom.
Adopt an Animal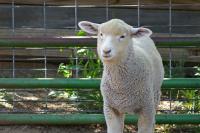 Anyone can adopt an animal at The Farm and become its "parent." As an adoptive parent, you are helping to provide for the food and care of your animal. Of course, your adopted animal stays at The Farm where it is cared for by Farm staff. Note: for all practical purposes, some of the animals are sold when they reach maturity. It's easy to adopt! Choose your favorite farm animal and adopt it for a year by making a tax-deductible donation. A farm "parent" receives an adoption certificate, his/her name listed at The Farm, and a poster as a "thank you," because we do appreciate your support. All adoptive parents will be invited to Santa on the Farm at The Farm in December.
Call us at 970.221.6665 for more information or to adopt today!
Birthday Parties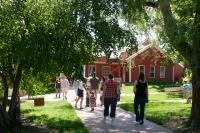 Celebrate a birthday with a farm flair! Meeting the animals, riding a pony or going on a hayride create a very unique party for your 3 to 9 year old. Call The Farm or stop by during open hours to reserve your dates. A minimum charge is due at time of reservation. Your hostess will take care of all the details to ensure a stress-free day for you.
For more information about rentals, click here.
Barnyard Buddy Pass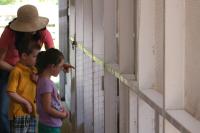 This pass includes unlimited visits for up to 4 people a visit (additional guests ages 2-84 pay half admission) and an invitation to Santa on the Farm. Commercial and home daycare Barnyard Buddy Passes are also available. Please call The Farm for more information.
Seasonal Farm Hours
November 1-March 31: Wed.-Sat. 10 a.m.-4 p.m. and Sun. noon-4 p.m.
April 1-May 31: Wed.-Sat. 10 a.m.-5 p.m. and Sun. noon-5 p.m.
June 1-Aug. 31: Tues.-Sat. 10 a.m.-5 p.m. and Sun. noon-5 p.m.
September 1-October 31: Wed.-Sat. 10 a.m.-5 p.m. and Sun. noon-5 p.m.