Naturally Yours
Explore: Trail Recommendations for the Shortest Month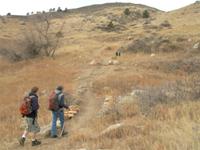 Don't let the winter blues get you down! Get outdoors and explore a new place or an old favorite. Here are three suggestions, use the Natural Areas Map to find your way to the trailhead.
Reservoir Ridge Natural Area is a great destination if you want to feel like you are away from the city, but you don't have much time to drive a long way. Park in the Michaud Lane parking lot. The trail meanders along the plains for about one mile before climbing into the foothills and along ridges with great views of the city and to Horsetooth Reservoir. Several loop options mean you can tailor the hike to your time and interest. Reservoir Ridge is the northern end of the the 6.8-mile Foothills Trail.
In the southern part of Fort Collins is a small natural treasure, Two Creeks Natural Area. It borders the west side of Fossil Creek Park and encompasses the confluence of Mail Creek and Fossil Creek (the two creeks in its name). Try parking at Fossil Creek Park's western entrance (off Fossil Creek Parkway) and walking the paved trail (0.3 miles) through the site.
Redwing blackbirds will soon be heard at Redwing Marsh Natural Area

.

Look for a robin-sized bird, males are mostly black with a red and yellow wing patch. Females are brown-streaked with a buff or orange throat. Try parking at Greenbriar Park and exploring the 0.16 mile trail through a Redwing Marsh, a wetland forest. Listen for the red-winged blackbird song that sounds like "conk-la-ree!"

Learn: See Bald Eagles in the Wild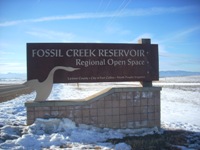 The eagles are still roosting at Fossil Creek Reservoir Regional Open Space! You can see them before they head north. Enjoy the beauty and outstanding birding at Fossil Creek Reservoir Regional Open Space with six free programs in February. Read the eagle watch flyer here.

Eagle Watch Dates
Saturday, February 6, 10 am -12 noon
Sunday, February 7, 3 pm -5 pm
Tuesday, February 16, 3 pm -5 pm
Saturday, February 20, 10 am -12 noon
Thursday, February 25, 9 am -11 am
Saturday, February 27, 9 am -11 am

Before you head out, remember to check the natural areas website for possible cancellation information.


Give Back: Become a Master Naturalist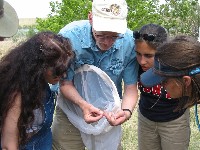 Looking for a rewarding volunteer experience while enjoying your natural areas?
Master Naturalists
are volunteers trained in local ecology and public speaking skills. You will welcome visitors to natural areas, provide programs and share practical stewardship tips for these special places.
Short on time? Consider becoming a
Master Naturalist Assistant
. You will assist with group management, props and activities, while having a fun outing on the natural areas.
All training for Master Naturalists and Master Naturalist Assistants is FREE, educational and fun! Applications are due February 26 and training begins March 10, training details and applications are available on-line. To have application materials mailed to you or for more information, call 970-224-6118, or email skenney@fcgov.com.
Closures and Cancellations: Know Before You Go

'Tis the season for muddy trails
which means trail closures at some natural areas. Don't drive all the way to a trail to find it closed! Trail closures are
posted on-line
and are updated daily.
In addition, sometimes educational programs are canceled due to weather, volunteer availability or other reasons, so check the
Natural Areas Program homepage
before setting out.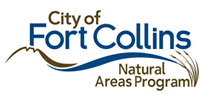 Thanks for reading! If you have questions or comments, please contact Natural Areas Program Community Relations Manager, Zoe Whyman, 970-221-6311 or email zwhyman@fcgov.com
Back to Natural Areas News Archive »