Naturally Yours
Neat November Outings


Looking to get outside, but don't have much time? Try North Shields Pond and Sterling natural areas. You'll find 2 flat loop trails that encircle ponds, about 1.5 miles total. Great for solitude, watching waterfowl and views!

Is it warm enough for a picnic? You never know in Colorado! Try Gateway Natural Area, 5 miles up the Cache La Poudre Canyon/ Hwy 14. Picnic tables, grills, a lawn, short hiking trails and great fishing make Gateway a terrific destination.

At Pineridge Natural Area you can experience a ponderosa pine forest, grasslands, a reservoir and surrounding woods- all in one visit! There are several trail options, with over 4 miles of possibilities. As part of your hike or ride, check out the new picnic tables at the Dixon Reservoir parking lot. Before you go, check trail conditions as sometimes Pineridge is closed due to muddy conditions.

Healthy Kids Are Outdoors

The outdoors are great for everyone. Children who play outdoors in nature are healthier, happier and smarter. Not sure how to start? A Parent's Guide to Nature Play and the Nature Rocks website are both terrific resources.

John Fielder's Ranches of Colorado

Famed nature photographer John Fielder will be speaking about his new book, Ranches of Colorado in Fort Collins! The book celebrates the scenic beauty and western heritage of Colorado's ranchland open space. Ranches of Colorado will be on sale at the event, with a portion of the sales benefiting Legacy Land Trust. John Fielder is partnering with Colorado Open Lands and Colorado Cattlemen's Agricultural Land Trust to raise funds and bring awareness to protecting working ranches in Colorado.

We mention the event here because conserving agricultural lands is part of the Fort Collins Natural Areas Program's mission and we often partner with Legacy Land Trust.

John Fielder's Ranches of Colorado
Friday, November 20, 7 pm

Colorado State University's Lory Student Center North Ballroom

Suggested donation (to benefit Legacy Land Trust) $7.50 for adults, $5.00 for students.
For more information, contact Legacy Land Trust, 970-407-1434.
When is Soapstone Prairie Open?

There has been some confusion about the annual closure at Soapstone Prairie. The site will close at the end of November. It will be closed in December, January and February. Soapstone Prairie will re-open March 1. Want the latest on closures? Check the natural areas
trails conditions page
for current updates.
Nature Note: Canada Geese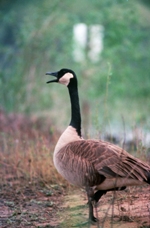 Canada geese are a common sight in Fort Collins in all seasons. But aren't geese supposed to migrate south for the winter? It turns out that we have both migratory and resident geese in Fort Collins.
In 1957, the Colorado Division of Wildlife released 40 geese in Fort Collins to develop a breeding flock. The plan worked a little too well! Now Colorado has about 10,000 resident geese as well as about 50,000 geese that come here for the winter instead of continuing south to New Mexico.
Canada Geese Might Surprise You
- Canada geese mate for life and return to breed in the place they were raised.
- Geese survive by avoiding predators- they find open places near water where they can see predators approaching and escape quickly. A male ("gander") maintains a lookout.
- Canada geese are vegetarians. In summer they eat grasses and sedges, in the winter, they rely more on berries and seeds.
You Can Help Canada Geese
- Pick up trash, especially fishing line which can entangle birds that use it as nesting material.
- Keep birds healthy- don't feed them.
- Observe birds from a safe distance, for you and for them. When a bird or animal changes behavior as a result of your presence, you are too close.


Suggestions or comments on this newsletter are welcome, please contact Zoe Whyman, zwhyman@fcgov.com, 970-221-6311.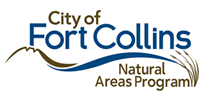 Back to Natural Areas News Archive »