NOTICE:
This newsletter was originally sent on Apr 2, 2013.
April
2013

Naturally Yours
Earth Day Tree Planting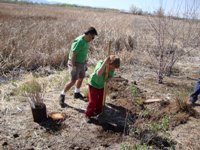 Everyone is invited to celebrate Earth Day by making a difference along the Poudre River, one of Fort Collins natural treasures. Volunteers are needed to plant trees and shrubs on Saturday, April 20 from 9 a.m. to noon. All supplies and training are supplied, no experience is necessary, and families are welcome. Snacks provided. Location and futher details will be provided with registration. Registration is required by calling 970-416-2815 or emailing naturalareas@fcgov.com
After the tree planting, come visit the Natural Areas booth at Earth Day Fort Collins at the Gardens on Spring Creek!

New Trailhead
A new trailhead at Reservoir Ridge Natural Area is expected to open soon! The parking lot is off of Overland Trail Road, just south of Michaud Lane at 1425 North Overland Trail Road. From the new parking lot, visitors can explore 1.4 miles of flat and easy trail that goes along hay fields, across a wetland slough via a boardwalk and over the Pleasant Valley and Lake Canal using a bridge. The trail connects to the 6.8 mile Foothills Trail. The new Reservoir Ridge Trail is open to hiking, biking, leashed dogs and horseback riding. When it opens, the trail will be open from dawn to dusk and it will be free to visit.
Trail conditions, including when the new trail is open, and closures due to wet and muddy conditions are posted at http://www.fcgov.com/naturalareas/status.php
Free Activities This Month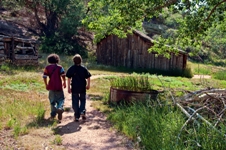 Tracks & Trails: Your Guide to Free Natural Areas Activities will be back in May with a special 20th anniversary editon. Until then you can learn about events in this e-newsletter or at fcgov.com/naturalareas.
Spring Break Detectives—Finding Nature's Clues, Friday, April 5, arrive anytime between 9:30 and 11:30 a.m. Bobcat Ridge Natural Area. Develop your observation and nature detective skills at this family event! Enjoy several fun, interactive educational stations to explore the natural and cultural features of this site. Bring water to drink, snacks, jackets, and sunscreen. Please carpool if possible to help with parking. Note: dogs are not allowed at Bobcat Ridge. Free, no registration required. For more information, email dprice@fcgov.com.

Spring Skies, Friday, Friday, April 12, 7:15-10 p.m.at Bobcat Ridge Natural Area, meet at the picnic shelter, 1/8 mile from the parking lot. Enjoy the cresent moon and a brief program about spring constellations followed by skygazing with volunteers from the Northern Colorado Astronomical Society who provide telescopes for public sky viewing. Dress warmly and bring something to sit on. Free, no registration required.
Spring Astronomy Day, Saturday, April 20, 8-10 p.m. at Fossil Creek Reservoir Regional Open Space. Learn about telexscopes and skygazing, see and discover fun facts about the moon, Jupiter and the spring sky. Free, no registration required.
Natural Areas Passport- Celebrate 20 years of natural areas with the Passport to the Natural Areas! It is a checklist of natural areas to visit and free activities. Complete your passport (pdf) or use the online version for a prize and to be entered into a drawing for a backpack full of outdoor supplies. Printed passports are also available at natural area trailheads, the Fort Collins Museum of Discovery and the Natural Areas Department office (1745 Hoffman Mill Road, Mon.-Fri., 8 a.m.-5 p.m.). The passport will be available now through November.

Prescribed Burns



The City of Fort Collins Natural Areas Department, in coordination with The Nature Conservancy, is planning to implement prescribed burns at Bobcat Ridge, Soapstone Prairie, and Reservoir Ridge natural areas, as well as at Fossil Creek Reservoir Regional Open Space. As fuel and weather conditions allow, the prescribed burns will occur between April 8 and May 31. Though conditions may dictate scheduling changes, the first burn is slated for Bobcat Ridge Natural Area on Monday, April 8. The natural area will be closed the day of the burn. Updates will be posted on the Natural Areas trail conditions page, www.fcgov.com/naturalareas/status.php .

Our Lands- Our Future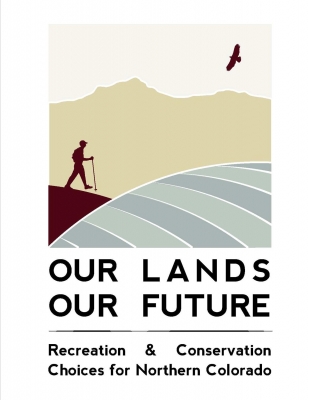 You can help shape the vision and planning for our region's outdoor conservation and recreation programs. Our Lands—Our Future is a project that will guide how future open space and natural area tax dollars are spent.
The results of a citizen survey have been released and now planners are asking for futher input through a second survey and an interactive mapping tool.

If your group would like a free presentation about the project, please contact Larimer County Project Manager, Zac Weibe via email: wiebezm@co.larimer.co.us
Learn more about Our Lands-Our Future here >>>
Natural Areas 20th Anniversary



It has been two decades since the first citizen-initated sales tax that funds natural areas. Voters have approved sales tax funding four more times since then, thank you! Fort Collins has conserved over 40,000 acres with 39 natural areas to explore and over 100 miles of trail. Everyone is invited to help celebrate the 20th anniversary, join the fun!

April- Celebrate Earth Day by getting your hands dirty and giving back through a volunteer service project (see first story above). Families are invited to a special Spring Break event at Bobcat Ridge Natural Area on April 5 (details above).

May- November Tracks & Trails (Your Guide to Free Activities and Events on Natural Areas) will feature an outstanding season of outdoor fun, service and learning! A junior naturalist booklet and the Natural Areas Passport will be included too. Activities will also be announced here and at www.fcgov.com/naturalareas.

---------------------------------------------------------------------------------------------------------------------


Natural Areas News is published on the first Tuesday of the month with occasional special editions. Newsletter comments are welcome. Please contact Zoe Whyman, City of Fort Collins Natural Areas Community Relations Manager, 970-221-6311 or zwhyman@fcgov.com
Back to Natural Areas News Archive »