NOTICE:
This newsletter was originally sent on Mar 5, 2013.
March
2013

Naturally Yours
Visit Running Deer in March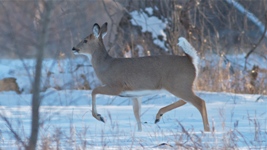 Spring is a busy time, so this month, we highlight a centrally located site, Running Deer Natural Area. It is on Prospect Ave between Summitview and Timberline so it is good for a quick nature break. As it's name suggests, Running Deer is a great place to see both whitetail and mule deer as well as other wildlife. The two miles of natural surface trails are flat, and you can add mileage by using the underpass to Riverbend Ponds Natural Area to the north (an additional 3 miles). Cottonwood Hollow Natural Area is also adjacent to Running Deer, creating a complex of conserved land encompassing grasslands, wetlands, great mountain views and ponds.

A destination to consider is the fire tower cab, which is the top of a historic fire lookout tower that was on White Pine Mountain, west of Fort Collins. Use the trailhead at the Colorado Welcome Center (3745 Prospect Road) and head southwest about 1 mile to the fire lookout. Listen for red-winged blackbirds, they have been reported singing in this area! Continue on towards Cottonwood Hollow to experience a wet meadow and award-winning interpretive signs. Those with dogs and bikes should go to Riverbend Ponds Natural Area for a similar experience, as dogs and bikes are not allowed at Running Deer Natural Area.
Natural Areas 20th Anniversary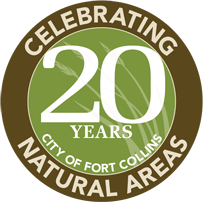 It has been two decades since the first citizen-initated sales tax that funds natural areas. Voters have approved sales tax funding four more times since then, thank you! Fort Collins has conserved over 40,000 acres with 39 natural areas to explore and over 100 miles of trail. Everyone is invited to help celebrate the 20th anniversary, join the fun!
March 16, 10 a.m.- Catch Natural Areas volunteers in the St. Patricks Day parade in downtown Fort Collins.

April- Celebrate Earth Day (April 22) by getting your hands dirty and giving back through a volunteer service project. Families are invited to a special Spring Break event at Bobcat Ridge Natural Area on March 22 and April 5 (details below).

May- November Tracks & Trails (Your Guide to Free Activities and Events on Natural Areas) will feature an outstanding season of outdoor fun, service and learning! A junior naturalist booklet will be included too. Activities will also be announced here and at www.fcgov.com/naturalareas.

Free Activities This Month



Tracks & Trails: Your Guide to Free Natural Areas Activities will be back in May with a special 20th anniversary editon. Until then you can learn about events in this e-newsletter or at fcgov.com/naturalareas.
The Homesteaders of Soapstone Prairie Natural Area
Wednesday, March 13, 7:00-9:00 p.m.
Fort Collins Senior Center, 1200 Raintree Drive
Back by popular demand! Discover who lived here, why they came and how they survived the harsh elements. Learn about the Homestead Act and how it affected Soapstone's early settlers as they struggled to "prove up." Find out about the railroad, stagecoaches, and schools in the area. Join local historians Suzy Riding, staff of the City of Fort Collins Natural Areas, and Brian Carroll, a Master Naturalist volunteer, for this presentation where you'll discover that Soapstone Prairie is a place to meet the past, enjoy the present and preserve the future. Free, no registration required.
Skygazing, Friday, March 15, 7-10 p.m.at Fossil Creek Reservoir Regional Open Space, meet at the parking lot. Volunteers from the Northern Colorado Astronomical Society provide telescopes for public sky viewing. See and discover fun facts about planets, stars, constellations, galaxies and other celestial wonders. Dress warmly and bring something to sit on. Free, no registration required.
Spring Break Detectives—Finding Nature's Clues, Friday, March 22, arrive anytime between 9:30 and 11:30 a.m. Bobcat Ridge Natural Area. Develop your observation and nature detective skills at this family event! Enjoy several fun, interactive educational stations to explore the natural and cultural features of this site. Bring water to drink, snacks, jackets, and sunscreen. Please carpool if possible to help with parking. Note: dogs are not allowed at Bobcat Ridge. Free, no registration required. For more information, email dprice@fcgov.com.
Our Lands- Our Future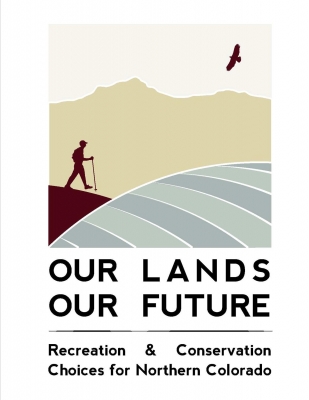 You can help shape the vision and planning for our region's outdoor conservation and recreation programs. Our Lands—Our Future is a project that will guide how future open space and natural area tax dollars are spent.
You are invited to attend a fun, interactive open house, Wednesday, March 6, 6-8 p.m. at the Fountains at La Quinta Inn, Loveland (1480 Cascade Ave, the corner of Hwy 34 and Cascade, Loveland). Stop by anytime between 5:30-8 p.m. to share your vision and priorities for land conservation, recreation and stewardship for northern Colorado over food and drinks.

If your group would like a free presentation about the project, please contact Larimer County Project Manager, Zac Weibe via email: wiebezm@co.larimer.co.us
Learn more about Our Lands-Our Future here >>>
Nature Note: New Eagle Nest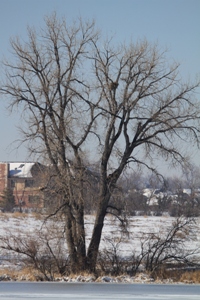 The Sandpiper Trail at Fossil Creek Reservoir Regional Open Space, which leads to the western bird blind, is closed to protect nesting bald eagles. The trail will reopen on July 31 or sooner if nesting is unsuccessful. Look across the reservoir- the nest is visible from the closure point; bring your binoculars!

Eagles are sensitive to disturbance, thanks for respecting the eagles by giving them space.

Bald eagles roost at Fossil Creek Reservoir in the winter and usually fly north for the warmer months. Occasionally, pairs stay to nest here, but new nest sites are not always successful the first year. Bald eagles build some of the largest bird nests, up to 6 feet in diameter. Both males and females bring sticks and other material to the nest with the female doing most of the placement. Occupied nests have been observed from late February to late May and young can hatch between April-July.
For updates on this trail closure as well as other natural area trail closures, visit fcgov.com/naturalareas/status

---------------------------------------------------------------------------------------------------------------------


Natural Areas News is published on the first Tuesday of the month with occasional special editions. Newsletter comments are welcome. Please contact Zoe Whyman, City of Fort Collins Natural Areas Community Relations Manager, 970-221-6311 or zwhyman@fcgov.com
Back to Natural Areas News Archive »