NOTICE:
This newsletter was originally sent on Mar 1, 2013.
Special Edition
March
2013

Naturally Yours
Our Lands - Our Future Open House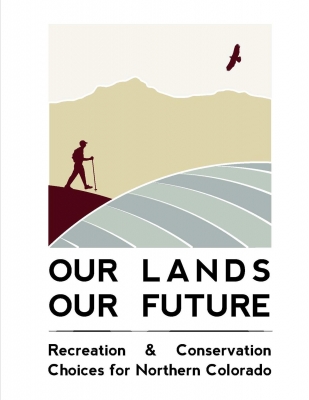 You can help shape the vision and planning for our region's outdoor conservation and recreation programs. Our Lands—Our Future is a project that will guide how future open space and natural area tax dollars are spent.
Share your vision and priorities at a fun, interactive open house:
Wednesday, March 6, 5:30-8:00 p.m. at the Backbone Grub and Brewhouse at La Quinta Inn, 1480 Cascade Avenue, Loveland (corner of Cascade and Hwy 34).

Participate in interactive visioning tools over food and drinks while hands-on kids activities keep the entire family engaged. Free, drop in anytime 5:30-8 p.m., no registration required.

If your group would like a free presentation about the project, please contact Larimer County Project Manager, Zac Weibe via email: wiebezm@co.larimer.co.us
Learn more about Our Lands-Our Future here >>>
Enews is Coming Tuesday, March 5

The regular edition of Natural Areas Enews will be arriving in your inbox soon. Since the Our Lands-Our Future Open House is coming up so soon, we wanted to get the invitation to you ahead of the regular enews release. Thanks!

---------------------------------------------------------------------------------------------------------------------


Natural Areas News is published on the first Tuesday of the month with occasional special editions like this one. Newsletter comments are welcome. Please contact Zoe Whyman, City of Fort Collins Natural Areas Community Relations Manager, 970-221-6311 or zwhyman@fcgov.com
Back to Natural Areas News Archive »