NOTICE:
This newsletter was originally sent on Feb 5, 2013.
February
2013

Naturally Yours
Get Outdoors-Become a Master Naturalist!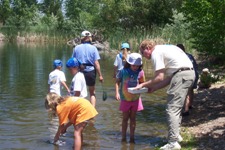 Are you looking for a rewarding volunteer experience while enjoying your natural areas? Become a Volunteer Master Naturalist! City of Fort Collins Master Naturalists care about natural areas and have a passion for sharing their enthusiasm with others. Volunteering as a Master Naturalist means you will learn about ecology, public speaking skills, and lead a variety of programs, including school field trips. Master Naturalists often form lasting friendships while socializing with other volunteers with the same interests. Applications are being accepted now until March 15.

February Trail Recommendation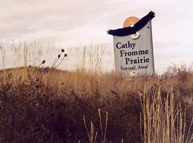 February can be a great time to explore natural areas.
Cathy Fromme Prairie Natural Area is a nice place to experience the shortgrass prairie. It has wide open vistas, rolling grasslands and views of the foothills. It's a good place to watch for raptors like bald eagles and red-tailed hawks. The paved Fossil Creek Trail goes through Cathy Fromme Prairie (about 2 miles) and connects to Pineridge Natural Area, Spring Canyon Park and the Spring Creek Trail. When natural surface trails are muddy or icy, Cathy Fromme Prairie is a good hiking or biking destination. There are two parking lots, one off Shields Street (between Harmony and Trilby) and one off Fromme Prairie Way (access from Harmony and Seneca Street). Don't forget to check out the raptor observatory building and the interactive interpretive signs near the Shields Street parking lot!

Natural Areas 20th Anniversary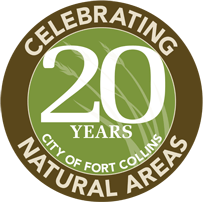 It has been two decades since the first citizen-initated sales tax that funds natural areas. Voters have approved sales tax funding four more times since then, thank you! Fort Collins has conserved over 40,000 acres with 39 natural areas to explore and over 100 miles of trail. Thank you! Everyone is invited to help celebrate the 20th anniversary, join the fun!
February-Contribute to the multi-media Natural Areas Journal by submitting a photo, written story or video! Everyone is invited to share their natural areas stories with the world.
March- Catch Natural Areas volunteers in the St. Patricks Day parade in downtown Fort Collins.

April- Celebrate Earth Day (April 22) by getting your hands dirty and giving back through a volunteer service project. Families are invited to a special Spring Break event at Bobcat Ridge Natural Area (March 22 and April 5).

May- November Tracks & Trails (Your Guide to Free Activities and Events on Natural Areas) will feature an outstanding season of outdoor fun, service and learning! Activities will also be announced here and at www.fcgov.com/naturalareas.

February Free Activities & Events



Tracks & Trails: Your Guide to Free Natural Areas Activities will be back in the spring with a special 20th anniversary editon. Until then you can learn about events in this e-newsletter or at fcgov.com/naturalareas.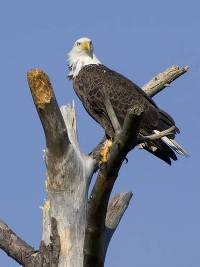 Virtual Tour and Volunteer Open House, Wednesday, February 13, noon-1 p.m.

Meet new friends while enjoying a virtual tour of local natural areas and learning about the Fort Collins Natural Areas Department's volunteer opportunities. Seasoned volunteers will be on hand to answer questions and share experiences. Coming to the open house does not require you to volunteer. Snacks and maps of local natural areas provided. Free, location given with required registration, contact Susan Schafer, 970-416-2480, sschafer@fcgov.com

Eagle Watches
Saturday, February 16, 9 a.m.- noon
Thursday, February 21, 3:30- 5:30 p.m.
Friday, February 22, 2-4:45 p.m.
Sunday, February 24, 3:30-5 p.m.
Thursday, February 28, 3:30-5 p.m.
Drop in and join a volunteer Master Naturalist to look for bald eagles at Fossil Creek Reservoir Regional Open Space. Viewing pier is a short walk from parking lot along a paved trail. Free, no registration required.
Lords of Nature Movie, Thursday, February 21, 7:00-8:30 p.m., 215 North Mason Street, Community Room. Come enjoy the movie Lords of Nature:Life in a Land of Great Predators. Birds, butterflies, beaver, pronhorn, wildflowers and frogs-is their survival connected to top predators like wolves and mountain lions? This captivating documentary goes behind the scenes to explore how top predators help restore and maintain ecosystems and biodiversity. Popcorn provided. Free, no registration required.
Skygazing, Friday, February 15, 7-10 p.m.at Fossil Creek Reservoir Regional Open Space, meet at the parking lot. Volunteers from the Northern Colorado Astronomical Society provide telescopes for public sky viewing. See and discover fun facts about planets, stars, constellations, galaxies and other celestial wonders. Dress warmly and bring something to sit on. Free, no registration required.
Our Lands- Our Future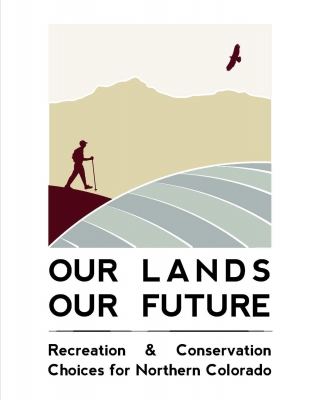 You can help shape the vision and planning for our region's outdoor conservation and recreation programs. Our Lands—Our Future is a project that will guide how future open space and natural area tax dollars are spent.
Results of a citizen survey about open lands and natural areas have been recently released.
If your group would like a free presentation about the project, please contact Larimer County Project Manager, Zac Weibe via email: wiebezm@co.larimer.co.us
Save the date- Wednesday, March 6! There will be a public open house where you can use an interactive mapping tool and share your feedback. More details coming soon.
Learn more about Our Lands-Our Future here >>>
Nature Note: Canada Geese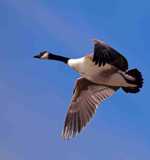 Winter is a good time to see large flocks of Canada geese in natural areas and parks. Did you know that before 1957, Canada geese migrated and were not in Colorado in the winter? In 1957, Colorado Parks and Wildlife (formerly Colorado Division of Wildlife) released 40 geese in Fort Collins to develop a breeding flock. The plan worked a little too well! Now Colorado has about 10,000 resident geese as well as about 50,000 geese that come here for the winter instead of continuing south.

You can help Canada geese and all birds by picking up trash, especially fishing line which can entangle birds that use it as nesting material. Keep birds healthy by not feeding them. Observe birds from a safe distance, for you and for them. When any animal changes its behavior as a result of your presence, you are too close.

---------------------------------------------------------------------------------------------------------------------


Natural Areas News is published on the first Tuesday of the month with occasional mid-month updates. Newsletter comments are welcome. Please contact Zoe Whyman, City of Fort Collins Natural Areas Community Relations Manager, 970-221-6311 or zwhyman@fcgov.com
Back to Natural Areas News Archive »