NOTICE:
This newsletter was originally sent on Dec 4, 2012.
| | |
| --- | --- |
| | December 2012 |
| Naturally Yours | |
Thank you for coming to the Natural Areas 20th Anniversary Party! We hope you enjoyed the festivities. Below is the Natural Areas Department's monthly electronic newsletter. We thought you would like to become a subscriber so we added you to our mailing list. If we got that wrong, feel free to click unsubscribe here. We hope you enjoy this free monthly update that includes events and activities, trail recommendations, feedback/comment opportunities and volunteer projects!
- City of Fort Collins Natural Areas Department
Coming Soon: Bald Eagles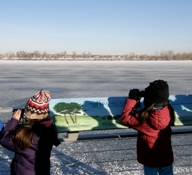 Bald eagles from Canada and northward make the Fort Collins area their winter home. It is comparatively warm here, which is sometimes hard to imagine! While the eagles are here, some of them spend the night at communal roosts in cottonwood trees near Fossil Creek Reservoir Regional Open Space. You can look for the eagles any time that Fossil Creek Reservoir Regional Open Space is open (dawn to dusk daily). Also, everyone is invited to join a Master Naturalist volunteer at a free Eagle Watch program. You'll learn about the eagles' natural history and you can use the spotting scope and binoculars provided to get a better view. Three Eagle Watches are offered in December with more to come in January and February:

Sunday, December 16, 3:00-4:30 p.m.
Sunday, December 23, 3:00-4:00 p.m.
Tuesday, December 25, 9:30-11:30 a.m.
Drop in anytime during the program, meet at the viewing pier which is a short walk from the parking lot on a paved trail. Dress warmly. Free, no registration required.

Strauss Cabin Area Open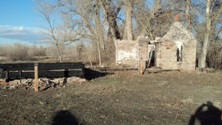 Strauss Cabin is a historic site on the northern portion of Arapaho Bend Natural Area. It was one of the earliest log cabins in northern Colorado. See a photo of the original cabin here and watch a short video about Robert Strauss. The cabin was restored in 1997, burned by arsonists in 1999 and it had been closed to the public since then. The Natural Areas Department acquired the property from Larimer County and cleaned up the site with the help of volunteers. The pedestrian access bridge has been repaired and you can now visit the ruins of the cabin. Please visit with respect.
While you are at Arapaho Bend, check out the trails! About two miles of flat natural surface trails follow the edge of the ponds. While this site brings with it the hum of traffic on adjacent I-25, it provides opportunities for relaxing recreation with impressive views of the mountains and a glimpse into Fort Collins' past.

Natural Areas 20th Anniversary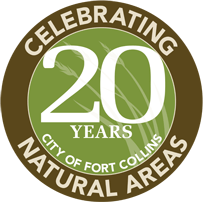 November 2012 marks two decades since the first citizen-initated sales tax that funds natural areas. Voters have approved sales tax funding four more times since then. Fort Collins has conserved over 40,000 acres with 38 natural areas to explore and over 100 miles of trail. Thank you! Everyone is invited to help celebrate the 20th anniversary with a year of activities. Join the fun!
November- Over 400 people celebrated natural areas at a party! See the photos >>>
December-Watch the Celebrating Your Natural Areas video here or on Cable 14.

January 2013-Make a new years resolution to complete Your Passport to Natural Areas (available January 1). It is a checklist of natural areas to visit, activities and volunteer opportunties. Win a prize by completing your passport by November and be entered into a drawing for a backpack full of outdoor supplies.
February-Contribute to the multi-media Natural Areas Journal by submitting a photo, written story or video! Everyone is invited to share their natural areas stories with the world.
March- November activities will be announced here and at www.fcgov.com/naturalareas.

Winter Delight: Free Activities & Events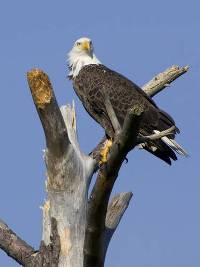 Tracks & Trails: Your Guide to Free Natural Areas Activities will be back next spring with a special 20th anniversary editon. Until then you can learn about events in this e-newsletter or at fcgov.com/naturalareas.
Living in a Fire Lookout Tower, Friday, December 14, noon-1:30 p.m. at 215 North Mason, Community Room. Bring your lunch and join Doug and Cathy Hutchinson for a program about their experiences staffing a fire lookout tower for the U.S. Forest Service in the 1960s. The fire tower top (cab) is now at Running Deer Natural Area. Free, no registration required.
Eagle Watches

Sunday, December 16, 3:00-4:30 p.m.
Sunday, December 23, 3:00-4:00 p.m.
Tuesday, December 25, 9:30-11:30 a.m.
Drop in and join a volunteer Master Naturalist to look for bald eagles at Fossil Creek Reservoir Regional Open Space. Viewing pier is a short walk from parking lot along a paved trail. Free, no registration required.

Skygazing, Friday, December 21, 7-10 p.m.at Fossil Creek Reservoir Regional Open Space, meet at the parking lot. Volunteers from the Northern Colorado Astronomical Society provide telescopes for public sky viewing. See and discover fun facts about planets, stars, constellations, galaxies and other celestial wonders. Dress warmly and bring something to sit on. Free, no registration required.
Become a Volunteer Ranger Assistant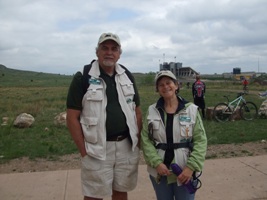 Did you think you would grow up to be a park ranger? It's not too late! You can become a Volunteer Ranger Assistant and help park and natural area rangers accomplish much of their important work. The City of Fort Collins Natural Areas Department and Larimer County's Department of Natural Resources are now accepting Volunteer Ranger Assistant applications. The training will be in late February. Volunteers attend 20 hours of training, and are asked to contribute 20 hours of service in return. Applications are due December 15. Learn more >>>

Seasons Greetings



Thanks for caring about natural areas! All of us at the City of Fort Collins Natural Areas Department wish you happy holidays and all the best in 2013!
---------------------------------------------------------------------------------------------------------------------


Natural Areas News is published on the first Tuesday of the month with occasional mid-month updates. Newsletter comments are welcome. Please contact Zoe Whyman, City of Fort Collins Natural Areas Community Relations Manager, 970-221-6311 or zwhyman@fcgov.com
Back to Natural Areas News Archive »