Naturally Yours
New Natural Areas Trail Map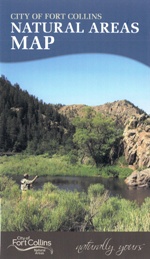 The Natural Areas Department's map has a fresh new design and updated information! Copies are available at trailheads, local libraries and our office (1745 Hoffman Mill Rd, M-F, 8-5). The online version is available here. We can mail you a map too- just call 970-416-2815 or email naturalareas@fcgov.com with your your postal address.





Wildfire and the Poudre River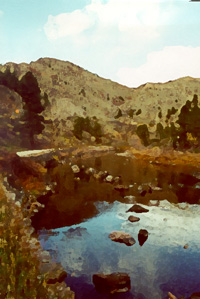 Are you wondering about the environmental impact of recent wildfires on the Cache la Poudre river? Learn from the helpful resources here.
Trail Closure Update
The Black Powder Trail at
Gateway Natural Area
is open although it was burned in the High Park fire.
Happy Trails?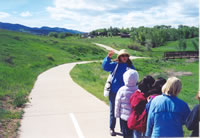 Take our paved trails survey! The City of Fort Collins wants to hear your thoughts on how well the current paved trail system works and how to improve it. Take the brief survey by September 15. Learn more >>>

Finding Hidden Jewels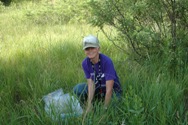 Are rare plants "hiding" in Fort Collins? Dedicated volunteers and Natural Areas Department staff are working hard to answer this question and further habitat conservation. If a rare or historic plant is found, the plant and its surrounding habitat will be protected. Led by Botanist Crystal Strouse, Rare Plant Survey volunteers head outdoors with their hand lenses, waders, snake chaps and maps. They spend the day searching for Bell's twinpod (a rare foothills plant) and surveying aquatic and wetland areas. The results have been exciting!
Read more >>>
in this article by Education and Volunteer Coordinator, Susan Schafer.
August Free Activities & Events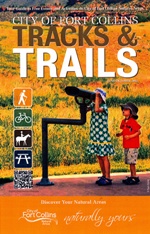 Tracks and Trails
is the Natural Areas Department's guide to free activities and events now through October.
Here are some upcoming offerings:
Nature Nuggets—Small and Furry Forest Friends, Thursday, August 9, 10-11 a.m. Bobcat Ridge Natural Area, meet at the picnic shelter 1/8 mile from the parking lot. Children ages 3-7 and adult companions will learn about nature in an interactive setting with stories and hands-on activities. Parents/guardians must be present throughout program. Free, no registration required.
Home on the Range, Friday, August 10, 9 a.m.-noon, Bobcat Ridge Natural Area, meet in the parking lot. Families are invited to look at the prairies and mountains through the eyes of an explorer. Hike to an old cabin and improve observation skills as you look for wildlife signs and plants. Learn about pioneer life at the cabin and join in pioneer games and activities. Bring a sack lunch, plenty of water, and closed-toe walking shoes. 2 miles, easy. Free, no registration required.
Osprey Watch, Saturday, August 11, 8-10 a.m. Fossil Creek Reservoir Regional Open Space, meet at the parking lot. Discover the many species of birds that live at Fossil Creek, and view the ospreys that have returned to nest there after being absent for the past several years. Free, no registration required.
Wade the River, Saturday, August 11, 1- 4 p.m. Lee Martinez Park, 600 N. Sherwood St. Wade the river with dip nets and collecting trays to discover what lives beneath the surface of the Cache la Poudre River. Biologists will be on hand to help identify your finds. Bring your own towels, wear closed-toe shoes that can get wet, and sun and mosquito protection. All equipment is provided. Free, no registration required.
Starry Night: Meteors, Comets, and Flying Debris, Saturday, August 11, 8-10:30 p.m.Bobcat Ridge Natural Area, meet at the picnic shelter, 1/8 mile from the parking lot. Bring your family out to enjoy a brief family-friendly astronomy program. Skygazing follows with telescopes provided by the Northern Colorado Astronomical Society. Dress warmly, bring water to drink, and a blanket or chair to sit on. Please arrive on time—gate closes after start of program. Free, no registration required.
Study of Land Conservation, Recreation, Stewardship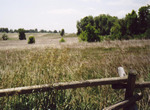 The Natural Areas Department is a partner in a county-wide effort to study land conservation, recreation and stewardship in Northern Colorado. We want to know your preferences for land conservation practices, outdoor recreation opportunities, and natural resource management. The study will include mailed and online surveys, public meetings, and events. Everyone is invited to an open house introduction of the study on Thursday, August 23 at New Belgium Brewery (500 Linden Street), 7-9 p.m. Let us hear your voice!
-----------------------------------------------------------------------------------------
Natural Areas News is published on the first Tuesday of the month with occasional mid-month updates. Newsletter comments are welcome. Please contact Zoe Whyman, Natural Areas Community Relations Manager, 970-221-6311 or zwhyman@fcgov.com

Back to Natural Areas News Archive »