NOTICE:
This newsletter was originally sent on May 16, 2012.
Naturally Yours
Special Newsletter Edition: Tracks and Trails is Here!
Tracks and Trails is your guide to free activities on City of Fort Collins natural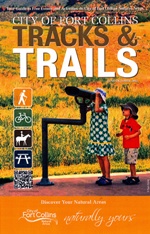 areas. The publication includes a calendar so you can see what is coming up, special events, offerings just for families, behind the scenes tours, night programs and more. Enjoy this year's edition of Tracks and Trails!

The pdf version is available now, print copies will be available in a couple weeks at trailheads, libraries and at 75 local businesses.











Natural Areas News is published on the first Tuesday of the month with occasional mid-month updates. Newsletter comments are welcome. Please contact Zoe Whyman, Natural Areas Community Relations Manager, 970-221-6311 or zwhyman@fcgov.com

Back to Natural Areas News Archive »