Naturally Yours
A Trail For May
North Shields Ponds Natural Area
is a great spot to visit in the spring. This small

northwest Fort Collins site might not catch your eye from Shields Street, but many consider it a hidden gem because of its 1.5 mile flat loop trail and remote feeling, even close to town. Chokecherry shrubs line the eastern pond and their white blooms are gorgeous and fragrant. North Shields Ponds is popular with anglers, families, and bird watchers, plus it is a great picnic location (there is a picnic pavilion near the parking lot and an open picnic table not far down the trail).
Enjoy your visit!



Restore Nature in Your Yard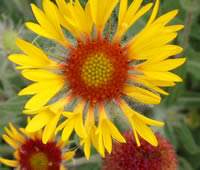 You may have noticed the transformation some natural areas are undergoing as they are restored and rehabilitated. In May, as you plan for your garden, consider making your yard an extension of the city's network of natural areas by incorporating habitat elements. A "Green Living" column in the Coloradoan newspaper explains. You are invited to visit the native plant garden at the Fort Collins Natural Areas Department's headquarters, 1745 Hoffman Mill Road, Monday- Friday, 8 a.m. to 5 p.m.
Thank You Trail Adopters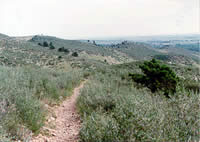 Otter Cares, the Peloton-Specialized Cycling Team and the Rocky Mountain Flycasters chapter of Trout Unlimited have committed to adopt the trails at Pineridge, Reservoir Ridge and Gateway natural areas. Each made a 3-year commitment to volunteer up to 3 times a season to do trail maintenance! The Natural Areas Department appreciates these special volunteers very much. Be sure to say hello and thank them when you see them on the trail!
Where is Tracks and Trails?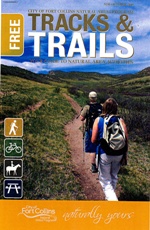 Tracks and Trails
is the Natural Areas Department's guide to free activities and events, June-October. The 2012 version will be released in mid-May. You'll get a special edition of this electronic newsletter when
Tracks and Trails
is available. So you'll be among the first to know about all the fun in store for the season!
2011 Annual Report Released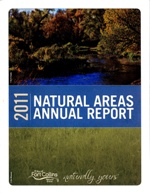 Each year the Fort Collins Natural Areas Department reports on its accomplishments, highlights of the year and revenues/expenditures.
Read the report here
.
May Volunteer Opportunities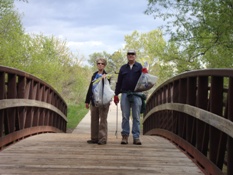 Seeking Master Naturalist Assistants
Applications due Thursday, May 3
Master Naturalist Assistants help out with field trips on a wide variety of natural areas. The training is free: Wednesday, May 9 and Friday, May 11 from 9 a.m. to 2 p.m. You must attend both days. Class size is limited and a background check is required.
Learn more and apply online here
.
Bird Monitors Needed
Applications due Friday, May 4

Citizen scientists are needed to help understand bird life at Bobcat Ridge Natural Area. Intermediate to advanced birding skills required. Volunteers are needed May 21-June 30, 6- 11 a.m., minimum of one day per week for 5 weeks.
Learn more and apply online here.
Poudre River Clean-up
Saturday, May 26 at Lee Martinez Park, 600 N. Sherwood Street
Pitch in and help clean-up along the Cache La Poudre River! All you need is gloves, sunscreen and the desire to make a difference! Volunteers with bikes and trailers are also needed to transport trash. Organized by
Mountain Whitewater Descents
and sponsored by the Natural Areas Department. Free, no registration required.
Upcoming Activities & Events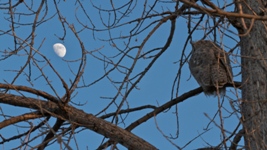 Bird Appreciation Walks
Saturday, May 5, 8-10 a.m.
at
Arapaho Bend Natural Area
(parking lot at east end of Horsetooth Road)
or
Saturday May 19, 8-10 a.m
. at
Riverbend Ponds Natural Area
(Cairnes Street parking lot off Timberline Road)
Look for birds commonly seen in natural areas and learn about their habitat and food needs on this introductory walk for all ages. Free, no registration required.
Walk the Geology Gangplank
Tuesday, May 8, 9 a.m.- noon
at
Soapstone Prairie Natural Area
(north parking lot)
Hike to the landform known as the gangplank and discover geological secrets of this beautiful landscape. 5-6 miles, moderate. Free, no registration necessary.
Solar Eclipse
Sunday, May 20, 6-9 p.m.
Fossil Creek Reservoir Regional Open Space
The partial solar eclipse will be visible in Fort Collins, see it with special telescopes that allow you to view the sun and enjoy educational activities. Free, no registration necessary.
Starry Night: Harry Potter Skies




Thursday, May 24, 8:15-10:30 p.m.

at Bobcat Ridge Natural Area (picnic shelter)
Discover the stars and constellations that provided names for Harry Potter characters and see them through telescopes. Arrive by 8:15, gate will close then. Dress warmly. For weather cancellation notices, fcgov.com/naturalareas . Free, no registration required.


SkyGazing
Saturday, May 26, 9-11 p.m.
at
Fossil Creek Reservoir Regional Open Space
. View the skies with telescopes provided by the Northern Colorado Astronomical Society (NCAS). Dress warmly and bring something to sit on. Free, no registration required. For up-to-date cancellation information due to weather, visit the
NCAS website
.
Customized Programs
Tailored programs are available at any natural area, but we especially recommend the wide open spaces of
Soapstone Prairie Natural Area
. You can explore:
Human history from 12,000 years ago
Archaeology at the Lindenmeier Site overlook
Wildflowers, wildlife or birds

Hikes with a spectacular view
To schedule a
free
program and/or hike with a volunteer Master Naturalist for your group on your schedule, please contact Deborah Price, dprice@fcgov.com, or 970-217-3075. At least two weeks advance notice is required.
-----------------------------------------------------------------------------------------
Natural Areas News is published on the first Tuesday of the month with occasional mid-month updates. Newsletter comments are welcome. Please contact Zoe Whyman, Natural Areas Community Relations Manager, 970-221-6311 or zwhyman@fcgov.com

Back to Natural Areas News Archive »