Naturally Yours
Too Muddy?

Around here, March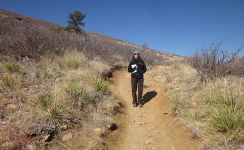 is known for being the wettest month of the year. Wet weather can mean muddy trails and closures to prevent resource damage. We know it's frustrating to arrive at a trail and find it closed due to muddy conditions, so remember to check the trail conditions webpage before you head out. In muddy conditions, always hike or ride on the trail and through the mud to prevent trail widening. The Natural Areas Map can help you find your way.

Trail Ideas: Celebrate the Small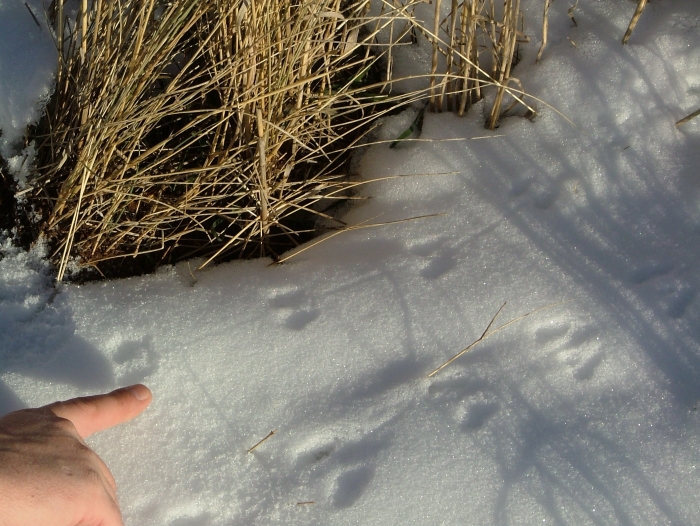 This month we celebrate some smaller natural areas that we consider hidden treasures. Have fun exploring these special places!
Cattail Chorus Natural Area
is near the junction of the Spring Creek Trail and the Poudre River Trail and is best accessed from these paved trails. The "chorus" in its name refers to its wildlife richness. Cattail Chorus is a quiet refuge for people too. The bench here is perfect for enjoying the sights and sounds of nature.
Ross
and
Fisher
natural areas are on the edges of Rolland Moore Park in northwest Fort Collins. These sites have been conserved since the 1970's and were named for the families who sold the property to the City. Try a picnic at one of
Rolland Moore Park's
picnic shelters followed by nature exploration at these sites- off trail hiking is allowed.
Last Call for Master Naturalist Applications

Are you looking for a rewarding volunteer experience while enjoying your natural areas?

Become a volunteer Master Naturalist

! City of Fort Collins Master Naturalists care about natural areas and have a passion for sharing their enthusiasm with others. They learn public speaking skills and lead a variety of programs (including school field trips) on the natural areas while sharing practical stewardship tips for these special places. Applications are being taken until March 7, see www.fcgov.com/naturalareas .
Get Your Hands Dirty This Summer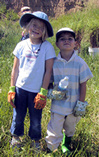 Natural areas are yours to enjoy, explore and care for. Soon there will be even more ways for you to get involved with the stewardship of these special places. The Natural Areas Program is planning volunteer projects for the summer including trail building and maintenance, weeding, planting and more. If you have a group, volunteer projects are a great opportunity for team-building and a chance to build camaradarie. Opportunities for stewardship projects will be available for families and individuals too! To learn more, contact Catherine Dillon, Service Learning Educator, 970-219-1106, cdillon@fcgov.com
Nature Note Correction: Willows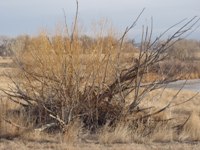 In last month's issue we got some information wrong about willows. It turns out the brilliant yellow or red stems are new growth that is present all year, but obscured by leaves in warmer seasons. Also not all willow buds are flat to the stem, like a fingernail on a finger, some are shaped like a duck's bill. Common native willows in Fort Collins include peach-leaf willow (
Salix amygdaloides
) and coyote willow (
Salix exigua
). Gardeners should avoid crack willow (pictured), weeping willow and golden osier willow which tend to be aggressive along our waterways. Try planting native willows and creating habitat beyond natural area boundaries.
Poudre River Natural Areas Management Plan

The management plan update that applies to 19 natural areas along the Cache La Poudre River (from Butterfly Woods to Arapaho Bend) is almost ready for public review. Last year, about 250 people gave input on the plan's concepts. Soon, a complete draft of the plan will be available for comment. The document and a comment form will be posted at
www.fcgov.com/naturalareas
by April 1.
March Activities and Events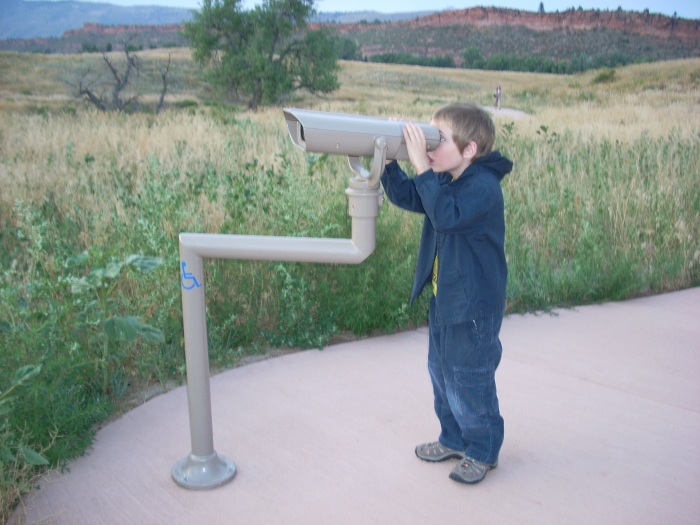 Eagle Watch, Saturday, March 5, 9-11 a.m. at Fossil Creek Reservoir Regional Open Space. Join a volunteer Master Naturalist for wonderful views of eagles while learning about these majestic birds. Be prepared for the weather and a short walk along a paved trail to the viewing area. Binoculars and scopes are provided. Free, no registration necessary, drop-in anytime during scheduled hours. Check www.fcgov.com/naturalareas for possible cancellations and additional dates and times.

Spring Break Break, Friday, March 18 and Friday, April 1, 9:30 a.m.- noon. Get your family outdoors during spring break! Come out to Bobcat Ridge Natural Area and take part in a variety of nature stations, pioneer activities, and take a hike to the pioneer cabin along the way. It's free, and no registration is required. Arrive anytime between 9:30 a.m. and noon to start the activities. Bring water and snacks, and wear good walking shoes. For more information, contact Deborah Price at dprice@fcgov.com or 970-217-3075.
Astronomy at Fossil Creek Reservoir Regional Open Space on Friday, March 25, 8 p.m. Enjoy an evening under the stars with volunteers from the Northern Colorado Astronomical Society. Dress warmly! Free, no registration necessary.
Tracks and Trails, the Natural Areas Program's summer activity guide will be published in mid-May. In the meantime, activity updates are published in this e-newsletter and at www.fcgov.com/naturalareas.



Thanks for reading!

Natural Areas News is usually sent on the first Tuesday of the month with occasional mid-month updates. Newsletter comments are welcome. Please contact Zoe Whyman, Natural Areas Community Relations Manager, 970-221-6311 or zwhyman@fcgov.com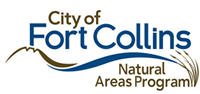 Back to Natural Areas News Archive »