Trail Status
Open without issues.
Public Engagement Update
Thank you to everyone who shared feedback about Kestrel Fields and Soapstone Prairie natural areas and the 21 natural areas along the Poudre River. Over 330 people participated in onsite drop-in events, online feedback opportunities, and presentations.
The feedback is being processed and will influence the trail alignment at Kestrel Fields, and how Soapstone Prairie and the Poudre River natural areas are managed.
Kestrel Fields Natural Area
The feedback is informing exploration of an updated trail alignment. There will not be access from the Greyrock Commons private property.
The entry sign will feature mountains in the background and a grasshopper in the kestrel's beak.
Further updates will be available by the fall.
Soapstone Prairie/Mountains to Plains Zone Update
Further engagement is underway (see feedback opportunity below) to respond to comments that its hard to tell when you have arrived at Soapstone Prairie and that the trail signage is confusing.
Minor changes are being made to the Zone Update document and a final draft is expected in the fall.
Poudre River Natural Areas
The feedback will inform the upcoming draft Zone Update.
Description#
In the past, Butterfly Woods was a small-fruit agricultural area, and it is gradually being restored to a natural riparian (riverside) forest and upland. The most popular way to visit is by bicycling or walking on the paved Poudre River Trail. Butterfly Woods is east of the unique pedestrian bridge over the Poudre River near Overland Trail Road. Visitors may see squirrels, foxes, raccoons, mule deer, mourning doves and woodpeckers. This natural area is home to the two-spotted skipper and the smokey-eyed brown butterfly both rare species whose habitat is protected by the on-trail only policy.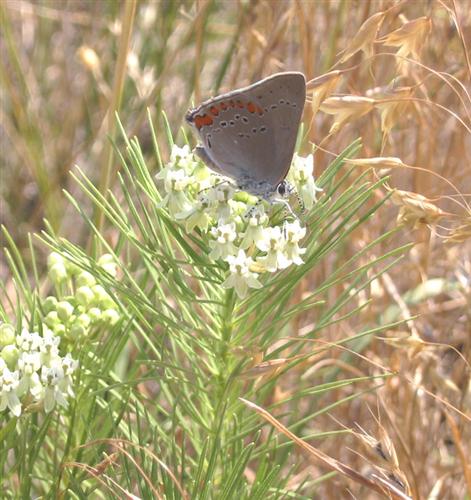 Asclepias pumila plains milkweed with (Satyrium titus) Coral hairstreak butterfly CRN July 2003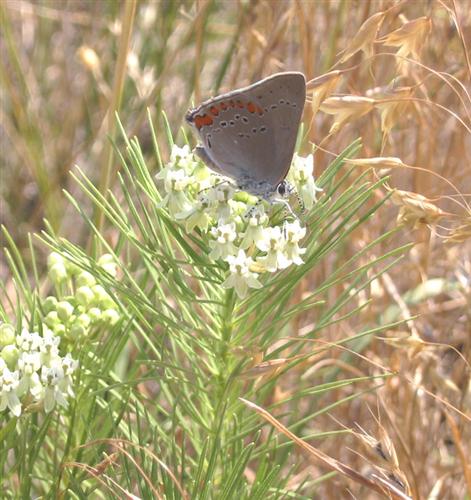 Directions#
Butterfly Woods is along the Poudre Trail about a mile east of Lions Open Space (managed by Larimer County Natural Resources, ).
The nearest parking lot is at Lions Open Space (2425 North Overland Trail Road, Laporte, CO).