Neighborhood Night Out - August 2, 2022#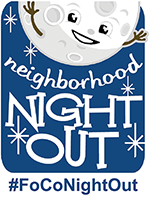 Neighborhood Night Out is an opportunity to celebrate some of the special things that makes Fort Collins such a great place to live - your neighbors and community! Neighborhood Night Out is typically held on the first Tuesday night of August each year. Neighborhood Night Out 2022 is Tuesday, August 2nd.
As part of a nationwide program, neighbors across Fort Collins get outside and connect with their community by hosting "parties with a purpose", combining fun-filled social events like block parties and ice cream socials with educational or community service activities. Visit this page for updates and ideas for activities to complement parties and address environmental and social sustainability.
Neighborhood Night Out hosts can request visits to their event by City Council, Police Services, Poudre Fire Authority, and City Staff.
The first 100 Neighborhood Night Out events registered with the City of Fort Collins Neighborhood Services will receive a $25 gift card for their event needs. Events registered after the official July 15th registration deadline may be eligible for gift cards, but will not be on the maps for visits by elected officials, City staff, and public safety staff. For questions or to be added to the NNO email list, contact us at NSPrograms@fcgov.com.
Neighborhood Night Out events are required to follow current COVID-19 safety guidelines for public gatherings set by the Larimer County Health Department. These guidelines are subject to change quickly in response to changing conditions.
Apartment communities, businesses, and neighborhoods are encouraged to participate! Limited grant funding for Neighborhood Night Out events is available. Applications for grant funding of $150-$1,500 per neighborhood can be submitted from April 1 - May 14, 2022 at Neighborhood Services Mini-Grants.