Community Service Programs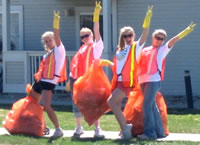 CSUnity
Every April
This is a one-day event involving hundreds of CSU students doing volunteer projects in the Fort Collins community. Projects include work at local non-profit agencies and for-profit service agencies, park and trail clean-ups, and yardwork for neighbors in need. The Neighborhood Services Office works with neighbors to line up projects within the neighborhoods. CSUnity is a mutually beneficial, feel-good event at which students can experience personal fulfillment while assisting neighborhoods and agencies in need.
Fall Cleanup
Every October/November
This is a one-day service project to assist neighbors who need help raking leaves, cleaning gutters, trimming bushes, etc. This project is geared towards helping many of the neighbors who are involved in the Adopt A Neighbor program. By providing community service to elderly and disabled neighbors in need, student volunteers feel a sense of connectedness to their neighbors and community. Furthermore, this program helps recruit volunteers who will go on to provide snow removal assistance to neighbors throughout the winter months.
Educational Programs
U+ 2 Campaign
Ongoing
Multi-media educational campaign designed to inform students about
City's ordinance limiting occupancy
.


Sophomore Transitions Program
Every Spring
Offers students planning to move off campus for the first time an opportunity to get the information they need with regard to their housing options, rights and responsibilities off-campus, and resources available to them as off-campus residents. Residence Hall presentations happen on an annual basis.
Residence Hall Presentations
Every February

Residence Hall Presentations offer students who are planning to move off-campus for the first time an opportunity to get the information that they need with regard to their housing options, rights and responsibilities off-campus, and resources available to them as off-campus residents. Residence Hall Presentations happen on an annual basis and free pizza is provided to those who attend.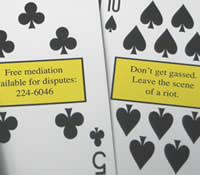 Decks of Cards
Ongoing

Each playing card contains a helpful and fun tip about the City's various nuisance codes, neighborhood relations, and resources for off-campus students. Cards are distributed in dining halls during the spring semester. Decks are also given away in party packs and at the end of each Party Partners class.
The Rental World Video
Ongoing
The Rental World
is a 23-minute video that addresses issues commonly faced by students who move off campus for the first time. Filmed as a parody of MTV's "Real World," it traces the lives of Donnie, Elainea, Tom, Matt, and Missi as they encounter landlords, leases, police, and neighbors. The goal of the Rental World is to provide students with the information that they need to make a successful transition from on-campus housing into the community. The Rental World was produced by City of Fort Collins Cable Channel 27. Content areas to be covered in the video were determined by focus groups comprised of students, student leaders, Housing and Dining Services representatives, Rolland Moore West Neighborhood Network, Off-Campus Student Life, and the City of Fort Collins.
E Trivia: Test Your Rental Knowledge With Some Off-Campus Trivia

This trivia style power point was designed to help you understand your rights and responsibilities as a resident of Fort Collins. Questions are based on ordinances, myths and tips for living off campus. Click here to challenge your rental knowledge.
Leases and Housing
(283KB)
City Codes and Ordinances
(521KB)
Roommates, Parties, and Neighbors
(1.2MB)
Guide to Living Off Campus

This handbook has been created to help you make a successful transition in your move from the residence halls to the neighborhoods of Fort Collins. By reading through these pages, you will gain a clear understanding of city codes and ordinances unique to Fort Collins. Additionally, you will be provided with tips on leases, parties, and healthy room-mating.
Living Off Campus Handbook
(5.6MB)


Community Welcome
Every August
On this one evening of the year police, students, neighbors, and CSU and City staff team together to go door to door in the neighborhoods educating tenants and residents on City ordinances, good neighboring, and nuisance behaviors. Last year over 2000 contacts were made. This is a tremendously positive and collaborative event
.
Party Partners
Ongoing

Party Partners is a workshop that serves as an educational referral for students that have received noise violations in Fort Collins. Party partners is geared at educating students on their civic responsibilities, helping prevent problem behavior off-campus, and helping students become true residents, instead of temporary visitors in the community. Party partners is a collaborative effort between the City of Fort Collins Police Department, City of Fort Collins Neighborhood Resources Office, CSU Conflict Resolution and Student Conduct Services, and CSU Off-Campus Student Services.
Housing Fair
Every March
The housing fair is a wonderful opportunity for CSU students to explore their housing options both on and off-campus. Approximately 90 vendors including property management companies, realtors, and CSU offices that are resources to students in their housing search attend the housing fair each year. Be sure to check out the Neighborhood Resources, Off-Campus Student Services, and Student Legal Services booths for critical information on city codes and ordinances, landlord/tenant issues, lease information, and roommating strategies.
Duh Campaign
(on-going)
This is an advertising campaign geared at creating awareness around neighborly behavior. The Duh Campaign was developed in 2000 out of the neighborhood taskforce that was charged with offering strategies that addressed the increasing problems in neighborhoods near campus that were heavily rentals. In the year 2005, the ads were revisited and modified to fit today's pop culture. The campaign contains seven separate ads, each addressing a different neighborhood issue: noise/music, trash, couches on porches, parties, public urination, parking and pets. Posters were created out of ads and are posted around the CSU campus and within the Fort Collins community.
Community Building Programs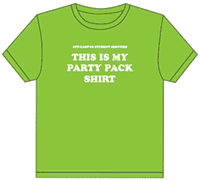 Party Packs
Ongoing

Party packs are designed to help students have fun and entertain friends without disturbing neighbors, violating the law, or getting the police involved. One party pack contains: 2 bottles of water, a party smart t-shirt, a late night programming schedule, 1 trash bag, 1 recycling bag, 25 "over 21" wristbands, 16 handouts that can be distributed to neighbors announcing the party, 1 roll of tape for posting the fliers, a party checklist, a handout outlining common code and ordinance violations, duh posters, name tags for car keys and an evaluation card. Party packs are free! The party pack program is a collaborative effort sponsored by: Off-Campus Student Life, City of Fort Collins, Vice President for Student Affairs Parents Fund, Live Life Late, Gallegos Sanitation Incorporated, and CSU Hartshorn Health Service.
Neighborhood Dialogues
Every Fall & Spring Semester
The Community Liaison organizes neighborhood dialogues between student and non-student residents throughout the Fort Collins community. The dialogues take place in both the fall and spring semesters. In addition to exploring stereotypes and common misperceptions, these dialogues encourage participants to search for common ground and work towards increasing tolerance and acceptance. The dialogue series provides the opportunity for students and non-student residents to open the doors to positive communication and possible brainstorming solutions.