Trail Status
Open without issues.
Description
As its name suggests, two creeks run through this site: Fossil Creek and Mail Creek. They converge in Fossil Creek Community Park.
An interesting phenomenon greets visitors on the trail under the Fossil Creek Parkway bridge. During spring and early summer, great numbers of swallows build their mud nests where the concrete support meets the bottom of the bridge. It is fun to watch the activity as massive numbers of adult swallows fly back and forth capturing insects and taking them to their young. By late summer, the activity and most of the nests are gone.
For human safety, recreation is on-trail only, as some of the creek banks are extremely unstable.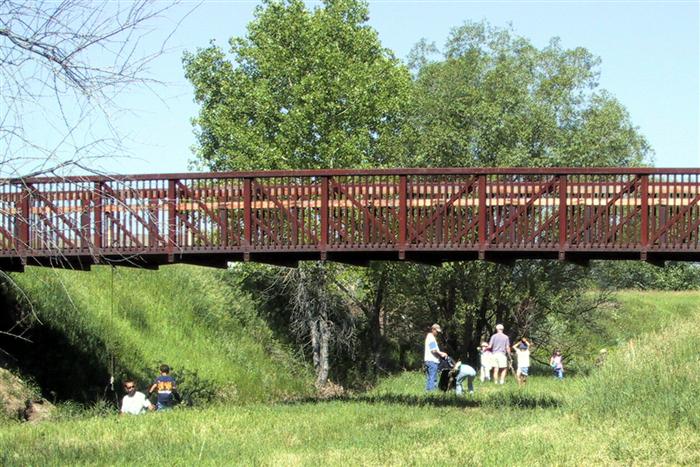 Trails
0.2 miles paved (wheelchair accessible)
Activities and Events
Free educational activities and events in June-October are listed in Tracks & Trails booklet guide.
Last minute activity additions, trail recommendations and events offered between November-May are in our free monthly electronic newsletter- sign up in the upper right-hand corner of this page.
Free educational programs at Two Creeks Natural Area are available for groups by request, call the Master Naturalist Program at 970-224-6118 or email c2tlbm5leUBmY2dvdi5jb20= .