Commission on Disability's Mayor's Awards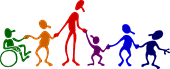 The Commission on Disability presents the 2017 Mayor Awards: Recognizing those who work for the advancement of people with disabilities in our community.
Every year the Commission on Disability (COD) recognizes individuals, businesses and agencies in our community who work to enrich the lives of people with disabilities, awarded by the Fort Collins Mayor.
Eligibility Requirements
Anyone who has not previously won an award is eligible for consideration. There is no Fort Collins residency requirement, but recognized work must have been done within the city of Fort Collins.
Nominations will be accepted through Wednesday, Sept. 20, 2017.
Submit a Nomination
Nominations may be submitted either online, via email or mailed in. Alternative nomination submissions will be made available upon request. For more details, please contact Y29kQGZjZ292LmNvbQ==.
Mail or email nominations: 2017 Nomination Form
Download and print this form, and return with any attachments to Y29kQGZjZ292LmNvbQ== or
City Clerk's Office
Attn: Commission on Disability
P.O. Box 580
Fort Collins, CO 80521
Recognition Categories
This year, the COD is accepting nominations in eight different categories:
Dorothy Lasley Memorial Award: Recognizes a person with a disability who is an active voice in the community, championing for the rights of all people with disabilities
Employer of the Year: Recognizes an employer who provides authentic work opportunities for people with disabilities or who creates a positive, supporting workplace for others who work with those with disabilities
Service Provider of the Year: Recognizes a business or organization that provides exemplary and life-enriching services to people with disabilities
Volunteer of the Year: Recognizes an individual who contributes his/her time, effort and heart to making our community a kinder and more compassionate home for people with disabilities
Employee of the Year: Recognizes an individual who embraces his/her daily call to do impactful, life-changing work for and with people with disabilities
Spirit of Fort Collins: Recognizes an individual, business or organization that exemplifies the spirit of Fort Collins not only in their acts of kindness, but also in their passion for creating change and their respect for people with disabilities
Educator of the Year: Recognizes an administrator, teacher or paraprofessional who stands as an advocate for students with disabilities to ensure educational access and equity in the classroom, preschool through post-secondary
Red, White and Blue Award: Recognizes a Veteran who fights daily for the rights of those with service-related disabilities
2017 Awards Reception: Save the Date
Individuals and organizations selected to receive an award will be recognized at a formal luncheon Oct. 19, 2017, at the Fort Collins Country Club.
Questions?
Please contact Hettie Heuber, COD member, at 970-223-5703 or e-mail Y29kQGZjZ292LmNvbQ== with any questions.