CityWorks 101 Status
CityWorks 101 was CANCELED in 2020 and was not re-scheduled due to COVID-19.
In 2021, a condensed version of CityWorks 101 is being offered in a limited capacity, mainly to students who were signed up in 2020 before it was canceled. Applications are not being accepted at this time.
Please check this page, follow us on social media, or sign up to receive CityNews to be notified of the next CityWorks class in 2022.
Marcy Yoder, Sr. Manager, Neighborhood Services (970-221-6676, myoder@fcgov.com)

Ryan Mounce, Planner (970-224-6186, rmounce@fcgov.com)

Britt Depew, Lead Spc, Homelessness (970-221-6595, bdepew@fcgov.com) & Meaghan Overton, Sr Manager, Social Sustainblty (970-416-2283, moverton@fcgov.com)
Lindsay Ex, Director, Env. Sustainability ( 970-224-6143, lex@fcgov.com) & Cassie Archuleta, Manager, Env. Sustainability (970-416-2648, carchuleta@fcgov.com)

Theresa Connor, Deputy Director, Utilities (970-221-6671, TConnor@fcgov.com)

Kellie Gorman, Specialist, Public Engagement (kgorman@fcgov.com)
Erin Shanley, Broadband Marketing Manager, (970-416-2956, eshanley@fcgov.com) and Chad Crager, Broadband Executive Director, (970-221-6798, ccrager@fcgov.com)

Dean Klingner, Deputy Director, PDT (970-221-6511, dklingner@fcgov.com), Brad Buckman, Aaron Iverson, Drew Brooks, and Nicole Hahn
What
is

CityWorks 101?#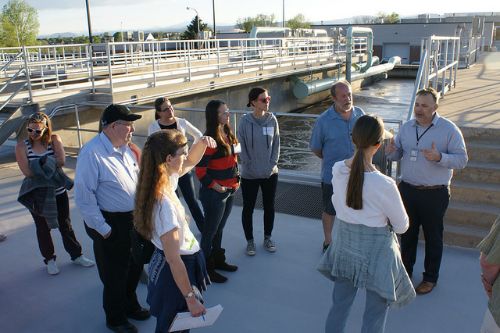 CityWorks 101 is a public education program that invites people to get up close and personal to their local government! Students receive presentations from dozens of City staff, meet the Mayor and City Manager, hang out with Councilmembers and tour facilities.
Tours vary but usually include:
A water treatment plant
City television and production studio
Streets and traffic control center
City Hall
How do I apply?#
To be considered for CityWorks 101 you must have lived within the Fort Collins Growth Management Area (GMA) for at least one year. Class size is limited to a maximum of 30 people; priority is given to applicants who will attend all eight classes. If the number of eligible applicants exceeds 30, participants will be selected through a drawing.
Applications are not being accepted at this time.
Why take CityWorks 101?#
The class offers a deep understanding of the role and responsibilities of different departments, how they work together, ways to stay informed and how to be more involved. Students have gone on to serve on Boards and Commissions, volunteer in other capacities and even become Councilmembers.
Each class is different but some topics participants learn about include:
Our form of government and how it works
The timing of street lights, traffic control and construction
Zoning laws and planning for growth
Natural area management
Grants, rebates and other resources offered through a variety of departments that help with neighborhood improvements, event implementation, utility efficiencies and more