Community Development & Neighborhood Services
Hot Topics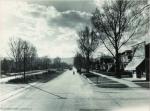 The Loomis Addition comprises fifteen blocks roughly equidistant between downtown Fort Collins and City Park. Along with the West Side Addition directly to its north, the Loomis Addition was the first subdivision to be platted west of the Original Town plat. This context was funded by the State Historical Fund.
Old Town & River District Undergo New Design Standards
Work is underway to develop design standards and guidelines for new development and redevelopment of existing buildings within the Old Town Historic District and the River Downtown District. Public outreach has included an informational meeting this past October and a public workshop on November 13. Join the discussion and learn more about this project.
Check Building Permits & Development Review Online
You can check the status of Building Permits, Development Review projects, and also schedule your building inspections online with our Community Services Citizen Access Portal
Historic Preservation Process Improvements Study
With the goal of increasing the transparency, predictability and effectiveness of our Historic Preservation efforts, the City of Fort Collins will undertake a two-part study to identify improvements. Currently, at Council direction, several code revisions are being brought forward. Learn more about this study or view the information from the open house.
This Week in Development Review
This handy, at-a-glance webpage summarizes this week's neighborhood meetings, hearings and other development review related events. Want to get this info via email? Sign-up using the orange box to your upper right. Or you can visit fcgov.com/weekreview now.

Want to find out more about development proposals? Check out our new sortable and searchable table of development proposals under review - you can search by the sign number, keyword, street name or number, and more.