Accepted Items
at

the

Timberline Recycling Center#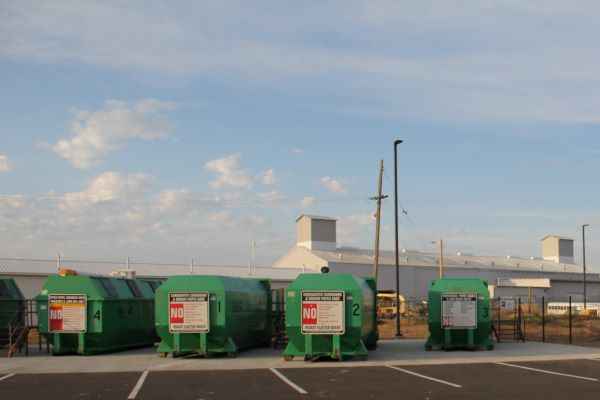 Everyday Recyclables Yard
Accepts everyday recyclables such as bottles, cans, cardboard, and glass, as well as plastic bags.
Free of charge to recycle.
Open seven days/week, pending severe weather such as heavy snow, ice, and extreme winds.
April - October: 6:00 a.m. - 8:00 p.m.
November - March: 7:00 a.m. - 6:00 p.m.
Hard-to-Recycle Materials Yard
Accepts hard-to-recycle materials including electronics, batteries, paint, motor oil, and more.
$5 entry fee applies plus additional fees for some materials.
Closed Sundays, Mondays & Holidays
Open Tuesday – Saturday, pending severe weather such as heavy snow, ice and extreme winds.
April – October: 8:00 a.m. - 6:00 p.m.
November – March: 8:00 a.m. - 4:30 p.m.
Commercial Recycling
Commercial customers are welcome to both the Everyday Recyclables Yard and Hard-to-Recycle Materials Yard at the Timberline Recycling Center.
Additional fees and drop off limits apply for certain items.
Everyday Recyclables Yard#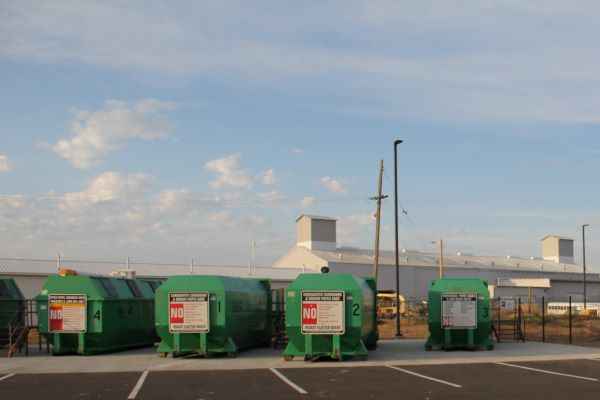 The Everyday Recyclables Yard is located on the east side of the Timberline Recycling Center at 1903 S. Timberline Rd., Fort Collins CO 80525
A variety of everyday recyclables, including glass, paper, aluminum cans, and cardboard are accepted in this yard free of charge.
Open seven days/week, pending severe weather such as heavy snow, ice, and extreme winds.
April - October: 6:00 a.m. - 8:00 p.m.
November - March: 7:00 a.m. - 6:00 p.m.
Need help unloading or have questions?#
Volunteers are often available in the Everyday Recyclables Yard to help with unloading or answer any questions you might have. Check out the schedule below to see when volunteers will be available.
Cardboard: Containers 1 - 3#
Flattened cardboard, maximum length 4'.
Large loads of cardboard can be brought to the Hard-to-Recycle Materials Yard on the west side of the recycling center.
Accepted
Flattened Corrugated Cardboard - no longer than 4'
Tape and labels on cardboard
NOT Accepted
Single-layer paperboard (i.e. cereal boxes)
Long tubes and hard corner pieces of cardboard
Low-Grade Mixed Paper: Containers 4 & 5#
Accepted
Magazines & Junk mail
Newspaper & Newspaper inserts
Paperboard boxes (Cereal, cracker and tissue boxes, etc.)
Paper egg cartons
Soft-bound books & Telephone books
Paper bags
Paper tubes (paper towel roll / toilet paper roll tubes, etc.)
Wrapping paper and packing paper (no metallic wrapping paper, ribbons or bows)
Tissue wrapping paper (no paper with glitter, ribbons, or bows)
NOT Accepted
Paper plates, paper cups, napkins, paper towels and other single use items
Plastic bags
Styrofoam
Foil-backed paper, waxed paper, foil or parchment paper
Pet food, charcoal or fertilizer bags
TYVEK envelopes
Frozen food boxes
Commingled Containers (Bottles/Cans): Containers 6 & 7#
Do not crush cans or containers before recycling
Accepted
Paper cartons, aseptic cartons & Tetra Pak (containing milk, juice, broth etc.)
Steel/tin cans
Empty aerosol cans
Aluminum cans
Plastic bottles (soda bottles, water bottles), jugs (milk jugs, laundry jugs, etc.), and tubs (yogurt and dairy tubs). No other plastic items are accepted. Learn more.

Leave lids on plastic bottles and jars, after emptying and rinsing
NOT Accepted
Glass
Styrofoam
Plastic bags
Motor oil/anti-freeze bottles
Compostable containers
Rigid plastic containers larger than 2.5 gallons (like 5 gallon plastic buckets)
Glass: Containers 8 & 9#
Accepted
Empty, clean glass bottles and jars (all colors)
Labels are ok, but remove metal lids from bottle or jar and place in bin separately
NOT Accepted
Ceramics, Bakeware & Pyrex
Drinking glasses or window glass
Mirrors
Light bulbs
Fish tanks or other durable glass items
Non-glass containers
White Office Paper: Container 10#
Accepted in this Bin
White office paper (black or colored ink on paper is ok)
White envelopes (envelopes with windows accepted)
Shredded white paper (loose)
If it's not listed here, please don't put it in this bin
Plastic Bags
and

Film#
All materials should be clean and dry
Accepted:
Grocery bags, produce, bread and newspaper bags
Air pillows and bubble wrap
Industrial shrink-wrap (e.g. used to wrap pallets of material)
Product wrap (e.g. plastic wrap around paper towels and toilet paper)
Zip-top food storage bags
Plastic film labeled as #2 HDPE or #4 LDPE
NOT Accepted:
Pet food bags and compost/dirt bags
Cereal box liner bags
Food wrappers
Vinyl bedding/quilt bags
Mulch generated from City of Fort Collins Forestry operations is available on a first-come-first served basis for Fort Collins community member. Please limit use to one truckload per day and plan to load the mulch into your vehicle yourself.
Mulch is subject to availability; there is not a set delivery schedule.