Plastic Container
Curbside Recyclable
Timberline Recycling Center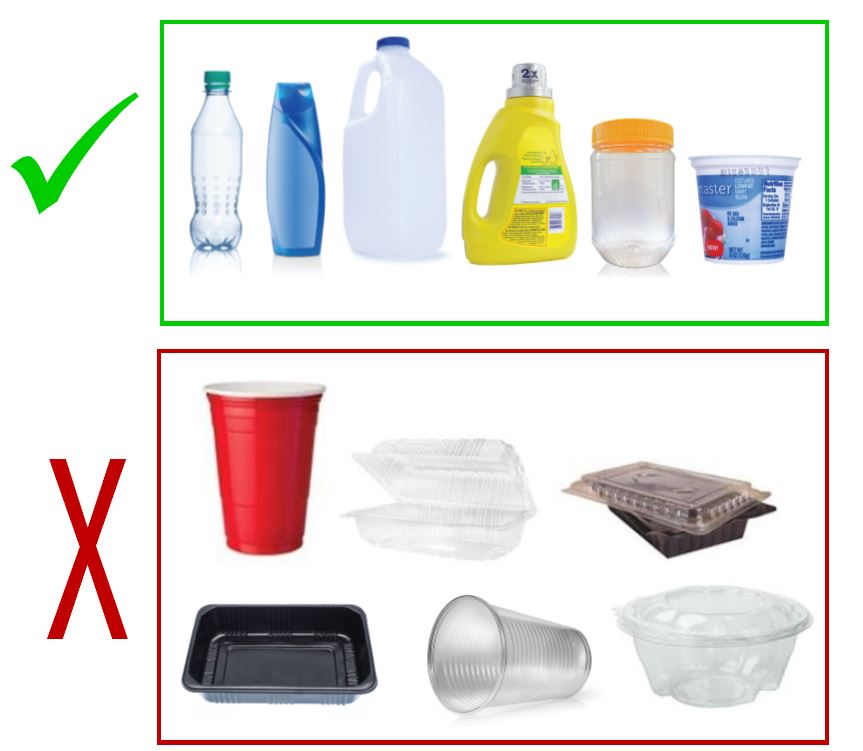 The primary way to know whether a plastic can be recycled curbside or at the drop-off center is by its shape. The only plastics that can be recycled curbside in Fort Collins are plastic bottles, jugs and tubs. Bottles include soda or water bottles, and shampoo jugs. Jugs include plastic milk jugs and plastic laundry jugs. Tubs include the solid white dairy tubs like those that contain yogurt or sour cream, as well as translucent tubs commonly used in delis or for liquidy takeout like soups. When in doubt if a tub is recyclable, you can double check by looking for a #5 in the chasing arrows on the container.
Always be sure that all containers are empty and dry before recycling. Do NOT recycle motor oil, chemical, or pesticide bottles.
Due to changes in international recycling markets, local recycling guidelines do not include low-value plastic containers. These are typically the thinnest and flimsiest types of plastics, such as plastic clamshell containers (that hold berries), plastic party cups, and plastic take-out containers. These items should be thrown away. Community members may choose to avoid them by selecting reusable options and avoiding products packaged in low-value plastics.
---
Accepted At:
---
***DISCLAIMER***
The information provided in this tool is compiled as a service to Fort Collins Residents. Contact information has been provided for the listed locations, and it is encouraged that you call ahead to verify the location, materials accepted, and hours of operation. Inclusion in this list is not an endorsement by the City of Fort Collins.
Any recycler wishing to be added to this list may contact recycling@fcgov.com. If you can't find the answer to your question here, please call us at 970-221-6600