Recycling Contact
8 a.m. to 6 p.m. (Tues-Sat, except for holidays)
Timberline Recycling Center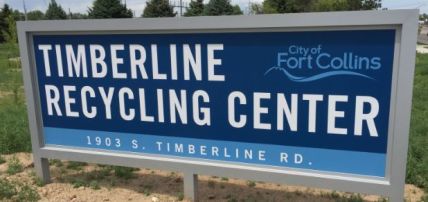 ---
Recycling Ambassadors
Volunteers are available - in the general recycling area only - with the following schedule to help with unloading or answer any questions you might have unless there is inclement weather (below freezing, blowing snow or high winds).
---
View volunteer schedule (Last updated: )
Everyday Recycling Drop-Off Site: Materials & Guidelines
The City accepts common recyclables like cardboard, paper, mixed bottles/cans, and glass at the everyday recycling drop-off site for no charge.
---
While this site accepts paper that has already been shredded, PLEASE NOTE - THIS SITE DOES NOT REGULARLY OFFER SHREDDING SERVICES
Accepted

Cereal, cracker boxes
Paper egg cartons
Six- or twelve-pack beverage cartons
Food-free pizza boxes
Soft-bound books
Brown paper bags, packaging and envelopes
Gift, shirt, shoe, tissue boxes
Phone books
Paper bags
Wrapping, tissue paper, packing paper
Paper tubes (paper towel roll tubes, etc.)
If it's not listed here, please don't put it in this bin

---

NOT Accepted

Posterboard
Milk/juice cartons (they go in Commingled Containers #6 & #7)
Rigid paper or cardboard (carpet roll tubes, etc.)
Frozen food packaging
Plastic/foil lined boxes/bags
Lined pet food bags
Charcoal or fertilizer bags
Used tissues
Napkins or paper towels
Waxed paper or boxes
Styrofoam
Plastic bags
Trash
Single-use paper beverage cups (sleeves are OK)

---

These bins have rectangular openings four inches tall for accepting flattened cardboard. Please cut down large boxes to fit into a 4' X 4' X 6" slot, so they will not jam the machinery.

Have a large load? You can now bring larger loads of flattened cardboard to the hard-to-recycle materials yard for recycling. The hard-to-recycle materials yard is open Tuesday through Saturday from 8:00 a.m. to 4:30 p.m. This is option is perfect for commercial loads or anyone with a large amount of boxes.

---

Accepted

Flattened Corrugated Cardboard ONLY

---

NOT Accepted

Soiled, waxed or single-layer cardboard (paperboard)
Pizza boxes
Plastic bags
Styrofoam
Trash

---

Accepted

White office paper
Pastel-colored office paper
Magazines
Newspaper
Newspaper inserts
Junk mail
Shredded Paper

While this site accepts paper that has already been shredded, PLEASE NOTE - THIS SITE DOES NOT OFFER SHREDDING SERVICES

If it's not listed here, please don't put it in this bin

---

NOT Accepted

Foil-backed paper
Paper bags
Packing paper
Brown or tan envelopes
Styrofoam packing materials
Gift wrapping paper
Phone books
TYVEK envelopes
Plastic bags
String
Boxes

---

Accepted

Please avoid crushing any of these items:

Tetra Pak, aseptic and paper cartons (containing milk, juice and broth)
Steel/tin cans
Empty aerosol cans
Aluminum cans
Plastic food and beverage containers labeled #1, #2, #4, or #5:

Until further notice plastic containers labeled with a #3, #6, or #7 in the chasing arrows will be landfilled. Learn more
Jugs, bottles, tubs
Leave lids on plastic bottles and jars, after rinsing and drying

If it's not listed here, please don't put it in this bin.

---

NOT Accepted

Glass
Styrofoam
Catering trays over 2' in diameter
Plastic bags
Motor oil/anti-freeze bottles
Plastic containers labeled #3, #6, or #7
Compostable "plastic-like" containers (often labeled #7 PLA)
Rigid plastic containers larger than 2.5 liters

---

Accepted

Clean glass bottles and jars (rinsed, no dirt or rocks)
All colors ok
Labels ok
Remove metal lids from bottle or jar and place in bin separately
If it's not listed here, please don't put it in this bin

---

NOT Accepted

Ceramics
Bake-ware
Pyrex
Drinking glasses
Window glass
Mirrors
Light bulbs
Fish tanks or other durable glass items
Non-glass containers

---

This pilot program is highly dependent on the good quality of items residents place in the specially labelled bins; if there are too many problems with "contaminants" being placed in the plastic-film recycling bins, it could jeopardize the success of the program.

Please place ONLY the following clean and dry materials inside the specially-marked bins:

grocery, produce, bread, dry-cleaning, and newspaper bags
industrial shrink-wrap, plastic wrapping (e.g. plastic coverings for bulk paper towels and toilet paper), air pillows and bubble wrap
Polyethylene film labeled with a resin identification code as #2 HDPE or #4 LDPE

Materials that are NOT accepted include:

Pet food bags (woven plastic material)
Packaged/fresh produce bag (breathable plastic that's non-recyclable)
Cereal box liner bags (wax-like appearance)
Crinkly chips bags
Wood Pellet Bags (generally contain residue and wood debris)
Vinyl bedding/quilt bags

---

City Forestry Department deposits shredded tree mulch in a bunker in the general recycling area when it is available. There is no set delivery schedule, and our office is not informed of deliveries. Since the site is unmanned, It is first come, first served.

---
---
Hard
To

Recycle Materials Yard ($5 Facility Use Fee)
Regular Hours: Tues-Sat 8 a.m. to 6 p.m.
Cash, checks, or credit cards are accepted.

Note that this area is closed on Sundays and Mondays
Give the gift of recycling! Stop by the gatehouse at the Timberline Recycling Center's Hard-to-Recycle Materials Yard to buy certificates for a complimentary entrance
---
There is a $5 facility use fee charged for hard to recycle items (additional fees apply for e-waste and organic debris).
Visit Paint Care for a complete list of acceptable products and to locate other Fort Collins businesses that currently accept paint for recycling.

---

Accepted

Oil-based paint and enamel
Latex paint (interior/exterior architectural paints)
Various other coverings (deck coating, varnish, floor paint, primer, sealer, stains)

---

NOT Accepted

Aerosol paints (spray cans)
Art and craft paint
Paint thinners
Mineral spirits
Solvents
Paint additives
Colorants
Tints
Resins
Adhesives
Leaking/empty/unlabeled containers

---

Accepted

Flattened Corrugated Cardboard ONLY

---

NOT Accepted

Soiled, waxed or single-layer cardboard (paperboard)
Pizza boxes
Plastic bags
Styrofoam
Trash

---

---

NOT Accepted

Gear oil
Mixed gas/oil
Transmission fluid

---

Rechargeable and non-rechargeable are accepted. Includes all batteries ranging from small watch batteries to car batteries. Please tape battery ends.

---

Accepted

Desktops, computers, CPU's and hard drives (includes external hard drives or hard drives that have already been removed) – $5
Compact printers/fax machines/scanners – $10
Standing floor copiers – $50
Microwave ovens – $10
Reader devices (Kindle, Nook, etc.) – $5
Laptops – $10
Televisions:

Smaller than 19" – $20
19" to 27" – $30
27" to 34" – $40
Larger than 34" – $50

Console televisions – $50
Projection televisions – $40
Flat screen monitors/televisions – $15
LED/Plasma televisions (any size) – $20
Computer peripherals (cables, keyboards, mice, speakers, and external floppy drives) – $0
Cell phones and landline phones – $0
UPS (will be counted as a battery) and power supplies – $0
Cameras – $0
Most tape players (DVD, VCR, cassette), unless attached to a television – $0

---

NOT Accepted

Fire, smoke, and carbon monoxide alarms

---

Accepted

All types of small metal items (must be made of at least 50% metal)
Non-refrigerant type appliances
Lawn mowers and other small engine-containing items, if fluids are drained
If it's not listed here, please don't put it in this bin

---

NOT Accepted

Refrigerators
Freezers
Air conditioning units
Fluids

---

Concrete (no rebar)
Asphalt
Brick
Ceramics
Tile
Porcelain
If it's not listed here, please don't put it in this bin

---

---

Accepted

Yard trimmings - $4.75/yard

Branches less than 2" diameter
Leaves
Grass clippings

Branches larger than 2" diameter – $6.50/yard
Lumber (untreated and unpainted)/scrap wood (NO plywood or composite boards) – $5.75/yard

Commercial users and individuals with large quantities of organics debris (3 cubic yards or large truck and trailer loads) are encouraged to consider private sector alternatives that may offer better pricing for large loads. Look here for complete lists of local business accepting yard waste and wood waste.

---

---

The majority of baling twine used in rural areas ends up in the landfill or accumulates on a landowners' property. Wildlife and livestock can become seriously ill or die if baling twine is ingested, and birds are especially at risk for getting tangled up in it. However, 100% of baling twine is recyclable and can easily be properly disposed of in the hard-to-recycle materials yard.

---

Bulky Rigid Plastic is a term to describe plastic containers and items with a #2 (HDPE) and #5 (PP) on them that are larger than, or manufactured differently than, what is acceptable in curbside recycling.

For the purposes of this pilot program, the acceptable items are strictly limited to help ensure their marketability. You can do your part in making this pilot program a success by carefully adhering to the important requirements below.

---

Accepted

5-gallon Buckets (metal handles removed)
Laundry Baskets
Milk/Beverage Crates
Plastic Outdoor Furniture
Children's Play Sets (outdoor Jungle Gyms, Slides, Forts, Playhouses, etc.) (metal parts removed)
"Little Tike" Push Cars (metal parts removed)

---

NOT Accepted

PVC pipe or materials
Foam of any kind
Inflatable furniture and pools
Flower pots
Small toys, cars, action figures
CD cases

---
---
TRC FAQs, Volunteer Opportunities
And

Informative Video
---