Crushing Operations - Please call ahead#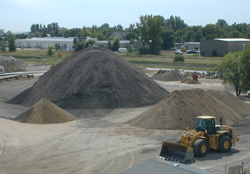 Physical Address: 1380 Hoffman Mill Road
Phone: 970-482-1249
Monday - Friday 7:00 a.m. - 4:45 p.m. (weather permitting)
Crushing operation may close due to unforeseen circumstances please call ahead. Material availability changes daily call for update.
Uses
For

Recycled Aggregate Materials#

By recycling materials from road and other projects, the City saves money by not incuring landfill fees where the material would go otherwise. Reusing material is also beneficial to the environment in reducing landfill accumulation and can extend the life of other aggregrates and raw material sources. Recycled material is a great resource in alley and road maintenance for City projects as well as for private sector projects. This program provides recycled materials for sale to the public, which can be used for a variety of projects like:
road resurfacing
driveway resurfacing
parking lot resurfacing
material use for under buildings
build-up ground for special products
Recycle Your Toilet
And

Get Up

To

A

$50#

Accepting toilets (for porcelain crushing) from City of Fort Collins residents.

Please remove the seat cover and any metal or plastic parts. When you purchase a new toilet, be sure to recycle your old one. Fort Collins Utilities offers residential water customers up to a $50 rebate for the purchase of high-efficiency toilets. Visit fcgov.com/conservation/res-toilet.php for more information.
Products - Now Selling#
Below is a list of products we offer. All products are subject to availability. Prices do not include sales tax and there is a $15 minimum on all orders.
| | |
| --- | --- |
| Products | Price per Ton |
| RRB - 1 1/4 recycled asphalt | $11.00 |
| CCB - 1 1/4 crushed concrete | $11.50 |
| Screened Fill Dirt | $3.00 |
| Unscreened Fill Dirt | $1.50 |
| Services | Price |
| Weigh Checks | $5.00/ticket |
Accepting Disposable Materials#
The program also accepts materials that meet the following specifications. Please consider diverting any of these materials from the landfill and bring them to us. We reserve the right to decline loads. If you dump an unacceptable load, you will be charged a dump fee. Trash, mixed loads or excessive dirt will NOT be accepted. We cannot take any type of material from building demolition projects. We will accept:
pit run (clean dirt & rock mixture)*
asphalt (clean, broken or milled asphalt)
concrete (no rebar, or other contaminants)*
Which Product
Is

Right

For

Me?#

Recycled asphalt has good compaction, it remains inert and it is virtually dust free. Crushed concrete compacts faster than any other product. It is also lighter in weight, non-expansive and it has an optimum moisture of about 13%. The result is that it will absorb twice the amount of water before becoming saturated.