Recycling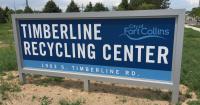 Used the Timberline Recycling Center's hard-to-recycle yard yet? The City's new recycling facility at 1903 S. Timberline Road has been open more than a year. The City's Environmental Services department would like feedback on usage of the west yard, which captures hard-to-recycle items. Let us know how we're doing by taking a short questionnaire.
Still Looking to Recycle Your Tree?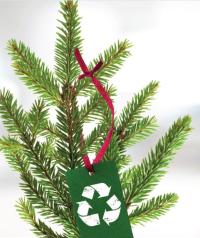 Fort Collins residents still have several options for recycling their Christmas tree locally. For a fee trees are accepted at the following locations:
PLEASE: No Artificial Trees, No Decorations – including: lights, wire, hooks, ornaments, tinsel, and fake snow.
The Timberline Recycling Center, located at 1903 S. Timberline Rd., accepts cardboard, paper, glass, and mixed bottles/cans, 7 days a week during daylight hours. A separate area of the Timberline Recycling Center is expanded to accept certain "hard-to-recycle" items and is open Tuesday - Saturday, 8 a.m. to 4:30 p.m.
Visit the Timberline Recycling Center page for more information.
Fort Collins residents have a new option for recycling yard waste and wood waste locally. The Larimer County Landfill is now collecting clean lumber, wood pallets, tree limbs, tree trunks, and yard trimmings for a small fee.
This material is ground up and sent to a local company called Biochar Now, which creates nutrient-rich charcoal for use as a soil amendment. Learn more about biochar and its uses here. For more information about the Landfill's new collection program see their press release.
See more options for wood & yard waste recycling on the City's A-Z Recycling Page.
Nearly everything can be reused or recycled, but do you know what you can and can't place in your recycling bin? We've made it easy to become a recycling expert! Check out our easy-to-follow:
Many items not accepted in curbside recycling can be recycled elsewhere, view a complete A-Z list of where to recycle.
Did you know that wasted food makes up about a quarter of what local residents throw in their household trash?
Fort Collins is throwing away food like it's going out of style – and it just might be! A new campaign, launched in the summer of 2017, aims to inform and inspire the Fort Collins community by encouraging you to Save Your Food, for the sake of the environment and your pocketbook!
Just like the paper, metal and plastic that you place in your curbside recycle bin gets made into new paper, metal and plastic, now this is the case for glass too! Learn more about glass recycling.
TRC accepts plastic bags for recycling!
The City has begun recycling plastic bag and film packaging on a trial basis as of January, 2017. You'll notice the re-purposed square containers (IBC totes - previously used to transport bulk liquid) located just west of the mulch area in the free section of TRC. This pilot program is highly dependent on the good quality of items residents place in the specially labelled bins. We hope you help us make this a successul program! Please see the Timberline Recycling Center's FAQ page for more information.