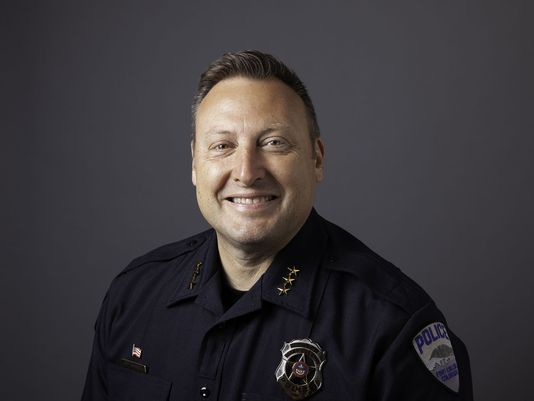 Message from the Chief
2020 was an unprecedented year on many fronts. From a global pandemic to civil unrest to the largest wildfire in our state's history, our community navigated numerous challenges. While we still have a long road ahead, I am proud of the way Fort Collins residents and businesses met each moment.

Thank you to our officers, dispatchers, and staff who stayed focused on serving with professionalism and compassion, despite countless challenges. You have impressed me at every turn, and our community is fortunate to have such skilled and dedicated professionals. Thank you to our community members who found ways to elevate concerns and make your voices heard in powerful, constructive ways. We hear you and we share your dedication to safety, justice, and equity.
I'm grateful for the work we've accomplished together, and I'm confident that creating space for dialogue and understanding will help us co-create a future that serves everyone in our community.

The future is full of possibility, but one thing is certain: the way forward is together. Let's make it a safe, successful year ahead.
Jeff Swoboda
Chief of Police
2020 Highlights
and

Insights#
Last year, we updated the FCPS mission to reflect our agency's top priority: Safety and Service for ALL. In order to accomplish this, we work to operationalize our values so they're not just words on paper. This requires bringing Respect, Integrity, Service, and Engagement to all that we do. Scroll through the tabs below for an overview of the work FCPS did in 2020 to serve our community, develop collaborative partnerships, and support the safety of everyone in Fort Collins.
COVID-19 forced changed across the globe, and Fort Collins community rose to the challenge with innovation. While practices adapted to protect health and minimize spread of the virus, first responders continued to provide service to our community despite the personal risk. The generosity of residents and local businesses made a major impact, with Personal Protective Equipment (PPE) drives and even shifts in production by local distillers who began manufacturing hand sanitizer.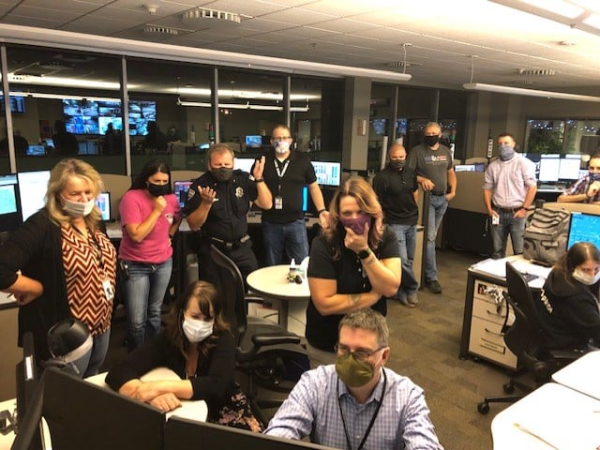 After years of work, the Combined Regional Information Systems Project (CRISP) went live in the Fall of 2020. CRISP unifies Larimer County emergency services providers under one software system to more effectively manage records, centralize jail booking information, and provide enhanced dispatch services across the region.
Northern Colorado's steep population growth rate has placed demands on first responder agencies in ways that had constrained service, leading the three partner agencies and 10 external members to collaborate on a system that benefits all of them. In addition to the three partners, member agencies including police departments in Estes Park and Timnath and the Colorado State University Police Department are beneficiaries of the system. Rocky Mountain National Park, fire departments serving Loveland, Fort Collins, Wellington and Berthoud and the two largest regional emergency medical service providers will also share use of the project's dispatch component.
Thank you so much to everyone who's been a part of CRISP: from the initial vision to rigorous system testing, training coworkers to use the new software, preparing existing data for migration, and so much more. This is a major improvement for our communities, and FCPS is grateful to everyone who's dedicated countless hours to this project.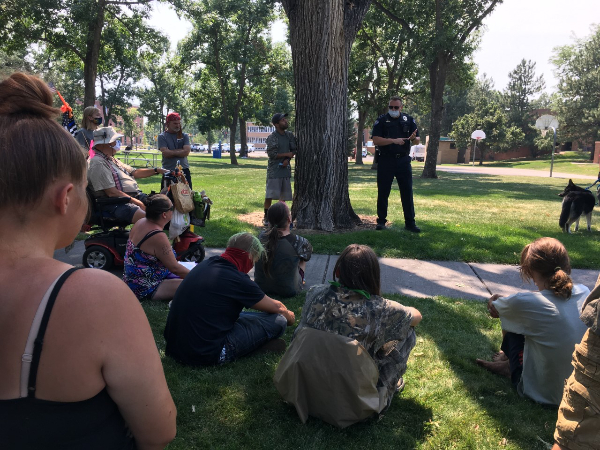 FCPS is actively investing in integrated partnerships and programs in order to operationalize our new mission statement, "Safety and service for ALL." This includes supporting the needs of our community members experiencing homelessness. One of the ways the agency did this in 2020 was proactively reallocating funds to support additional positions at Outreach Fort Collins, an organization that serves homeless individuals and reduces the need for police response to non-criminal situations.
2020 saw a substantial increase in Internet crimes against children. While COVID-19 restrictions forced the cancellation of the in-person "Keeping Kids Safe on the Internet" presentations, the Crimes Against Persons Unit hosted live online training for parents in English and Spanish, which was also recorded and attached to the FCPS website for future viewing.
FCPS also developed a new digital safety page for parents and caregivers. It includes informational videos and links to a variety of resources.
FCPS assists an increasing number of community members with behavioral health conditions, as well as their families who are concerned about them, on a daily basis. The Mental Health Co-Responder Program was created with the goals of 1) helping families and individuals in crisis access appropriate community services, and 2) increasing the safety of those individuals and officers who encounter them. At the end of 2020, Chief Jeff Swoboda approved an internally-initiated reorganization that further prioritizes the agency's focus on mental health. A new Mental Health Response Team (MHRT) has been formed to create a stronger continuity of care for community members experiencing crisis. In this enhanced model, two existing FCPS officer positions were shifted to create the MHRT unit.
Online Crime Reports
FCPS accepts online reports for certain crimes, including
Lost Property
Bike Theft
Theft
Theft from Auto
Phone Harassment
Vandalism
Information Report Only
This provides a convenient way for community members to make a report and saves hundreds of officer hours each year.
| Year | 2017 | 2018 | 2019 | 2020 |
| --- | --- | --- | --- | --- |
| Online Reports | 827 | 895 | 2,001 | 2,410 |
| Hours Saved | 206 | 223 | 500 | 602.5 |
Priority 1 Calls
Every second counts in a life-or-death situation. When people call 911 for an emergency, they expect help to arrive as quickly as possible. Priority 1 calls are just that - serious crimes in progress and imminent threats to life and safety. In 2020, the average response time to Priority 1 calls was 4 minutes, 47 seconds (21 seconds faster than the target time of 5m30sec) from the time the call was created to the moment help arrived at their doorstep.
| Year | Priority 1 Calls | Response Time |
| --- | --- | --- |
| 2020 | 268 | 0:04:47 |
| 2019 | 207 | 0:05:09 |
| 2018 | 254 | 0:05:40 |
The School Resource Officer (SRO) program is a problem-solving approach to reducing crime by assigning specially trained officers to each of the traditional junior and high schools in the district to establish an ongoing rapport with students, staff and parents. Fort Collins Police Services works collaboratively with Poudre School District to provide a safe learning environment for all students and staff. Despite the shift to remote learning due to COVID-19, School Resource Officers continued to support student success in different ways. In response to concerns related to SRO operations around the country, FCPS worked with Poudre School District to adapt policies to the shifting needs of our community. Student success and positive futures remain a priority.
Incidents involving law enforcement, use of force, and minority individuals around the country led to widespread civil unrest in 2020. In Fort Collins, protestors made their voices heard and called for systemic change. FCPS Chief Swoboda met with individuals and community groups throughout the year to discuss issues related to policing, racism, inclusivity, and more. The Fort Collins City Council also formed an ad hoc committee with an overall purpose of ensuring that the City is creating an environment that provides safety and equity for all community members.
In order to make information about FCPS operations and policies more accessible, the agency developed a Transparency page to answer common questions.
We invest heavily in training. Having a strong, consistent, well-maintained knowledge of best practices and processes allows officers to safely serve the community. All Colorado officers are required to meet Colorado P.O.S.T. (Peace Officers Standards and Training) requirements each year to maintain their law enforcement certification. Despite the COVID-19 restrictions on in-person gathering, the Personnel and Training Unit worked hard to make sure all officers completed (and in some cases, exceeded) the required training standards.
2020 also saw the final stages of the Northern Colorado Law Enforcement Training Center construction, a project that had been in the works for years. The NCLETC is a partnership between the cities of Fort Collins and Loveland and will provide world class training opportunities for our agencies, as well as other local law enforcement, to the benefit of our entire region.
Uniform Crime Reporting - Part I Crimes
The FBI's Uniform Crime Reporting program is one of the ways that crime statistics are tracked on the national level. The following crimes are categorized as Part I by the FBI.
| Offense | 2017 | 2018 | 2019 | 2020 |
| --- | --- | --- | --- | --- |
| Homicide | 5 | 3 | 1 | 2 |
| Rape/Sexual Assault | 45 | 35 | 47 | 30 |
| Robbery | 42 | 37 | 36 | 54 |
| Aggravated Assault | 226 | 249 | 242 | 276 |
| Arson | 14 | 11 | 7 | 15 |
| Burglary | 456 | 347 | 343 | 344 |
| Theft | 3,629 | 3,183 | 3,158 | 3,014 |
| Motor Vehicle Theft | 195 | 171 | 209 | 261 |