Volunteer Educator Opportunities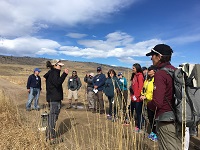 Master Naturalists
Master Naturalists are highly trained volunteer educators who share their knowledge and experience with the community. As a Master Naturalist you will experience beautiful natural areas while you learn how to lead fun, hands-on field trips. An intensive training session of about 70 hours is offered each spring.
Interested? Read the full job description.
Previously certified Master Naturalists have said:
"I feel fortunate to have been exposed to your wonderful program."
"I wish the training wasn't over!"
"Excellent program! It has far exceeded my expectations."
"I just love giving programs to the school groups - the support of the Natural Areas staff is fantastic, and the feedback from the children makes my day."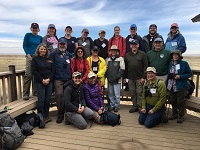 Master Naturalist Training 2018
After a fun, active training program, Master Naturalist volunteers lead activities that connect people of all ages to natural areas.
Attendance at each training day is required:
Tuesday, March 20, 9:00-1:30
Thursday, March 22, 9:00-1:30
Saturday, March 24, 9:00-3:00
Tuesday, March 27, 9:00-1:30
Thursday, March 29, 9:00-3:00
Tuesday, April 3, 9:00-1:30
Thursday, April 5, 9:00-1:30
Saturday, April 7, 9:00-4:30
Tuesday, April 10, 9:00-1:30
Thursday, April 12, 9:00-1:30
Saturday, April 14, 8:00-12:00
Tuesday, April 17, 8:30-4:30
Thursday, April 19, 9:00-1:30
Costs & Registration
The Master Naturalist training program costs $175.00 which is due at registration. Fifty percent of the registration fee is reimbursed if you become a volunteer educator with the City of Fort Collins Natural Areas Department and volunteer at least 15 hours within six months of certification. All materials, field lunches, and snacks are supplied. Registration opens February 8, 2018. To be notified of the web link to apply, please email c2tlbm5leUBmY2dvdi5jb20=.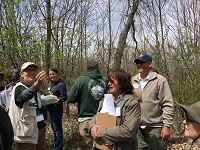 Request a Master Naturalist-led Presentation or Field Trip
Use the request form in Engage (you must create a free account with your name, email, and phone number), or contact Sue Kenney, c2tlbm5leUBmY2dvdi5jb20=, 970-224-6118.
Master Naturalist Assistants
Master Naturalist Assistants (MNAs) serve as an important aid to volunteer educators (called Master Naturalists) by lending a helpful hand to all aspects of leading a field trip or activity for the public. As a MNA, you will assist with group management, props and activities. It's a great way to make a difference and meet other interested volunteers. The training is held once a year in the spring. Read the job description here.
To learn more, email Sue Kenney at c2tlbm5leUBmY2dvdi5jb20=, or call 970-224-6118.