Project Outdoors: Plug in to Nature in Northwest Fort Collins
How can outdoor opportunities be improved in northwest Fort Collins? Residents created a vision to connect youth and families to the outdoors through places, career pathways, and programs.
Did you know that young people spend an average of four to seven minutes a day outside in unstructured play? That is half the time their parents spent outside. Research shows outdoor time is good for kids physically, socially, emotionally, and cognitively. Plus, if kids don't experience nature, it won't be valued. Issues like time, transportation, money, access, and lack of interest and understanding keep kids from getting outside and developing a lifelong passion for the great outdoors. Inspiring a deep connection to nature is the goal of this project because it is vital for the wellbeing of our community, our wildlife, and the Colorado way of life. This video is an inspiring 4 min. summary!
---
Current Status
The Project Outdoors planning process has been completed, and an implementation grant application has been submitted to Great Outdoors Colorado. Read the planning report here
The vision includes:
Places- Three trail connections are proposed: one from Irish Elementary to the Boys & Girls Club through "Puente Verde" including signalized crossings on Vine and Taft Hill Road. Secondly a multi-modal path connecting Grenada Heights neighborhood to Lincoln Middle School on the north side of Vine Drive. Thirdly, a trail connection between Lincoln Middle School and the Poudre Trail.
Places- Two new Kitchen Community Learning Gardens are proposed at Lincoln Middle School and Poudre High School. The Learning Garden at Irish Elementary (construction planned for fall 2017) is included as match.
Places- A new "naturescape" (part park, part natural area, part Nature in the City project) is proposed for the site adjacent to the Lincoln Middle School to Poudre Trail connection. Conceptual features proposed include a bike skills area with a viewing/shade structure, and bike fix-it stand, an outdoor classroom, soft surface trails, a lookout tower, an entrance gate, environmental art, and a nature play area.
Programs- A comprehensive sequence of outdoor and environmental education programming, beginning in early childhood through grade 12 is proposed for in-school, after-school, and during the summer. Two new positions would coordinate the programs, one focused on in-school, one focused on a new outdoor club at the Boys & Girls Club. Also included is a gear library and teacher training.
Career Pathways- In Elementary School, young people have the opportunity to build awareness of natural resource career options, then in middle and high school they can explore different pathways through visits to natural resources agencies, service projects, job shadowing, a career fair, and paid internships. During the summer youth have the opportunity to participate in outdoor adventure programs.
Hearing the voice of youth was critical to the success of Project Outdoors. A Youth Advisory Council of outstanding middle-school students from the Boys & Girls Club, high school students from nearby schools, and a CSU student searched out innovative ways to connect their peers to nature. Even though the planning process is complete, Boys & Girls Club members continue to meet monthly and participate in field trips to learn about outdoor opportunities. The Youth Council played a key role in community engagement and project development.
---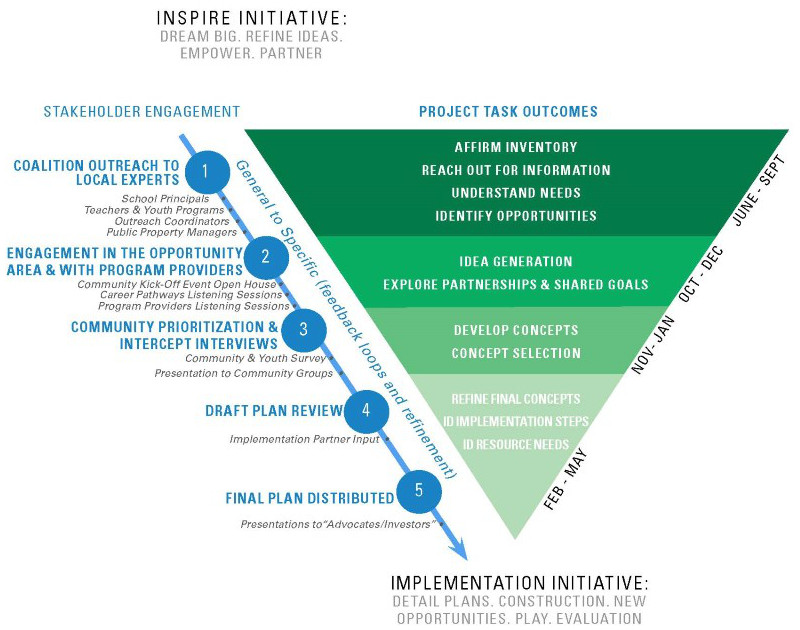 Contacts & Resources
Project Outdoors Planning Project Manager, Heather Young, Larimer County Natural Resources Department Education Program Coordinator, 970-619-4489, aHlvdW5nQGxhcmltZXIub3Jn
City of Fort Collins Project Outdoors Implementation Coordinator Zoe Shark, Natural Areas Community Relations Manager, 970-221-6311, enNoYXJrQGZjZ292LmNvbQ==
City of Fort Collins Nature in the City Program