Prairie Dogs in Fort Collins Natural Areas
Maintaining healthy and productive grasslands in natural areas is in the best, long-term, interest of promoting the viability of prairie dogs and all wildlife. The Fort Collins Natural Areas Program is taking common sense, measured steps toward providing a balance that conserves prairie dogs and the grasslands critical to their habitat.
Frequently Asked Questions
Why is the Natural Areas Program planning to remove prairie dogs from portions of the natural areas?

There are four natural areas (Prairie Dog Meadow, Hazaleus, Colina Mariposa, Fossil Creek Wetlands) where significant soil erosion is occurring. The land's susceptibility to wind erosion is largely due to overgrazing by prairie dogs and the lack of plant germination and growth in the on-going drought. The level of soil loss is at a critical point where preservation of topsoil has become the Natural Areas Program's primary objective. To accomplish this the Natural Areas Program must plant a cover of grasses to stabilize the soil. Removal of prairie dogs on portions of these sites is necessary to ensure the seed remains and germinating shoots of grass are not browsed.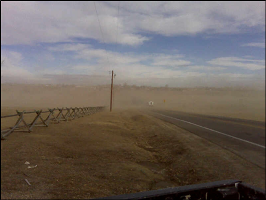 Fossil Creek Wetlands January 2009(looking north on Timberline from Carpenter Rd.)

What guides the management of prairie dogs on city natural areas?
In 2007 the Natural Areas Program adopted the Wildlife Management Guidelines after considerable public input and review by the Land Conservation and Stewardship Advisory Board and City Council. These guidelines direct city managers to ensure management actions promote healthy grassland habitat in the interest of prairie dog conservation and other wildlife values. The guidelines recognize that lethal management of prairie dogs may be necessary at times to restore grasslands and promote healthy ecosystems.
What is being done to stem the erosion issue?
The Natural Areas Program has plowed windbreaks at the highly susceptible sites to break up the wind and trap airborne soil. This is a short term measure designed to mitigate the erosion issue until a cover crop and vegetative ground cover can be established in the spring.
Where exactly will prairie dogs be removed?
These maps (pdf) show where the Natural Areas Program will be removing prairie dogs and embarking on grassland restoration efforts. Note at the bottom of each map the size of the natural area, acreage of existing colonies, and acreage of colonies that will remain.
What's the status of prairie dogs on urban colonies in Fort Collins?
The Natural Areas Program has been formally monitoring prairie dog colonies on natural areas since 2004. This table (pdf)shows the number of acres of occupied prairie dog colonies for the period from 2004 - 2008. The highlighted areas indicate sites were partial removal of the colonies is planned. It is important to note that even after approximately 160 acres of prairie dogs are removed, the urban total acreage (679 acres) will still far exceed the totals from 2004 and 2007. Note that plague has been active throughout several sites especially along the foothills.
Has this been an issue before for Fort Collins Natural Areas?
Yes it has. In fact a similar situation existed at Pineridge Natural Area in 2006. See pictures (pdf) here. Prairie dog numbers had swelled to a point in 2006 where a 60-acre area of Pineridge Natural Area became denuded of vegetation and was experiencing significant soil erosion. At that time prairie dogs were removed from that site and grassland restoration was initiated. Below are some before and after pictures of that area. In the fall of 2008, native grass seed was planted and with some help from mother nature (spring moisture) the Natural Areas Program is expecting continued success in the restoration effort.
Who can I contact with additional questions?
Mark Sears, Natural Areas Program Manager (970-416-2096) bXNlYXJzQGZjZ292LmNvbQ== or Rick Bachand, Senior Environmental Planner (970-416-2183) cmJhY2hhbmRAZmNnb3YuY29t