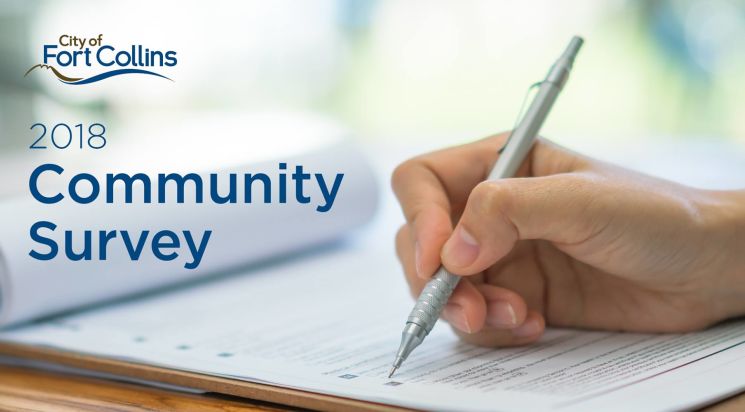 We Need Your Opinion!
How would you rate the overall quality of life in Fort Collins or the availability of affordable quality housing? How often do you go to the parks or interact with City staff? Are you satisfied when you do? The survey offers the chance to rate everything from access to arts and culture, to job opportunities. You can also rank priorities, tell us how you prefer to receive information and much more. For the first time, there is an opt-in version so anyone in the community can participate.
Open Now through Sunday, Nov. 11
Your opinion will be used to:
Prioritize programs and projects.
Update the City's Strategic Plan.
Create communication and outreach.
Improve existing services.
Report to leadership on community perceptions.
---
2017 Community Survey Highlights
Thank you to everyone who took the time to complete the survey! Overall, the report is positive with a few areas of concern and opportunities for improvement. Contact us if you are interested in learning more about the survey or how to use it. The City offers presentations and help using the data.
Some of Fort Collins' strongest areas are:
Conservation and sustainability efforts
Feelings of Safety
Overall as a place to live and quality of life
Some of the City's greatest areas for improvement are:
Affordable quality housing
Transportation and Traffic
Business support and promotion
This is just one of many methods of public input the City uses in decision making processes.
---
---
What Can You Learn?
The survey covers a variety of topics connected to the City's seven strategic outcome areas.
Neighborhood Livability & Social Health
Culture & Recreation
Economic Health
Environmental Health
Safety
Transportation
High Performing Government
The community rates the community on a scale of "Very Good" to "Very Bad" on items such as:
Overall, as a place to live
Community acceptance of all people
Safety in different areas of town
Disaster response and other safety services
Utilities such as drinking water and electric services
Support of businesses
Natural areas and other cultural opportunities
Interactions with City staff
The reports include overall results in these areas and cross analyses of the data to show how different segments of the population feel about the community. For example, results can be compared by: respondent length of residency; age; race/ethnicity; and geographical area.
---