2007 Transformer Cabinet Mural Projects
The City of Fort Collins Art in Public Places Program (APP) along with the Fort Collins Utilities (Light and Power) worked with local artists to add beauty to selected electrical transformer cabinets in the downtown area. Six artists were chosen through the APP selection process to paint colorful murals on six different transformer cabinet locations. This exciting project is designed to help mitigate graffiti on these cabinets that are often tagged. The APP Program used local artists to help solve this problem to enhance our community.
Artist: Chris Bates
Location: In alley behind 619 S. College
Description: The concept for this boldly colored mural, More Than Meets the I, focuses on the four cardinal directions. As you look at Chris cabinet, facing east, you will see a stylized "E" and imagery from the plains. Facing west, there is a "W" and mountain scenes, and so forth with each direction. The artist describes his painting style as "organic cubism;" it is a way of overlapping images and themes and unifying them through color and texture.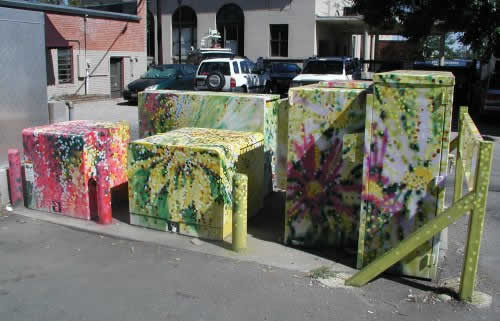 Artist: Lisa Cameron
Location: In alley behind 137 W. Oak
Description: Lisa used plants indigenous to the four corners area as her inspiration for her mural, Flowers of the Four Corners. In her loose, impressionistic painting style, she is depicting yucca, aster, sumac, and dugaldia on the cabinets. This cold urban area has been transformed into a lush field of wildflowers.
Artist: Amelia Caruso
Location: In parking lot West of 104 W. Olive
Description: Amelia has used bright colors and bold geometric patterns to attract the eye of passersby in her mural, Margarita Dream. This project is the second time Amelia has been commissioned by the city to apply her artistic vision to transformer cabinets. Last fall she painted 6 cabinets in Tenney Alley, off of Mountain Avenue in Old Town.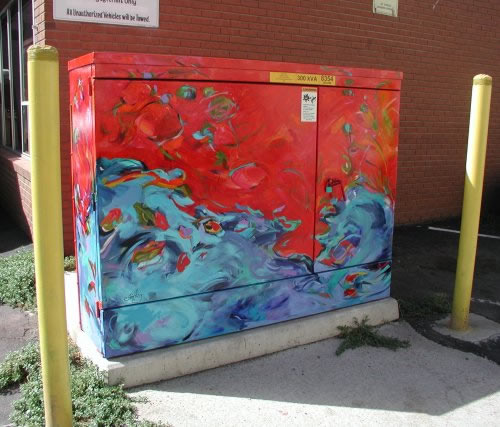 Artist: Diane Findley
Location: 359 Linden St.
Description: In her Fort Collins Fauve style, Diane used bright colors in a very loose way. On Red Sky, Diane painted a very active, non-traditional, mountainous Colorado landscape. Her painting style is as fun and exciting as her personality.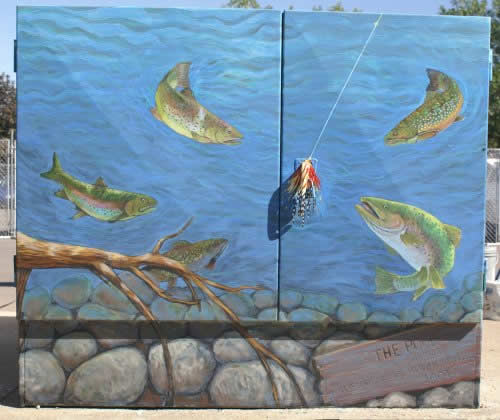 Artist: Susan Dailey
Location: In parking lot behind 204 S. College
Description: Susan painted 2 cabinets in her realistic painting style. In, The Pool, she has painted a cut-away view of a river. It appears as if a chunk of river is emerging from the pavement, with trout swimming around a fishermans lure. On the second cabinet, The Lure of the Poudre and Other Random Casts, the artist has painted a fisherman reading up on his favorite subject.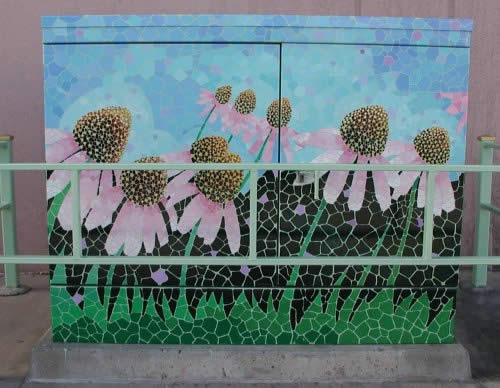 Artist: Barry Quinton Lee
Location: In alley East of the Civic Center Parking Structure at Mason and LaPorte
Description: The artist has painted floral scenes on 2 cabinets using his mosaic pointillism style. From a distance, his imagery is easily identified as morning glories on his cabinet, Glory Morning, and purple coneflowers on his cabinet, Southerly Winds. But up close, you see that he uses thousands of small painted mosaic patches of color to construct the flowers in a very active and colorful way.