Park Planning
Physical Address: 215 North Mason Street, Fort Collins, CO 80524
Mailing Address: PO Box 580, Fort Collins, CO 80522-0580
Phone: (970)221-6360
Fax: (970)221-6586

Southeast Community Park

Design is underway for Fort Collins' next community park. Located near the intersection of Ziegler & Kechter, the 54 acre park will include trails, a playground, multi-purpose fields, a BMX track and more. A community meeting was held at Fossil Ridge High School on February 5, 2015 to review progress on the park design.
Review the public presentation.
For information about the project please contact Craig Kisling at or at 970-221-6367.
---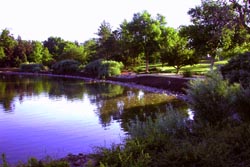 The landscape of Colorado's "Choice City" is frequently changing, and the Park Planning & Development Division is making sure the community parks, neighborhood parks, and bicycle trails keep pace. Park Planning & Development is responsible for the long-range acquisition and development of specific parks and land areas. We are working hard to provide more parks and a more extensive trail system to bring you closer to the beauty that inspired you to call Fort Collins your home.