Welcome to Parks Web Page
Be A Good Steward:
Protect & Respect Your Parks & Trails
Fossil Creek water features is experiencing issues that will not allow it to operate for the remainder of today (8/28).
The water features at Fossil Creek and Spring Canyon Park are now open and free to use every day 9:00am-7:00pm.
The water feature at Oak Street Plaza is open 10:00 am-10:00 PM.
Fossil Creek and Spring Canyon water features will be closed for the season on Monday, September 1.
Oak Street Plaza water feature will stay open (weather permitting) until October 1.
Median Renovation
Parks and Forestry Divisions will be removing trees that are dead or failing in the median along West Horsetooth Road between McClelland Drive and Shields Street on Monday, August 25th and Tuesday, August 26th. Healthy trees in the medians from McClelland Drive to Shields Street will be pruned.
In conjunction with a complete landscape median renovation between McClelland Drive and Windmill Street on West Horsetooth Road, a new irrigation system will be installed and removed trees will be replaced with new ones. This renovation will be complete by mid- September of 2014.
Volunteer for Bicycle and Pedestrian Counts!
September 9, 11, 13 at various times
Come join the fun! Volunteers are needed to fill 126 two-hour shifts over the course of three days: September 9, 11 and 13. Volunteers are welcome to sign up for multiple timeslots. Please see the list of dates, times and map of locations.
Volunteers are asked to come to a brief REQUIRED training session in the Community Room at 215 N. Mason Street, Fort Collins on Thursday, September 4, 6-7 p.m. Pizza and drinks will be provided in appreciation of your efforts to support the Bicyclist and Pedestrian Counts. If you are unable to attend this training session, please contact Amy Lewin at or 970-416-2040 to make other arrangements.
We greatly appreciate your help in this important event! Sign up, by clicking on this link.
Parks will be renovating the playground at Greenbriar Park (730 Willox Lane). The existing equipment and surfacing will be removed and replaced with new equipment and surfacing. This is provided as part of the Life Cycle program by the Parks Division. Construction will take place in early September to mid-October, weather dependent.
The goals of the Life Cycle Component program are to:
Replace or restore components to substantially the same original condition, purpose and efficiency.
Bring new components up to current codes and guidelines.
Follow Parks mission to provide excellent care of parks and public spaces for the community.
We thank you and appreciate your cooperation and concerns.
To see drawings of the new play equipment and layout, please visit and the City's Park Division visit our website at fcgov.com/parks. You can reach the Parks Project Manager, Jill Wuertz, at or 970.416.2062.
Hours to enjoy the Parks - 5:00am - 11:00pm

For Park questions or to make reservations: Please call the Parks Department (970)221-6660 or e-mail us at Our office is located at 413 S. Bryan Avenue, and we are open Monday thru Friday - 8:00am-5:00pm.
After hours, if there is an urgent situation needing the attention of park staff, please call our on-call at (970) 219-3450.

For an EMERGENCY call 911
Access Fort Collins
Receive a quick response to your question or concern by using Access Fort Collins - it's easy. You can also use it to let us know how we're doing.
If you would like to know more about public events and races happening in the Parks, along the Trails and throughout City streets, check out the Public Events Calendar. You can subscribe to the calendar for updates and add specific events to your own calendar.
The citizens of Fort Collins have been enjoying the city park system for over 100 years. Fort Collins currently has 875 acres of developed park land including 6 community parks and 42 neighborhood/pocket parks. We also have over 35 miles of recreational trails that flow through our City.
The Park/Cemeteries Division of the Community Services, Service Unit provides maintenance and stewardship of parks, cemeteries, trails, medians and other public grounds for the Fort Collins community; and works to keep them clean, safe and in usable condition for everyone to enjoy.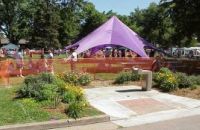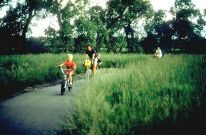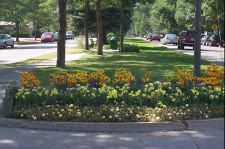 PARKS VISION
We care just as much about the product we deliver as the people who deliver it. Our goals are to promote professional development, safety and wellness, service to our community and a lasting legacy of stewardship and camaraderie.
PARKS MISSION
OPERATIONAL EXCELLENCE
Excellent care for parks and public spaces for the community.
2014 Goals
Exceptional Customer Experience - Provide excellent customer service to create an exceptional customer experience.
Environmental Sustainability - Reduce environmental impacts by managing resources through innovative and sustainable practices.
Fiscal Sustainability - Manage our fiscal resources efficiently.
Engaged Workforce - Employees are our greatest resource, foster that relationship.
Culture of Innovation - Success requires attempts.
Safety & Wellness - Provide a safe enviornment for employees and citizens.
Parks
Physical Address: 413 South Bryan Ave, Fort Collins, CO 80521
Phone: (970)221-6660
Fax: (970)221-6849
Email: