Welcome to Parks Web Page
Be A Good Steward:
Protect & Respect Your Parks & Trails
Veteran's Celebration - May 25
Please be advised: Due to the Veterans Celebration event at Spring Canyon Park on Saturday, May 25, parking will be at a preimium at the park. The parking lot to the west of the Horsetooth entrance will be closed except for event permitted vehicles. The east lot will be open. Also, to help with congestion parking will be allowed along Horsetooth Rd. on May 25 only.
The dog park will remain open to the public, but walking to the dog park will be necessary as parking will be limited. Please remember to keep dogs on leash while walking to and from the dog park.
The City of Fort Collins began Response Level 1 water restrictions April 1. Given the challenges facing our water supply, starting the restrictions early will hopefully avoid the need for higher level restrictions later in the summer.
The Parks Department always makes conserving water an essential objective throughout our parklands. This year with water restrictions, the Parks Department has an opportunity to show leadership regarding water conservation. A drought plan has been developed that prioritizes areas in the parks and facilities for reduction of use. This plan is in concert with the different levels of restrictions outlined in the City's Water Supply Shortage Response Plan.
Due to the complexity of the many irrigation systems, scheduled events, and the amount of parkland, staff will be irrigating sites to meet the requirements of the restrictions. Irrigation could occur any day of the week except Monday. Application rates of water will not exceed Response Level 1 requirements of a maximum of 1.25" of water per week or 95% of ET, whichever requires the least amount of water use. For the new parks and other special needs, the Parks Department has applied for permits through the Utilities department to allow for exceptions to the watering restrictions. Permit signs will be posted at these sites.
Hours to enjoy the Parks - 5:00am - 11:00pm

For Park questions or to make reservations: Please call the Parks Department (970)221-6660 or e-mail us at Our office is located at 413 S. Bryan Avenue, and we are open Monday thru Friday - 8:00am-5:00pm.
After hours, if there is an urgent situation needing the attention of park staff, please call our on-call at (970) 219-3450.

For an EMERGENCY call 911
Access Fort Collins
Receive a quick response to your question or concern by using Access Fort Collins - it's easy. You can also use it to let us know how we're doing.
If you would like to know more about public events and races happening in the Parks, along the Trails and throughout City streets, check out the Public Events Calendar. You can subscribe to the calendar for updates and add specific events to your own calendar.
The citizens of Fort Collins have been enjoying the city park system for over 100 years. Fort Collins currently has 875 acres of developed park land including 6 community parks and 49 neighborhood/pocket parks. We also have over 32 miles of recreational trails that flow through our City.
The Park/Cemeteries Division of the Community Services, Service Unit provides maintenance and stewardship of parks, cemeteries, trails, medians and other public grounds for the Fort Collins community; and works to keep them clean, safe and in usable condition for everyone to enjoy.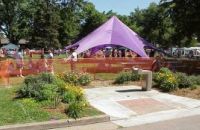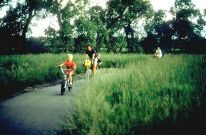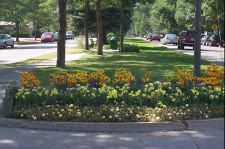 PARKS MISSION
OPERATIONAL EXCELLENCE
To provide safe, accessible and inviting parks & public spaces where quality of place, service and stewardship meet.
2013 Goals
Improve Customer Service - Provide excellent customer service to create a positive customer experience.
Create a Culture of Sustainability - Manage resources through innovative and sustainable practices.
Ensure Fiscal Sustainability - Manage our fiscal resources efficiently.
Engaged Workforce - Employees are our greatest resource, foster that relationship.
Achieve World Class Outcomes - What did I do today that was world class?
Parks and Cemeteries
Physical Address: 413 South Bryan Ave, Fort Collins, CO 80521
Phone: (970)221-6660
Fax: (970)221-6849
Email: