Sugar Beet Park#
Sugar Beet Park is located on the southwest corner of East Vine Drive and 9th Street. The park features a picnic pavilion, playground, open turf field, pollinator garden, and more.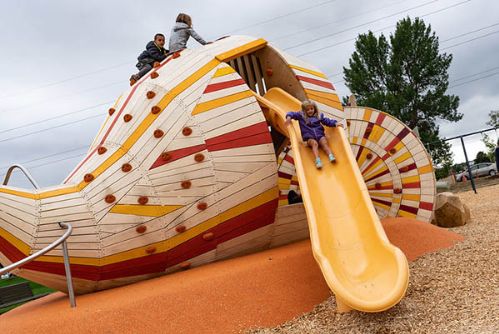 View photos related to the project, including photos taken when the beet play structure was at the Fort Collins Museum of Discovery.
Follow us on the progress of the park.
| Status | Milestone | Date | Location | Description |
| --- | --- | --- | --- | --- |
| Complete | Once Upon a Playground | January 29-May 26, 2019 | Fort Collins Museum of Discovery | The exhibit at the Fort Collins Museum of Discovery featured the oversized beet playground structure. |
| Complete | Groundbreaking | March 26, 2019 | East Vine Drive & 9th Street | A groundbreaking event was hosted to mark the start of construction. |
| Complete | Construction | Summer 2019 | East Vine Drive & 9th Street | We're building the park! |
| Complete | Grand Opening | September 28, 2019, 10 a.m.-noon | East Vine Drive & 9th Street | Learn about the design of the park and how it ties into the history of the old sugar beet factory. Also, explore the largest pollinator garden in Fort Collins. |
Review our presentations and supporting documents from park conception through construction to learn more about the project and park concepts.
Fort Collins has the beet, and now everyone can enjoy it.

Sugar Beet Park — a new neighborhood park built around a giant sugar-beet-inspired play structure — has officially opened in northeast Fort Collins.

RMParent Magazine took a trip to the Fort Collins Museum of Discovery to see the Sugar Beet Park beet. The play structure is featured on the cover of the magazine.

Fort Collins' newest park will be coming together soon, and it has a fittingly sweet name. The city broke ground on the new neighborhood park near the city's Tres Colonias neighborhoods Tuesday.

Play, as we see it, is the raw resource needed to grow creativity and innovation. Playground designers may just have the sweetest job in the world because every project is another opportunity to dig in and play.

The location of Streets Park in Fort Collins is central to three neighborhoods, known as the Tres Colonias, where many employees of the Great Western Sugar Factory lived. The factory, which harvested and processed sugar beets, was in operation for the first half of the 19th century and played a pivotal role in the development of industry in the city.

Snaking through a corridor lined with black-and-white photographs, you could almost feel it — the pinch of creaky swing set chains on tiny, unsuspecting fingers, the vertigo induced by the relentless spin of a merry-go-round, the searing burn of a metal slide on a hot summer day.