2022 State
of

the

City#

Mayor Jeni Arndt and Interim City Manager Kelly DiMartino hosted the State of the City on Feb. 1, reflecting on 2021 and looking forward to the future of Fort Collins.

If you missed the live event, you can watch the replay on our YouTube channel.
Spread
the

Love#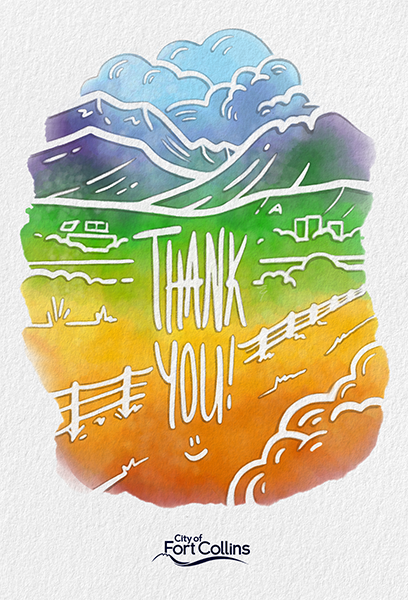 Send a note to someone who makes Fort Collins better. Pick up a pre-stamped "Thank You" postcard at City facilities across town to send a quick message of gratitude and appreciation to anyone you believe is making a difference in the community - it could be a business, teacher, non-profit, neighbor, colleague ... anyone!
And for a little inspiration, check out the City's postcard to you.
2021 Report
to

the

Community#
Through the past year, Fort Collins has continued to navigate the disruptions brought on by the COVID-19 pandemic, pursue recovery efforts across the community, and look ahead to who we want to be in our next phase … all while continuing to deliver high quality municipal services 24/7/365. Below are a few highlights from 2021.
CARES Coronavirus Relief Fund#

In 2021, the City continued to make use of federal CARES funding received in 2020 to support pandemic response and relief for businesses and community members. Two-thirds of the CARES funds went to small businesses, nonprofits and local community programs.

American Rescue Plan Act#

The federal American Rescue Plan Act (ARPA) established $1.9 trillion in COVID-19 relief funding, of which $28.1M has been allocated to the City of Fort Collins. In May, City Council appropriated $4.2M for short-term response efforts, and another $3.6M was allocated in the 2022 City budget. The remaining ARPA funds are expected to be allocated in the 2023-2024 budget cycle, after the Recovery Plan adoption in early 2022. Short-term ARPA-funded projects in 2021 included:

Eviction legal fund
Direct assistance for Utilities customers
24/7 shelter at Fort Collins Rescue Mission
For Fort Collins business and economic recovery campaign & website
Recovery communications