Contact Information
Dept Head: Interim Chief Terry Jones
PO Box 580, Fort Collins, CO 80522-0580
National Police Week 2013: Honoring and Remembering Fallen Law Enforcement Officers
Contact Information
Rita Davis
Fort Collins Police Services
970-221-6628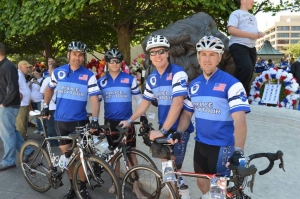 cmRhdmlzQGZjZ292LmNvbQ== alt="image for press release National Police Week 2013: Honoring and Remembering Fallen Law Enforcement Officers " class="pull-left img-responsive img-thumbnail" style="margin:0 20px 20px 0" /> Fort Collins is joining communities across the United States during National Police Week—May 12-18—to honor and remember law enforcement officers who made the ultimate sacrifice, as well as the family members, friends and fellow officers left behind.
This year, the names of 320 officers killed in the line of duty are being added to the National Law Enforcement Officers Memorial in Washington, DC. These 320 officers include 119 officers who were killed during 2012, plus 201 officers who died in previous years but whose stories of sacrifice had been lost to history until now. Five fallen members of the law enforcement community in the State of Colorado, Detective Jeremy Bitner (Englewood Police Department), Officer Celina Hollis (Denver Police Department),Officer Matthew Tyner (Colorado Springs Police Department), Captain Leide William DeFusco (Pueblo County Sheriff's Office), and Agent James Jeffery Davies (Lakewood Police Department) will be added to the list.
In 1962, President Kennedy proclaimed May 15 as National Peace Officers Memorial Day and the calendar week in which May 15 falls, as National Police Week.
Four Fort Collins Police Officers (Officers Casey Box, David Lindsay, Chris Tibbetts and Sgt. Jerrod Kinsman) joined 350 other officers from the Southern California chapter of the Police Unity Tour and finished the last leg of a three day cycling tour from New Jersey to Washington DC in honor of the thousands of fallen officers whose names are etched on the walls of the National Law Enforcement Memorial. The Unity Tour was established several years ago to raise money for the Memorial and the needs of family and friends who have lost loved ones to this profession. All together approximately 2400 riders from across the globe raised $1.72 million dollars this year alone. The ride marks the beginning of National Police Week.
On National Peace Officers Memorial Day (Wednesday, May 15), Fort Collins Police Services will remember and honor those who have paid with their lives so that others might live in safe and secure communities. Flags in front of the police building will be lowered and flown at half-staff Wednesday and officers will wear a black memorial band across their badge to honor of those who lost their lives.
The names of all 320 fallen officers nationwide will be formally dedicated on the National Law Enforcement Officers Memorial in Washington, DC, during the 25th Annual Candlelight Vigil on the evening of May 12, 2013.
For more information about National Police Week, please visit
www.LawMemorial.org/policeweek
.