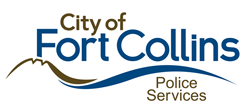 Building Project Description
Clad in Colorado red sandstone, the three story police headquarters structure covers approximately 98,000 square-feet, provide a "state-of-the-art" police facility, and represents a partnership between the community and the needs of the police department.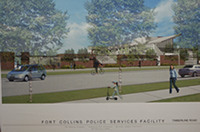 The building was designed to enhance police operations and community policing services and is home to the Fort Collins Police Museum, a 1900 square-foot community room, an enhanced crime laboratory, property and evidence processing and storage, a communications center, an Emergency Operations Center, training facilities, a detention center with eight cells as well as providing space for patrol, investigations, records, and administrative functions.
For the employees who work in the facility, the building interior provides a very secure yet "human" environment. From the outside, plains architecture featuring a long low roof line creates a quite, protective presence. The soft geometry of the covered walkway and open interface of the Community Room, with the public art work interwoven between, provide a clear and welcoming entry to the public. Landscaping contributes to the personality of the facility.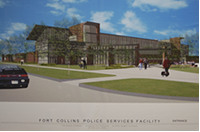 The entire building construction process took approximately 895 from design to occupancy with the grand opening held on August 27, 2007.